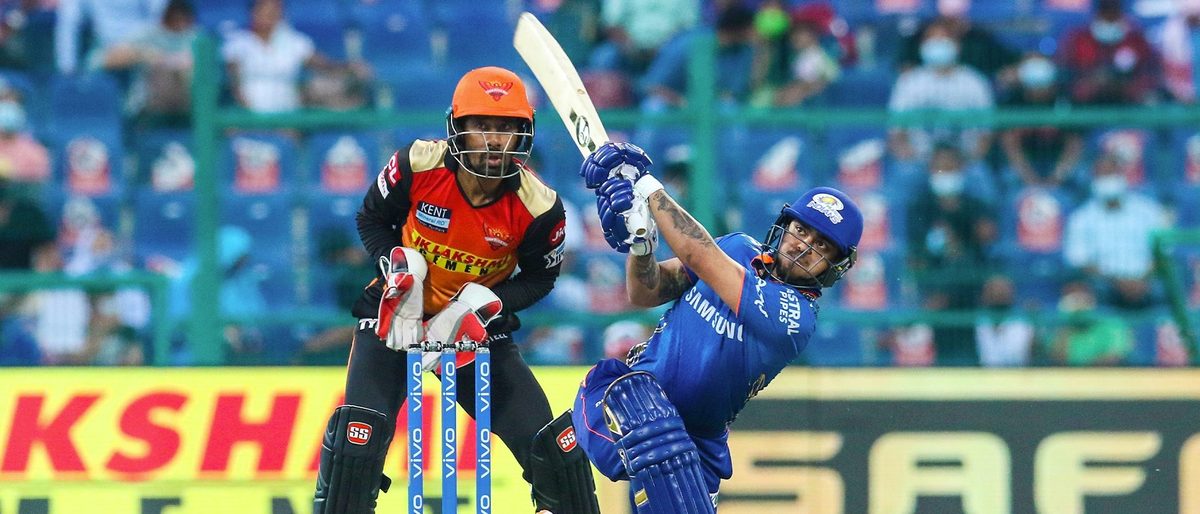 "We had to get 250-260, and we had positive intent": Ishan Kishan
mi
It was a night where it rained runs, especially on a night when MI needed it to be so. While the team didn't make it to the playoffs, they produced a gem of a performance and sealed a win to remember.
MI stacked up 235/9 in 20 overs, riding on Ishan Kishan's 84 (32) and Suryakumar Yadav's 82 (40). SRH took the challenge very seriously, and raced to 60-odd runs in five overs before the MI bowlers struck and reduced them to 100/4. Despite Manish Pandey's half-century, they fell 42 runs short of the target, and MI earned a deserving win.
After the match, Suryakumar Yadav spoke his thoughts, and also gave an update on the hit he received on his head from a Jason Holder delivery.
"We had nothing to lose": Suryakumar Yadav
"I am good, as it should be. At the end of the day the show must go on and you've got to keep smiling whatever happens. We had nothing to lose. We had a target, we just kept running behind it. The pitch was good. Happy to be on the winning side. The World Cup is a big tournament. We don't change anything. The process, routine all remain the same. So I'm really looking forward to it."
Rohit Sharma, obviously pleased with a win and a performance so blazing, answered some questions at the post-match presentation.
"Fans have always been supportive, stood by us": Rohit Sharma
"When you play for a franchise like Mumbai, you are always expected to go out and perform. I wouldn't call that pressure. More than anything, it's expectations. It was very tough to drop big players, I want to back the players and keep the same squad going. We have had on and off season this time around. We have had a fabulous run as a franchise."
"It was wonderful to be part of this set-up, we can be very proud of that. We were getting momentum in Delhi and there was a break that didn't help the team. It was a collective failure of the group. Very happy with the win today, we gave everything, I am sure it was entertaining for the fans as well. They have always been supportive, they have always stood by us."
"Little disappointed we didn't go through. Ishan Kishan is a very talented player, just the right position for him to bat is very crucial. Today was a perfect game for him. That is the situation he likes. It was wonderful to see from the other end."
Ishan Kishan, who got a 16-ball fifty, his fastest, and the fastest for an MI batter, was adjudged the Player of the Match for his brilliance on the field. He, too, answered some questions at the post-match presentation.
"I was in a good state of mind": Ishan Kishan
"It was a very good thing for me and for the team, getting some runs, and getting into good touch before the World Cup. I was in a good state of mind, was very positive. We had to get somewhere around 250-260, it was the intent and positive intent."
"The one I smacked off Malik through the covers - that's the one that's my favourite shot. In this tournament, you have to be prepared for every circumstance. It's important to be in the right mindset and you need to go with your best form."
"I had a good chat with Virat bhai, Jasprit bhai also helped me. Even Hardik Pandya, Krunal Pandya were there to support me. Everyone supported me and they said it's a learning stage for you, make sure you learn from here and don't make the same mistakes in the upcoming world cup games. That was the part where I learned from them."
"I was just taking one point at a time. I would love to open and that's what Virat bhai said - 'you are selected as an opener, you just have to be prepared for that.' On the bigger stage, you need to be prepared for every situation I feel."
And with that, the Mumbai Indians bow out of the IPL, but we have more cricket to look forward to soon with the T20 World Cup coming. Also, a shout-out to the Paltan for having the team's backs and giving them the loudest cheers when it was most needed!