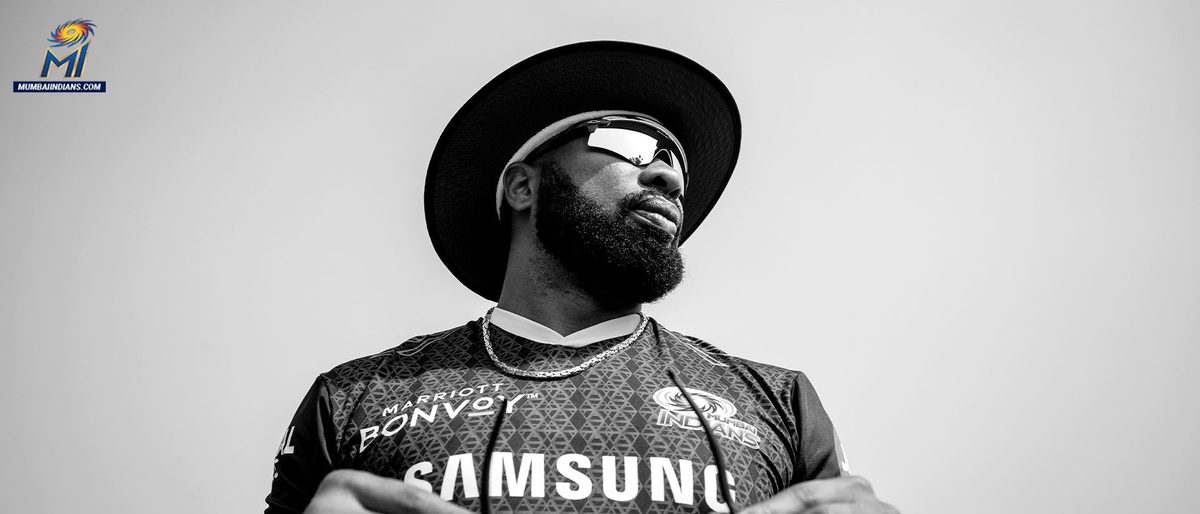 A timely reminder as to why Kieron Pollard is referred to as The LLORD
mi
The night of the thriller between Mumbai Indians and Chennai Super Kings had lived up to its expectations. CSK had batted first and put on a massive 218 on the table for MI to chase. What ensued was pure magic from Kieron Pollard to help MI chase down their biggest title in IPL history!
Starting healthily at 68/0 in 7 overs, MI lost three wickets in three consecutive overs and suddenly slowed down to 81/3 in 10 overs. The two KPs - Kieron Pollard and Krunal Pandya - were on strike with a daunting task at hand. They had to chase down 149 runs in the next 10 overs to take the team across the line. There was only one way to make this possible, and Pollard took it upon himself to chase down the mammoth target.
He announced his arrival in the 13th over of the game, taking on Jadeja for three sixes and amassing twenty runs in those six balls. When Lungi Ngidi came on next, he showed him no mercy either. In 12 balls, he now had hit five sixes, and he didn't look like he would stop anytime soon.
The required run rate was hovering around 15 per over, and Pollard was in no mood to let that go any higher. He brought up 23 runs in the next over against Shardul Thakur, out of which a solitary single came from Krunal, and three fours a big six came from Polly. 59 runs came from these three overs alone, putting MI right back into the contest!
With a boundary off the fourth ball of Thakur's over, Pollard had charged to the fastest half-century in IPL 2021, off just 17 deliveries. Not only is he the joint-fastest half-centurion for MI, along with Hardik Pandya, he also etched the record for the fastest-ever 50 against arch-rivals CSK.
The sixteenth over brought 16 runs, out of which Krunal got 15. The required run-rate had come down to 12.5 now. MI needed 50 off 24 balls, and the dangerous Sam Curran had two overs of his quota remaining. In the 17th over, Krunal fell, and Pollard decided not to pick on the English bowler. Just two came off it, and the pressure was mounting for MI.
Thakur came in to bowl the 18th over, and a first ball single from the new man, Hardik Pandya, put Polly back on strike. 16 more runs came from that over, with one six and a four, and some hard running between the wickets. Thakur's over was done, but Curran was yet to bowl another one.
The penultimate over had a lot of drama. While Pollard tried to keep the acceleration up, players kept falling at the other end. Hardik smacked away two sixes before slicing the ball to the fielder. Pollard had crossed over, but he'd taken only a single on the next ball before putting debutant Jimmy Neesham on strike, who departed for a golden duck off the last ball of the over.
The equation was now down to 16 off the last over. Lungi Ngidi was to bowl it, with Pollard on strike.
It started with a dot after Pollard didn't take the single on offer. The second ball, a perfectly executed yorker, was sent away to the right of deep square leg. The beauty was that this was done by knocking the ball between Polly's legs, and it found its way to the boundary, much to everyone's shock and amusement.
The third ball, a misfiring yorker from Ngidi, was sent away fine of long leg for four more runs. Next, a full toss on the middle-stump was swept away in the air. The fielder could not get under the ball quick enough and missed the catch. Yet again, Pollard did not take the single he could have. 8 needed off 2.
Another full toss at the middle stump, but this time he rifles the ball away with all his might, towards the same fielder, but clears the ropes for a maximum! With two needed off the last ball, the bowler delivers an almost perfect ball. Pollard jams his bat down as hard as he can to buy enough time for him and the non-striker, Dhawal Kulkarni to reach safely.
They have just enough time to scamper back into their crease. Dhawal is jubilated, but it's a calm, composed celebration from Pollard. He takes off his helmet, places it by his side along with his bat, looks up to the skies, hands joined in prayer, as if to thank the universe for bringing out the best in him, while soaking into this moment.
Pollard had built a masterclass of an innings, complete with 8 sixes and 6 fours. His knock of 87* (34) was proof that where there was a will, there was a way. And like he rightfully said later, "Never. Write. Us. Off", and he showed us why.