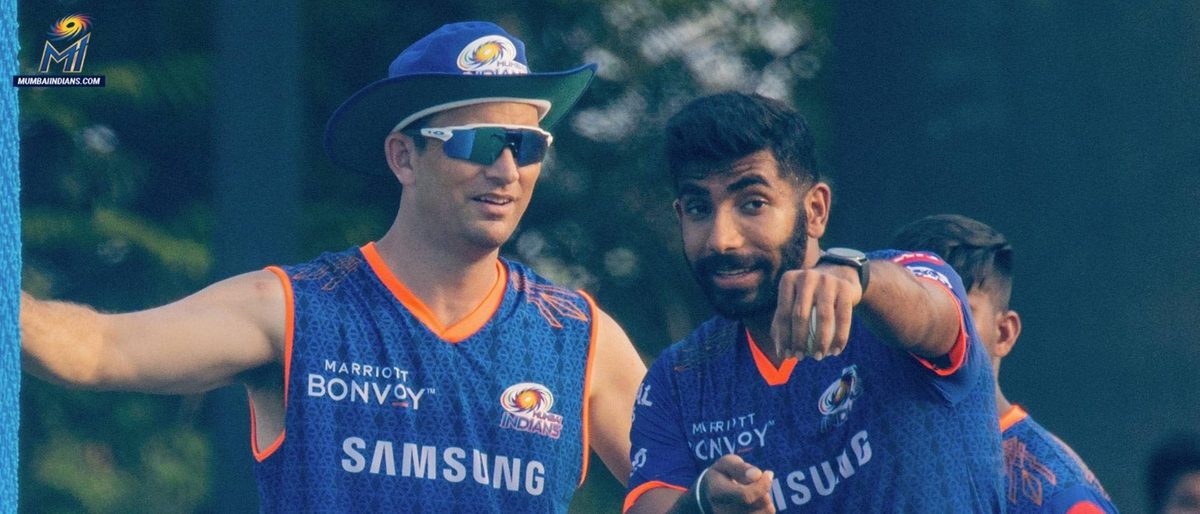 "As a child, I was always fascinated by the way Bond used to bowl": Bumrah
mi
A small tip from a master goes a long way in shaping a student's career. And when that master has been a part of your journey for as long as you've known the big stage, then they are sure to have a big impact on your life. Our ace pacer Jasprit Bumrah says the same about Kiwi speedster Shane Bond in a recent intervie
Bond, who coaches the Mumbai Indians' bowling unit, has done some pretty remarkable things with the team, to help them seal seemingly impossible victories. However, Bumrah speaks about how, apart from this, he has always been there to offer advice to the Indian, both while playing for MI and for team India.
In a video shared by Mumbai Indians, the players talk about how helpful and influential Bond has been in making the team what it is today. Bumrah, too, shared his views about working with the Mumbai Indians bowling coach and the rapport they share.
"As a child, I'd seen Bond bowl and was always very fascinated with how he used to bowl." - @Jaspritbumrah93 🤩

🗣️ Our players speak in detail about the 'BOND' of the #MI bowling line-up 🙌💙#OneFamily #KhelTakaTak @ShaneBond27 @trent_boult @JimmyNeesh @MXTakaTak MI TV pic.twitter.com/dsHY1BEMmp

— Mumbai Indians (@mipaltan) May 14, 2021
"It's been a great relationship so far": Bumrah
"I always try to talk to him even when I am not here and with the Indian team. So, it's been a good journey, and hopefully, every year I keep learning something new and try to add new things to my bowling. He has played a major role in that, Bumrah explained.
It's been a great relationship so far, and hopefully, this continues for many many years to come," Bumrah said. He also recalled how Bond has been a bowler he loved watching as a youngster. He also spoke about when he met the New Zealander for the first time.
"I met him (Bond) for the first time in 2015. As a child, I had seen him bowl and was always very fascinated by how he used to bowl for New Zealand, and how he used to operate," the India pacer said.
What length is Bumrah planning to bowl here? 👊🏻💥#OneFamily #MumbaiIndians #MI #IPL2021 #MIvRR @jaspritbumrah93 @ShaneBond27 pic.twitter.com/CVgKbi9MBB

— Mumbai Indians (@mipaltan) April 29, 2021
"He helped me open my mind to different things": Bumrah
Bumrah also explained about how Bond was instrumental in helping him open his mind up to things that he hadn't done before. This was, his toolkit to attack batters has only increased and made him a challenge to reckon for them.
He explains, "When I met him over here at Mumbai Indians, it was a good experience. He helped me a lot to open my mind to different things that I could try on the cricket field. So that was very good and that relationship has only gotten better each and every year."
Bond, too, has some word of appreciation for the mentee. "Jasprit is the best death bowler in the world, I think. He will be recognised as that," he said.
Jasprit Bumah will lead the Indian pace attack against New Zealand in the fast-approaching World Test Championship Final in England in a month.