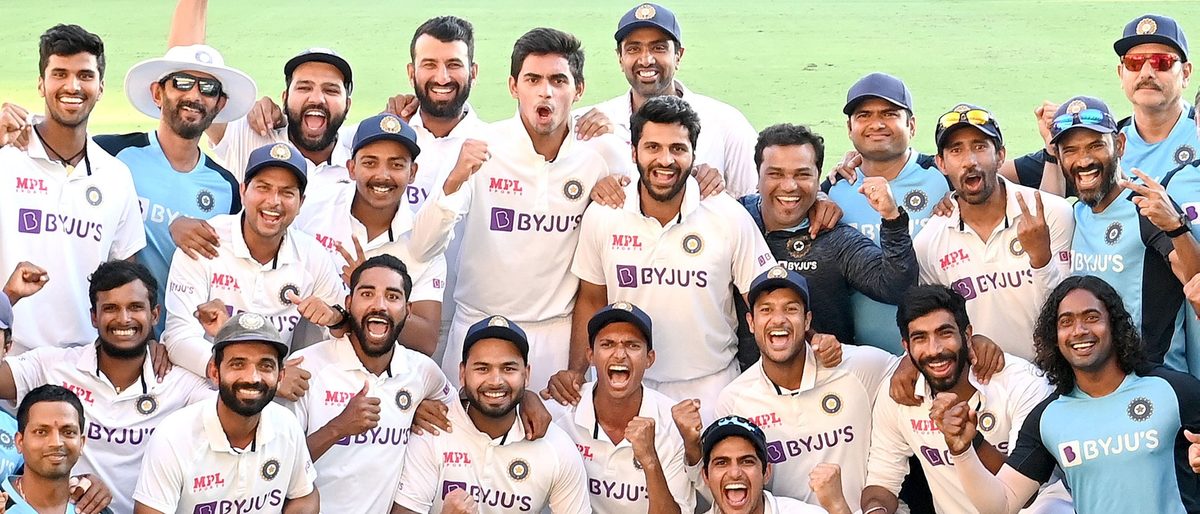 Everything that's captured our heart in India's journey to the WTC final
mi
From the disappointment in New Zealand to a heroic victory in Australia, and a home run that has mostly tasted victories, India's journey to the first World Test Championship final has had a lot of ebb and flow.
How funny it is that the only opponents who've defeated India are the ones that they will face in the ultimate match, as if saying that winning this game is the way to assert dominance over the cricketing world!
Out of the seventeen games that India has played, the team has managed to win 12 of them. It all started with a tour to the West Indies, where the Indian cricket team set the trend of playing dominantly and pouncing on wins.
Snatching a couple of thumping wins against the Windies meant that India could not have started off the WTC on a better note! A 318-run win followed by a 257 run win, and pocketing 120 points, the team marched forward.
This happy bunch 🇮🇳🇮🇳🔝 #TeamIndia #WIvIND pic.twitter.com/YbOJaHbMw6

— BCCI (@BCCI) September 2, 2019
Next, the team met South Africa in a three-match Test series. A win by 203 runs, an innings and 137-run win and an innings and 202-run win later, India marched forward, with a 100% win record for the WTC games it had played so far.
#TeamIndia win the 3rd Test by an innings & 202 runs #INDvSA @Paytm
3-0 🇮🇳🇮🇳🇮🇳 pic.twitter.com/OwveWWO1Fu

— BCCI (@BCCI) October 22, 2019
For the Indian fans, after the 2019 World Cup heartbreak, this was the result we wanted to see. Seeing the team win made the hearts simmer with pride and happiness, and a start like this could only mean that India was back to its winning ways like a boss.
Their next hurdle were the neighbours, Bangladesh. However, this test seemed to be too easy for India, with the team registering two massive innings victories - the first by 130 runs and the second by 40 runs. At this point India was the only country to have won all of the WTC matches it had played so far.
CHAMPIONS!!!#TeamIndia pic.twitter.com/RK0HeLxMou

— BCCI (@BCCI) November 24, 2019
High on confidence and being termed as the team to beat, India flew to New Zealand to play its first away game since August 2019, against the West Indies. The Kiwis seemed to be a tough nut to crack for the Indians, with them imposing a 10-wicket loss on the visitors in the first game.
It was followed by a seven-wicket loss, and thus, India were at the wrong side of a series for the first time since WTC began. And it was with this 0-2 loss that India ended their campaign before the world paused due to COVID-19.
Congratulations to New Zealand on winning the Test series. #NZvIND

Details👉 https://t.co/VTLQt4iEFz pic.twitter.com/gNq2DGHxWm

— BCCI (@BCCI) March 2, 2020
After an eight and a half month hiatus from cricket, the whole of India eagerly looked forward to the next Test series in sight - against Australia.
When the Border Gavaskar trophy started, little did the world know the iconic series that was in store for them. Initially, the losing streak continued for India. In the first game, the team hit a 36-all-out-low, and that was hardly enough to sustain a victory.
Josh Hazlewood was absolutely sensational today 🔥

W . . . W . . . . . . . . . 1 . . 2 . . . W W . W . 1 . 4 .#AUSvIND pic.twitter.com/ip8n17n2xW

— ICC (@ICC) December 19, 2020
An eight wicket loss later, a lot of critics had written India off. Some even predicted a 4-0 win for the Aussies, especially due to the unavailability of Indian captain Virat Kohli and Mohammed Shami.
In the second match, a century from stand-in captain Ajinkya Rahane and some good bowling from India - Jasprit Bumrah's 6 wickets and Ashwin and debutant Mohammed Siraj getting five wickets each, led India to an 8-wicket revenge win, and they headed to the next game with some confidence back in the unit.
A victory to savour 👏👏#TeamIndia pic.twitter.com/x1VlUe0iaC

— BCCI (@BCCI) December 29, 2020
Rohit Sharma came back in this game, and so did Rishabh Pant. In what was an enthralling game of Test cricket, India forced a draw on Australia, with Hanuma Vihari and Ashwin batting for more than 40 overs, frustrating the Aussie bowlers.
A partnership to remember - @ashwinravi99 & @Hanumavihari

62* off 259 deliveries 👌👌#TeamIndia #AUSvIND pic.twitter.com/jKR6lO9LHP

— BCCI (@BCCI) January 11, 2021
The final Test came down to both teams having equal chances of winning the series. Both had one win each and a draw. Most of India's first choice playing XI sat out due to injuries or personal commitments. Siraj, who was half a Test series old, led the bowling attack. Rahane and Cheteshwar Pujara became the only two to play all four Tests that series.
It was at Gabba, where no team had won a game in decades. What should have been baby steps for the new Indian bowlers turned out to be strides so gigantic that the Australian batters couldn't keep up with it.
Absolute scenes 😍#AUSvIND pic.twitter.com/rSH8vS7KHf

— ICC (@ICC) January 19, 2021
While a century stand between Shardul Thakur and Washington Sundar did the trick in the first innings, it was Pant's never-give-up attitude that sealed the win in the second one. Not only had India etched a win at the Gabba, they did it with a second-choice team. The vibe was ecstatic, and rightfully so. This series would go down in history as one of the best displays of Test cricket, ever.
CHAMPIONS #TeamIndia pic.twitter.com/hintWt3MEe

— BCCI (@BCCI) January 19, 2021
Flying high in this victory, India came back to India and met England for a 4-match series. After England won the first game by over 200 runs, India made a comeback yet again, winning the next three by 317 runs, 10 wickets and an innings and 25 runs, before marching into the WTC final.
Champions 🏆#NewCoverPic pic.twitter.com/JOHT3eJ1LM

— ICC (@ICC) March 6, 2021
Dramatic comebacks seem to be the norm for India right now (much like another team in the IPL, might we say?). However, it all boils down to the mega clash on June 18th against the Kiwis - the only team to win a series against India in the WTC.
The only fitting end to the WTC is a battle between the top two Test teams for the ultimate title. A well fought game, after two years of this beautiful saga beginning, is the only fairytale finish cricket romantics are waiting for now!