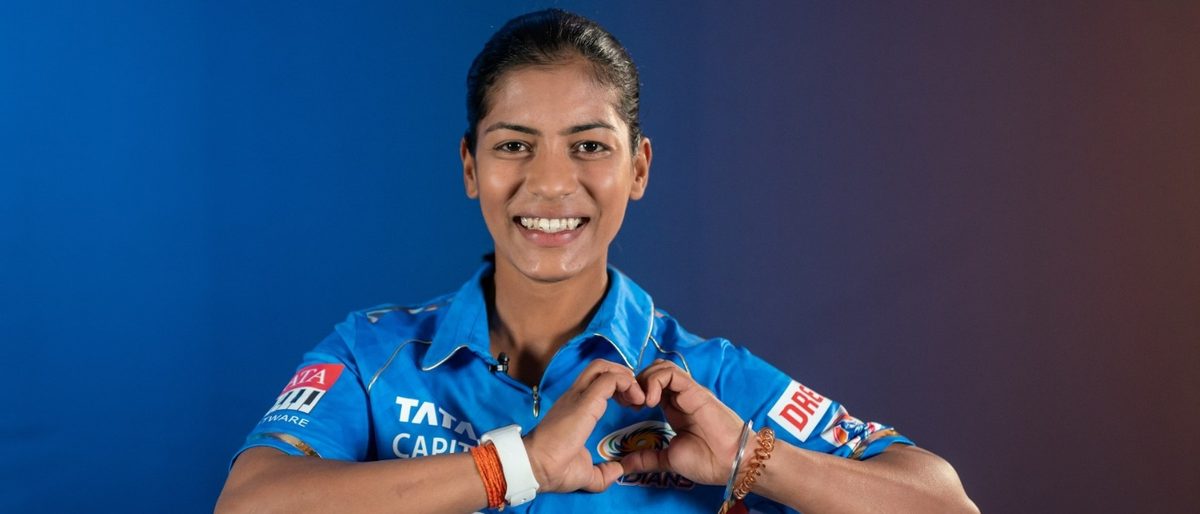 From grandmother's secret help to stardom on India debut – meet Amanjot Kaur
vineeth.anantharaman
"I also started from gully cricket only like everyone else from the age of 6-7. I used to play with older boys. In my colony, we were getting complaints that this girl is playing with guys. My father would sometimes shout and send me in, and ask me to study. He would ask, 'what's the use of playing'. But my grandmother would secretly send me out to play. She has supported me a lot to play. She would sit at the ground when I was playing."
In January 2023, Amanjot Kaur was sitting at home, minding her own business. She'd had a brilliant year in the recent domestic season. But with the Women's T20 World Cup in a month, she quite naturally wasn't expecting a miracle. At 9:30pm, BCCI's message flashed.
"It just felt unreal, almost like a movie. It was very unexpected. I didn't expect my name would come in the India Senior squad, that too just ahead of the World Cup," she says in an exclusive chat with mumbaiindians.com.
And just like that, the dream went on. So much so, that from just being happy with being in the squad, Amanjot found herself in the playing XI immediately.
"Just half an hour before leaving for the stadium, we were shown the team list and the playing XI, because Harry di (Harmanpreet) and a few others had some flu. I had an idea that I would be playing because around 6-7 of the players were sick and only 12 players were left in the squad. I won't call it nervousness, but I was very excited."
South Africa had India in a serious spot of bother. She walked out at 69/5, out of position, but not out of place.
"There was no pressure," she assured. "Despite being 69/5, I was just keen to step out and play. Marizanne Kapp was playing. (Nonkululeko) Mlaba was playing. Laura (Wolvaardt) was fielding at point. Around 6-7 balls just went off in me watching them at cover and point. It felt like a movie, like when we were watching MS Dhoni's movie. I was talking to Deepti di (Sharma), and didn't even realize how the partnership got built and how we took India to a very good total."
In the end, her 41*(30) ended up in bagging her the Player of the Match award. From the sheer surprise of being picked in the squad, to playing in the first XI, to becoming the POTM on debut, it truly was stuff that dreams are made of.
******
"As soon as Chandigarh got affiliation, I decided to go to Chandigarh. But I didn't know I would get the captaincy there. We won eight out of eight in the Plate (Domestic cricket). I captained them for three years. All the matches were one-sided. Because of COVID, we couldn't play in the play-offs. But Chandigarh was a turning point for me. I got that maturity of bowling in different situations. The experience from there has made a huge difference in my career."
Punjab to Punjab, via Chandigarh. Amanjot had everything in Chandigarh. The captaincy, the exposure, the responsibility, the fame. What was missing though, was the challenge. The challenge to up her game. It was in Punjab where the bigger players were. It was in Punjab where the real competition was. It was Punjab who were taken seriously. For her career to take the next step, she had to break out of this comfort zone, and move back to where it all started with her under-19 and under-23 , Punjab.
"Moving back to Punjab was another turning point. I had everything at Chandigarh, captaincy, all calls on when I could bowl were mine. At Punjab, having to make your place and name again, was slightly difficult, but it is proving to be good now," she said.
Sure enough, bigger things came calling. An India cap, an MI cap, the opportunity to impress the Indian skipper from close quarters. And there's plenty about the bigger Kaur that has impressed her.
"As a captain and a leader, Harry di (Harmanpreet) is commendable. She constantly keeps thinking how to win a game for India. Off the field she is calm and relaxed. She feels no pressure while going out to bat. Even before she is about to go, she sits with us and talks. She also picks out small points like, 'the ball could have been picked up like this', or 'she could have thrown from here' and many small things like that. Off the field she is very relaxed, calm, humble, and on the field, very aggressive."
******
There's a thing about Amanjot that everybody who knows her can vouch for – the girl never says no to a challenge. Open the batting and the bowling, sure. Come in to bat at number six, done. Bat through the innings, why not. Handle the death bowling responsibility, of course.
Bring home the maiden WPL trophy?