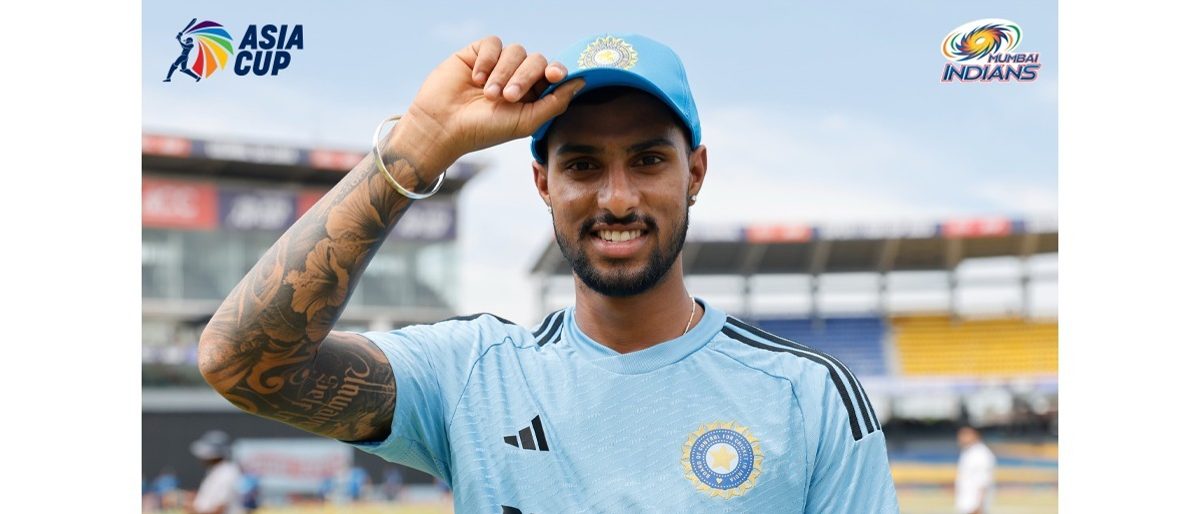 From MI Blue-and-Gold to India Blue: Hello, Tilak Varma, the ODI debutant
mi
A T20I debut in August 2023. An ODI debut in September 2023. The door to international excellence keeps opening for our young Tilak Varma, and we are proud of him for taking a hard-earned step through that door.
All set for his ODI debut! 👌👌

Congratulations to Tilak Varma as he receives his #TeamIndia ODI cap from captain Rohit Sharma 👏 👏#AsiaCup2023 | #INDvBAN pic.twitter.com/kTwSEevAtn

— BCCI (@BCCI) September 15, 2023
"I never dreamed that I would be debuting directly in the Asia Cup, and that too in the one-day side. I was always dreaming that I would be debuting for India in ODIs. But it is a big thing for me. And I always dreamed of this, like debuting for India in ODIs, that too, in like, a single year, I got my T20I debut and suddenly, in the next month, I'm just getting a call for the Asia Cup. So yeah, it is one of my dreams and I'm just preparing for it," said Tilak on BCCI.tv after being among the 17-player contingent announced for the 2023 Asia Cup.
Come September 15, 2023, a young dreamer from Hyderabad would finally see his dream come true, and it was just another step in his ongoing meteoric rise as an all-format player.
Full speed ahead ⏩🇮🇳 pic.twitter.com/292dymmfD9

— Tilak Varma (@TilakV9) September 1, 2023
The journey began from the traditional route - Ranji Trophy in December 2018, Syed Mushtaq Ali in February 2019 and Vijay Hazare in September 2019. His first steps towards the Indian team came in the 2020 Under-19 Cricket World Cup.
However, the ultimate breakthrough in Tilak's cricket adventure came in 2022 when Mumbai Indians brought him on board for IPL-15. With an exquisite display of stroke play and serving sixes on the platter, the southpaw registered 300-plus runs in IPL 2022 and IPL 2023 to put himself in the running for the Indian team selections.
August 2023 was the first stepping stone for young Tilak into the Indian team, and boy, did he grab onto the opportunity with a tight-held grip. With seven T20I matches, 174 runs, a half-century and a wicket in the bank, our prodigy announced himself as the player to watch in seasons, months and years.
Tilak Varma's ascension from a domestic player to an IPL starlet to an entertaining rookie for the Indian cricket team is not short of a fairytale story. Still, the youngster modestly carries himself and openly credits our captain, leader and legend Rohit Sharma for being the most significant influence on his continuous climb.
My inspiration has been Suresh Raina and Rohit Sharma. I spend more time with Rohit bhai. In my first IPL, he had told me that Tilak, you are an all-format cricketer. It boosted my confidence. His guidance has been massive for me.
He always talks to me and tells me to enjoy the game.
Tilak Varma is a legend in the making. We are privileged to witness every step of his remarkable exploits and are proud to say, WELCOME TO ODI CRICKET.