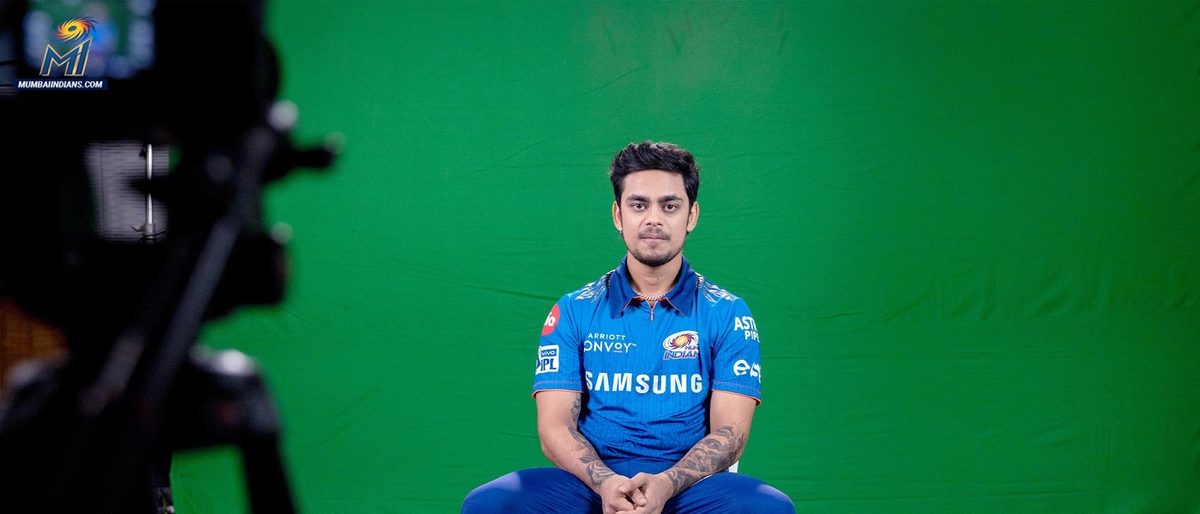 "Getting the India call-up was a very proud moment": Ishan Kishan
mi
When is Ishan Kishan not fun to watch? The youngster has always been an absolute treat with his on-field stroke making being as entertaining as his off-field sense of humour. His humour is joy giving and his energy, infectious.
Coming on an Instagram LIVE with Mumbai Indians, he opened up about playing for the country, spilled secrets about fellow MI teammate Suryakumar Yadav, spoke about his bond with the Pandya brothers and more.
Below are some excerpts from his fun-filled conversation with Team MI.
How did you feel wearing the other blue jersey?
Ishan: "It was very special. You know, you get the call, and then you call up your parents to tell them this and ask them how they're feeling. So when I called my parents, they were already crying. It was a very proud moment for me. Obviously, it is every cricketer's dream to play for their country."
How do you come out and bat in pressure situations?
Ishan: "As you keep playing, you get used to situations like these. And at Mumbai Indians, the pressure is going to be there to perform and make the team win, because we are known as the champion team. So we know we need to go out there and perform. But now that we are used to those kinds of situations, we enjoy it."
"There are too many senior players around, and great players in the management too, who tell us that the more you think about the situation, the more you aren't going to play your game. We try to watch the ball and stay in the moment. If it is in our arc, we start taking out chances. Rohit also tells me to go out and play my game, and not think about getting out. Plus I know that I've got Hardik Pandya and Kieron Pollard coming in after me."
Who do you go to when you are not having a great run?
Ishan: "I don't usually go to anyone in the team. I call up my mom and my dad and talk to them for a while. It cheers me up. They are more confident than me when it comes to my game. They are always there to give me a pat on the back and that's enough to get me going again."
Is there any difference between the MI coaches and team India coaches?
Ishan: "At a higher level, coaches don't work on your technique or ask you to change it. What they talk about is the mindset, what you need to do when you're getting in to bat. So I don't think there's much of a difference, they just talk about the mindsets. What's important is I get to understand how different people think in situations, and what they think about me too, so I get to understand myself better."
What was the moment you felt that you had arrived and you belonged on the stage?
Ishan: "It was my first year for MI. I did not perform in a few games. I went to Rohit bhai and asked him what I should do to keep myself positive and play my game. He told me that he'd seen my batting and asked me to just play my game and if the situation allows, to go for the ball. So I got a 17-ball 50*. That is when I realised I could go big too."
What is your favourite ball to hit?
Ishan: "Bouncer. I love pulling the ball. I don't know why, I just love it. I want the bowlers to bowl bouncers. Now that I've said this on LIVE, I don't think they're going to plan bouncers for me again."
Who is the King of FIFA in the MI team between you and Bumrah?
Ishan: "I played two matches against him and lost both. I think it's because he plans and passes the ball, changes positions. I am not that kind, if I get the ball, I just go for the goal. Even if he snatches the ball from me, I don't mind. But I want him to do the same too. But he'll keep passing, get me bored and score the goal!"
How much do you enjoy working with James Pamment and fielding?
Ishan: "He is one of my favourite people in the team. He is so fun loving and backs you all the time. He makes us sweat a lot. Throughout the training he keeps asking us to come and field so we don't get into trouble during the match in pressure situations."
"If I get a chance after my batting practice, I spend 20-30 minutes fielding. I absolutely love it. I like to field closer to the boundary because I am a good sprinter. A lot of balls also come to me after the 13-14 overs and it feels nice to be involved in the game."
Is there a superstition you follow?
Ishan: "These guys (Shubhman Gill and other friends) think I don't look at the scoreboard when I bat. Truth is, I don't look at my score. They question how I will chase if I don't know what the equation is, but am always looking at how much is needed in how many balls for the team to win."
A farewell message to fans
Ishan: "Please always wear your masks when you are stepping out. Please step out of your homes only if absolutely necessary. Maintain distance, stay safe and pass on these messages to your friends and family members. Now is the time to stay together, back each other and help each other out."
Ishan will be looking to enjoy this downtime with his family for now. Until then, we're grateful for this fun, entertaining conversation that gives us something to smile about!