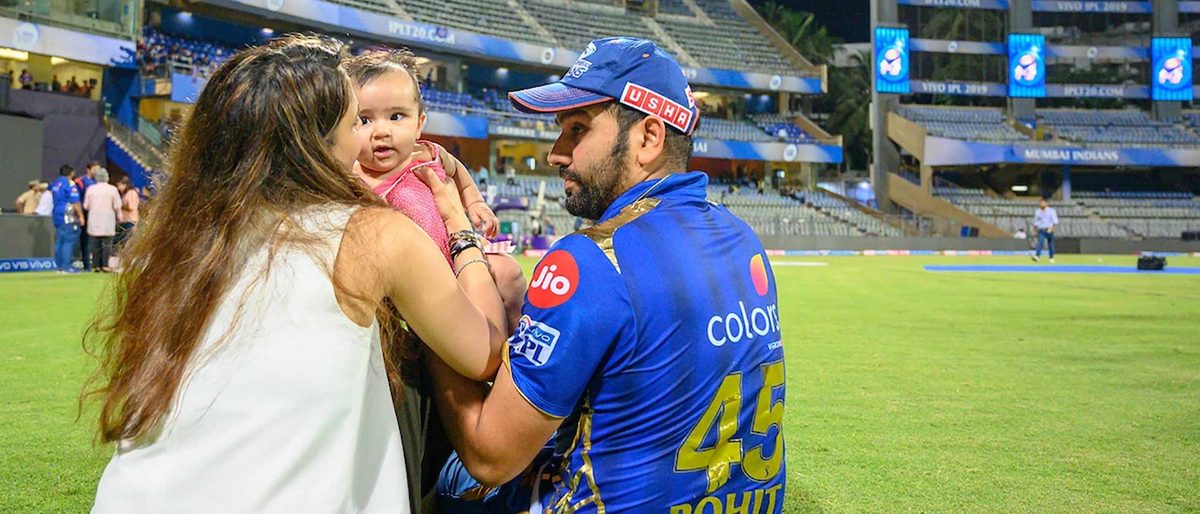 Happy Family Man, In-form Hitman
mi
Rohit Sharma and his stunning century were the talk of the town after the India-Pakistan match in Manchester on Sunday. While most of the conversation revolved around the Hitman's lofty sixes and elegant boundaries, a particular answer he gave during the post-match press conference shed light on the life of Rohit Sharma outside the 22 yards, outside the boundary ropes on the cricket field.
Roll back to IPL 2019 – Mumbai Indians hosted Kolkata Knight Riders at Wankhede on 5th May. Rohit played a captain's knock as he guided us to a comfortable win with a 48-ball 55. What stood out in this innings apart from his eight boundaries was his gesture on reaching the 50-run mark. He raised his bat and cradled it like the way a father lovingly does to his child, dedicating his knock to his daughter Samaira.
Back to 16th June, Father's Day – India win their seventh tie against their neighbours at the ICC Cricket World Cup. Our Hitman played the match-winning knock and while addressing the media after the game, he spoke about how Rohit the father helps Rohit the cricketer get better. He revealed that his daughter and recent IPL success have put him into a phase of contentment.
Here's an excerpt from the post-match press conference:
How were the conditions and pitch in Manchester?
As a batsman when you are playing in conditions which are going to challenge you, you have to assess the conditions first. The pitch was under covers for a long time. The last few days we were here, it was soft as well when we started. The idea was not to lose wickets, build a platform and take the game forward from there.
What is the reason for your good form at CWC 19 so far?
I am in a very good phase in my life. I have a newly born daughter and that has really put me in a good space. I'm enjoying my cricket, coming off a great IPL campaign and then starting off here. Focus is always to start well and see where the team is heading and then the individual. So, as a team we are heading in the right direction. For us it is important to keep ticking all the boxes and I think as a team we have done that most of the time.
How was it batting with new opening partner KL Rahul?
Those are the challenges you face, the understanding when he wants to run two, when I want to take that single. These are very small things, but it adds up to a whole lot for the team. We had a lot of communication while we were batting. The conversation between us is really important, and I hope it continues as it is going to help the both of us. Openers starting well is very important and we know that.
How has Kuldeep Yadav been for Team India?
Kuldeep is someone who needs a lot of confidence before going into his spell. As a team, we've been talking about how big a match winner he has been for us in the last year or so. It's about making sure he knows that he is one of our premier bowlers. When we do that as team, an individual always wants to step up.
Thoughts on the atmosphere during an INDvPAK match.
We knew it was always going to be like that. When we play a game against Pakistan, it's always going to be like that. The crowd was evenly poised, 51% Indian and 49% for Pakistan, I would say. The crowd comes for entertainment and we were really good as a team. We just wanted to get two points. We have been in good form and we just wanted to continue and have a full game.