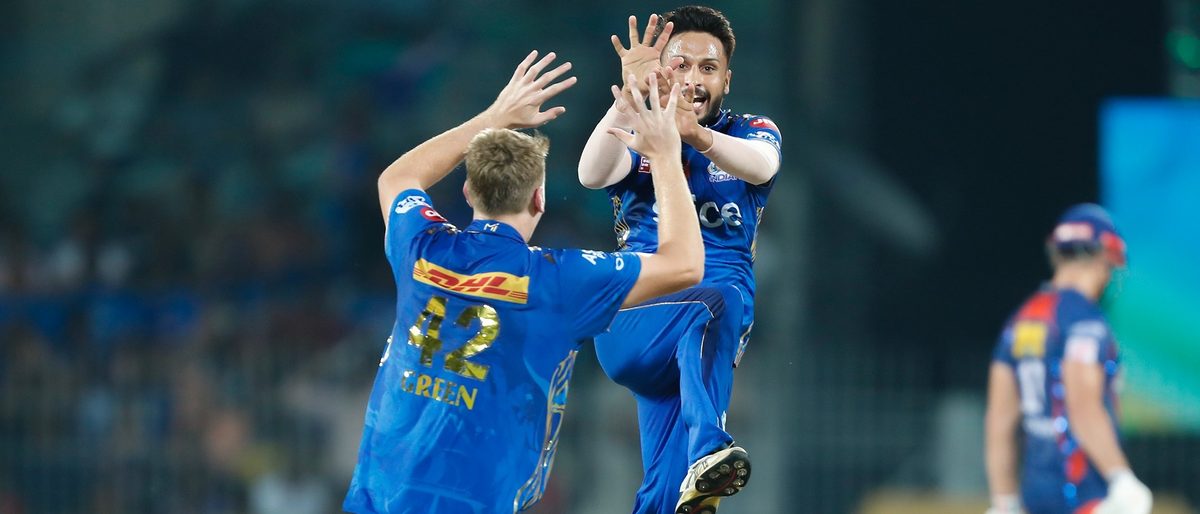 Eliminator: Five-star Madhwal leads MI's march towards sixth - As it happened
mi
Paltan, let us know your post-match reactions after witnessing the MI-ghty performance of your favourite boys in Blue and Gold. Until then, it's goodbye from us.
We will be back in action on Friday, as we take on champions Gujarat Titans at their fortress, the Narendra Modi Stadium. We hope your Wednesday was as delightful as it was for us, as our MI-ssion IPL 2023 continues.
Finally... here is your Player of the Match
Akash Madhwal: "I have been practicing a lot and waiting for my opportunity. I have done engineering, cricket is my passion and I have been waiting for this since 2018. When we practice in the nets, the management gives us the target and we try to execute our best. Hoping to do well in the coming games and want to end up as champions."
Words from our star players
Cameron Green: "It's nice that it's going well at the moment. Our batting's been really good. Madhwal has been the game-changer for us; five today, and got four-for the other day. We had a pretty poor last game (in terms of fielding). When you bowl second, all the guys who have batted can bring the energy. Madhwal has been awesome: the moment he came, we realised he is special."
Rohit Sharma: "That is what we have done over the years. People don't expect us to do what we have done, but we managed to. He (Akash) was the part of the team last year as a support bowler, and once Jofra was gone and I knew he had skills and the character to do the job for us. Over the years we have seen many guys coming in from Mumbai Indians and playing for India. It is important to make them (youngsters) feel special and make them feel part of the team, my job is to just make them comfortable in the middle. They are very clear in their roles about what they need to do for the team and that's what you want. As a team we enjoyed it (fielding). Good to see everyone contributing on the field. Coming to Chennai, we knew whole team needs to come to the party. At Wankhede you need one or two brilliant performances, but here it is a different ball game."
अंतिम निष्कर्ष
We BELIEVE-d and we delivered! Our boys in Blue and Gold maintained their ascendancy from the start till the end.
Cameron Green's 66-run stand with SKY and the 43-run partnership between Tim David and Tilak Varma ensured we posted a 180-plus score. We fended off the storm known as Naveen-ul-Haq, who took four wickets for 38.
Could we defend the score? YES. How? Ask Akash Madhwal. The pacer held his own masterclass with the ball, claiming a career-best five wickets for just five runs. This feat is simply magical, and it equalled the record for most economical fifer in the IPL, previously done by the legendary Anil Kumble.
At the point when they were 69/2, Lucknow Super Giants thought they could pan out their chase with confidence. But, after the strategic timeout after the eight over, the landslide of wickets began and there was no coming back. With this, we break our losing streak. 1-3.
Paltan ki awaaz!
When people questioned Mumbai Indians about superstars

Akash Madhwal came and proved everyone wrong. We salute you Madhwal. ❤️❤️ pic.twitter.com/1utyXYWVY2

— ANSHUMAN🚩 (@AvengerReturns) May 24, 2023
We have got another superstar Akash Madhwal. I love him so much.

— R A T N I S H (@LoyalSachinFan) May 24, 2023
AKASH MADHWAL, REMEMBER THE NAME! pic.twitter.com/vmoZnJI4Qe

— MI Fans Army™ (@MIFansArmy) May 24, 2023
Akash Madhwal 5 wickets in the eliminator after the 4 he took in the last league game which was a do or die game . Such a delight to see newcomers doing well. This is the season where many of the experience guys have had a great season and many newcomers have made a big mark.… pic.twitter.com/ofZI0yk8af

— Virender Sehwag (@virendersehwag) May 24, 2023
What a spell from Akash Madhwal🔥🔥🔥. Congratulations @mipaltan, great win 🙌🏾

— Jasprit Bumrah (@Jaspritbumrah93) May 24, 2023
Akash Madhwal and Rohit Sharma's bond is so special man 😭😭❤️❤️ pic.twitter.com/yiJ7kvXdok

— ANSHUMAN🚩 (@AvengerReturns) May 24, 2023
This is the greatest spell by an uncapped Indian bowler in the history of IPL.

We all are proud of you Akash Madhwal 💙😭. pic.twitter.com/CQkI3mWDFg

— Vishal. (@SPORTYVISHAL) May 24, 2023
Akash Madhwal becomes the first ever bowler to take a five-wicket haul in IPL playoffs.

5/5 for MI against LSG in the Eliminator.

— Kausthub Gudipati (@kaustats) May 24, 2023
Great bowling in a high pressure game, Akash Madhwal. Welcome to the 5/5 club 👏🏾 @mipaltan @JioCinema

— Anil Kumble (@anilkumble1074) May 24, 2023
Midtown Madh-ness
Over 1 - 0, 0, 0, 2, W, 0
Over 2 - 0, 0, 0, W, W, 1
Over 3 - 1lb, 1, W, 0, RN, 0
Over 4 - 0, 1, W
Looks like Lucknow have run-out of steam
11.5 - Marcus Stoinis clashes in-between running with Deepak Hooda, gets run out
12.3 - K Gowtham becomes the bunny of his own trick, gets run out
Does this mean game done? Not yet. But, we are almost there.
Madh-wall!
Akash Madhwal is turning out to be a menace for LSG. '0 0 0 W W 1' - these figures at the midway stage of the second innings; nothing short of a superhero.
Perfect catch + Piyush Chawla delivery = Pure Class
PC's wicket-taking spree continues as he gets LSG skipper Krunal Pandya into his trap. A straight delivery which Pandya lofts up, and Tim David jubiliantly completes a safe catch.
Chris Jordan got the Paltan like....
To Mr. Chris Jordan,
With all due respect, pic.twitter.com/nS48qmRNWV

— Akash (@nagpurite69) May 24, 2023
The first breakthrough
Prerak Mankad mistimed his attempt to slice the ball hard towards deep side. Hrithik Shokeen, who was a bit uncertain of the delivery, is a relieved man as Akash Madhwal completes the catch with ease. WE ARE OFF THE MARK!
Intermission
Wadh an impact from substitute Nehal - 4,0,6,4,0 - before getting dismissed on the final ball helped Mumbai Indians post a confident score of 182/8.
Now then,
What do we have here? 183 runs to defend.
The participant(s)? Mumbai Indians' bowlers
Paltan, can we defend this? *voice slowly rises* YES.
Stay tuned for the second innings.
Wickets.... six balls apart
Tim ballooned a full-toss that escaped the weight check and landed in the safe hands of a diving Deepak Hooda. Six balls later, with three wise wides from Naveen-ul-Haq, we lost our seventh wicket as Tilak Varma flat-batted it to Hooda.
A Cam-manding impact
3.3 - Cameron Green (41 off 23 balls) struck a boundary in every 3.3 deliveries in the #LSGvMI game, his 2nd fastest such rate in a game this @IPL season; in fact, he has scored 389 runs while batting at 3rd in #IPL2023, the most by any batter coming in at 3rd. Impact.#TATAIPL

— OptaJeev (@OptaJeev) May 24, 2023
However....
LSG's Naveen struck not once but twice in the same over! After his leg-cutter delivery forced Aapla Dada Surya to sky a shot down south towards K Gowtham, Cam Green was left stunned as his off stump taken down with a 104.9kph ball.
The SKY is GREEN in Chennai
The 64-run partnership between Suryakumar Yadav and Cameron Green propelled MI to cross 100 in 10.2 overs. Some confident hitting from our boys in Blue and Gold.
BELIEVE
keep calm n watch suryakumar yadav and cameron green bat!😍👌🏼#LSGvMI

— Jeshurun Immanuel (@jxshxrxn7) May 24, 2023
#CameronGreen continuing his great form from the previous match.#LSGvMI #IPL #IPL16 #IPL2023 #TATAIPL #Chennai #Eliminator

— Tejan Shrivastava (@BeingTeJan) May 24, 2023
Powerplay charcha
Once again, the 'Green' signal seems strongly lit as our Aussie star helped MI finish the first six overs at a score of 62/2. Cam Green got into the groove in the sixth over, smashing 15 runs off five Krunal Pandya deliveries.
This comes as a relief after we lost our openers at 3.2 and 4.2 overs respectively.
Change of guard: Rohit out, Green in
Rohit Sharma's positive start to the game was brought to a halt by Naveen-ul-Haq. Hitman tried to smack over extra cover but it landed straight in the hands of Ayush Badoni. Enter Cameron Green, and the Aussie quickly introduced himself with a boundary.
Special fans in the house!
Funcho following the motto: Mumbai se support kum nahi honi chahiye 🥹🫡#OneFamily #LSGvMI #MumbaiMeriJaan #MumbaiIndians #TATAIPL #IPL2023 @Funcho_official pic.twitter.com/Pl20YDjRaP

— Mumbai Indians (@mipaltan) May 24, 2023
Strategic timeout ahead of LSGvMI
Two pillars of Mumbai Indians 💙
Ro-Polly 🤜🤛 #Eliminator #MIvsLSG pic.twitter.com/qGEFQ0eGVe

— Mumbai Indians FC (@MIPaltanFamily) May 24, 2023
RO on why he chose to bat
"I am not sure how much wear and tear will happen. Back in Mumbai we prefer to chase, but here with a longer boundary, we want to bat first. The boys are quite upbeat about it. At the end of the day, we are here. It was a long journey with ups and downs, and because of that we learnt a lot about our team as well."
KKR PLAYING XI: Krunal Pandya (Captain), Prerak Mankad, Marcus Stoinis, Nicholas Pooran, Ayush Badoni, Deepak Hooda, K Gowtham, Naveen-ul-Haq, Ravi Bishnoi, Mohsin Khan, Yash Thakur
SUBSTITUTES: Kyle Mayers, Daniel Sams, Yudhvir Singh, Swapnil Singh, Amit Mishra
MI PLAYING XI: Cameron Green, Rohit Sharma (Captain), Ishan Kishan (Wicket-keeper), Suryakumar Yadav, Tilak Varma, Tim David, Chris Jordan, Hrithik Shokeen, Piyush Chawla, Jason Behrendorff, Akash Madhwal
SUBSTITUTES: Ramandeep Singh, Nehal Wadhera, Vishnu Vinod, Kumar Kartikeya, Sandeep Warrier
SQUAD UPDATE: Two changes to our Blue and Gold Playing XI: Hrithik Shokeen brings in his variety of spin bowling, replacing Kumar Kartikeya.
In terms of batting, Tilak Varma returns to the fold and steps in for Nehal Wadhera.
TOSS UPDATE: Ro-Hit calls for Heads, and Heads it is. Our decision? आम्ही प्रथम फलंदाजी करू.
नमस्कार मुंबई! Welcome to the MI live blog for Mumbai Indians' Eliminator game in the Tata IPL 2023 against Lucknow Super Giants at the MA Chidambaram Stadium.
This is our 10th playoff, and safe to say, it is Hitman's territory. How? 10 wins in 13 playoff outings as a captain.
Our agenda today? Beat LSG! Avenge our heartbreak from last week! Break our 0-3 deficit! Enter Qualifier 2.
लोक ऐका, we will bring you the best moments, your #MIPaltan posts and everything Mumbai Indians. With four hours of cricket ahead, ARE YOU READY? HOW IS THE JOSH!