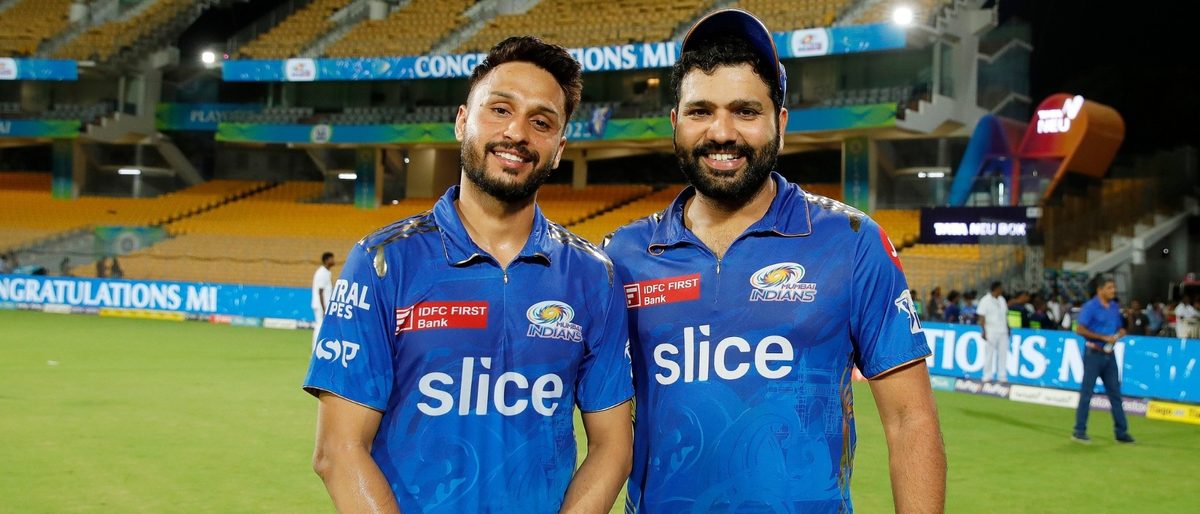 "My yorkers have been learnt in tennis-ball cricket"- The 5/5 guy, Akash Madhwal
mi
A man of few words but someone who loves to do the talking with the ball, Akash Madhwal has turned out to be an unsung hero at the right place and right time. Tonight, his spell of 5/5 - a record for an uncapped player in IPL history - was not only a resolute display of the hardwork to repay the trust by his Rohit bhaiya; but also made it known that 'opportunities multiply when they are seized'.
While trying to soak in the moment with his team-mates, coaches and family, our Player of the Match managed to get a strategic timeout and interact with some curious journalists at the post-match press conference.
The pitch at the MA Chidambaram Stadium in Chennai hasn't been kind to pacers but Akash managed to rubberstamp his authority on it. Did the wicket change drastically in the second innings?
"The wicket at Chepauk was good. As you saw, the ball was not gripping but skidding. I am a swing/sling bowler, and I pitched my deliveries in hard lengths aiming for wickets," Akash said
Every bowler has an interesting backstory to their style of play in cricket. For Akash Madhwal, it was tennis-ball cricket in his home state of Uttarakhand. Asked what tactics from tennis-ball cricket does he implement in his current bowling prowess today, he said, "Through the tennis ball, I have only learnt how to bowl yorkers and I use that in my bowling today. There is only one way of evading those deliveries. If the bowling lengths are pitched a bit high or low, it would gift away boundary fours or sixes. Thus, I needed to bowl strong yorkers in tennis cricket and that is what I do today with a proper cricket ball."
Quizzed a bit more on his career so far, a smiling Akash Madhwal got candid on his ambitious rise with the media. "I have been with Uttarakhand Cricket Association ever since they got affiliation with the BCCI in 2018. In 2019, I was a net bowler with Royal Challengers Bangalore. Later on, I joined Mumbai Indians and started out as a net bowler again. Fast forward to today, I am getting the opportunity to play in the team."
Jasprit Bumrah and Jofra Archer, who were expected to te lead the MI bowling this season, have been sidelined with injuries. Having stepped up with his own set of extraordinary performances like today, Madhwal was instantly likened as a timely 'replacement' and asked if he had any other additional responsibility in that department. However, being himself, the 29-year-old asserted that, "I am trying my best to fulfill the responsibilities given to me by the team. I am not Bumrah's replacement but I'm trying my best to do what I can."
When the scouting team recruits a net bowler, they are given a chance to prove themselves. In practice matches, you need to show your best skills as the entire team of players - as well as the scouts - are watching an assessing you as the net bowler.
"Whatever opportunities come your way, you should grab it and make the most of it."
Speaking of opportunities, Madhwal came close to making his MI debut in 2022. He was signed on as a replacement for our injured Aapla Dada Surya, but despite being unused, he kept training with the team and his efforts earned him a retention for the 2023 campaign. "I was given clarity of my role with the team. I have to continue the process I was following and had the surety that I would get opportunities next season. That was very clear."
A major feather was added to Madhwal's cap in 2022, one where he was made the captain of Uttarakhand's T20 team. In his words, he said, "I had to balance the workload, but I felt happy to grab that opportunity. Because, as a bowler, I had a specific way of analysing the game but when I became a captain, my vision to analyse the pitch, the conditions of the game was broadened."
Rest assured, those yorkers will keep coming. Although he might not want to admit, filling in Jasprit Bumrah's shoes was never going to be easy. But with a smooth action, the experience of what-to-bowl-when, it's turning into a proper spectacle!