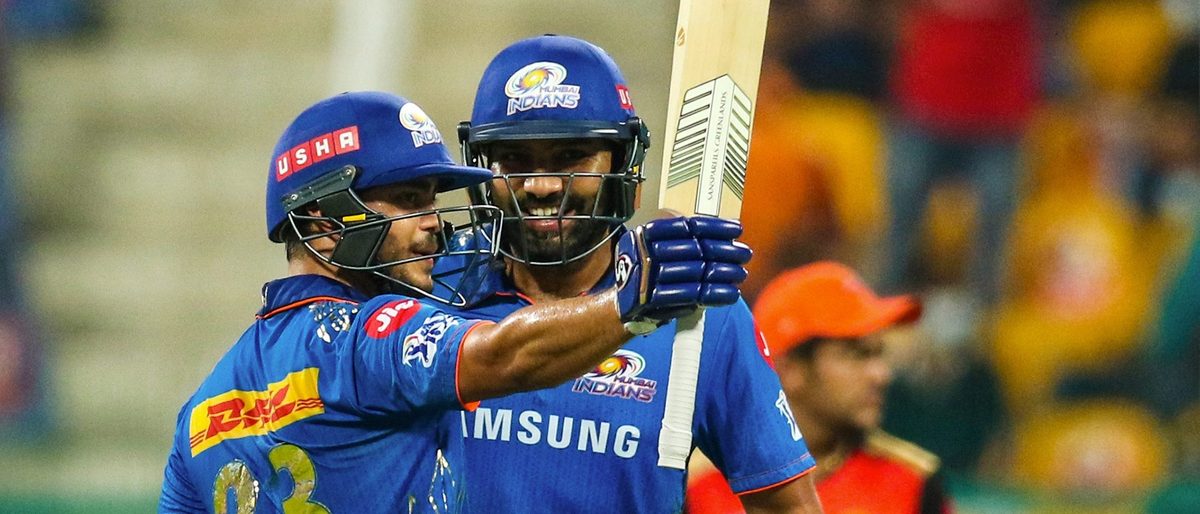 "Ishan, Surya put up fine performances today": Rohit Sharma
mi
The Mumbai Indians registered a 42-run win over the Sunrisers Hyderabad in their final game of the league stage of IPL 2021. It came on a day when runs came from all across the boundary, with MI scording 235/9, it's best total ever in IPL, with a hope of getting SRH out for under 65 runs.
However, SRH fought back well, and chased until 193/8. However, it was MI's day, and a win would ensure that the Men in Blue and Gold end their IPL 2021 campaign on a winning note.
Post the game, captain Rohit Sharma addressed a press conference and answered some interesting questions. Below is an excerpt from the same.
What is the status of Hardik Pandya's fitness and bowling?
"Look, in terms of his bowling, he hasn't bowled yet. So the physios, trainer and the medical team are working on his bowling. As of now, all I know is that he hasn't bowled a single bowl yet but we wanted to take one game at a time and see where he stands. You saw he didn't bowl today as well, but he is getting better day by day. So, in the next week or so he might be able to bowl."
"The doctor, physio will be able to give an update on that. As far as his batting is concerned, he will be a little disappointed but we know the quality of him. He is a quality player and there is no doubt about that and he has come back from tough situations before as well. Personally, for him he will not be happy with his batting but again the team has confidence in his ability. I personally have confidence in his ability. So yes, he is progressing."
"When you look at him, he is getting better every time he goes on to the field. He looks better and better. But again, a player like him is probably just one innings away from getting back and getting back to his own natural way. We have seen it in the past. He has done it before as well. If I have to put everything together, I am personally very confident of his ability. We have seen it in the past and there is no doubt that he will be a valuable asset."
Was there a change in the strategy for MI when IPL 2021 shifted to the UAE?
"No, there was no change in strategy. We knew about the conditions. We won the title last year in the UAE. We had also played well here. We won two back-to-back matches in Delhi in the first leg of IPL and we also wanted to play more matches but unfortunately, because of whatever was happening in the country, there was a break and all of us had to depart."
"We had to go back home but when we came here there were some injuries, some players from our first eleven missed the first two or three matches. But, in spite of that I know we had to perform well. We did not perform well this year. We were inconsistent in our performance. If you are inconsistent, it becomes very difficult to qualify for the playoffs."
"But again, the way we have played in the last two or three years, we should be proud of ourselves. We were back-to-back champions in the last two years. This year we were not consistent enough and because of that we couldn't qualify."
How much did starting troubles in the second leg come back to haunt you later?
"To be honest, yes, it was difficult to start. Like I said, we had a couple of injuries in the squad, among the guys who go out to play usually. Those guys were missing. We just didn't play as a team to start with and collectively, as a group, we didn't come together. That was the main reason for us not qualifying."
"When you've to win games, championships, everyone has to win collectively together. That is what we've been doing successfully in the last few years, that's the hallmark of this team, to come collectively and perform. We don't rely on one or two individuals at any given stage. We always believe in everyone coming together and chipping in with those performances. That didn't happen this year."
"That was a bit disappointing. But again, I don't want to take anything away from the guys. We have had two successful campaigns, back to back, this wasn't our year."
How challenging is it to handle a team that has six players who are up for a global event immediately after the IPL?
"Honestly, when you go there, to play international cricket, it is a different ball game. I don't want to count too much into the IPL and what is going to happen in the T20 World Cup. T20 World Cup and franchisee cricket are different. So you cannot really compare or look too much into those aspects."
"Yes, form matters, but it is a different squad there, a different squad here, the way we play here is different from what we do there. So there's a lot that goes into the understanding of the two teams. You cannot go much into it. Yes, all these guys who will play the World Cup would've liked to have a good run, but that didn't happen."
"You saw a couple of fine performances today from Surya and Ishan. Again, when you talk about the T20 World Cup, there will be a couple of practice games so that the guys can get back into the rhythm and see what we can do there."
With the mega auction coming up next year, have you made any plans on whom to retain yet?
"Look, right now we don't know what is going to happen. The rules are not out yet. There's not much clarity as to how many players you can retain and what is going to happen. So we have no idea about that. But once the rules are received, I will probably be able to tell you which player we will be retaining."
Ishan and Surya's knocks were visual treats, giving a sweet finish to our IPL 2021 run. And with that, we end our journey for the season. Thank you for sticking with the team through thick and thin, Paltan. We will surely be back stronger.