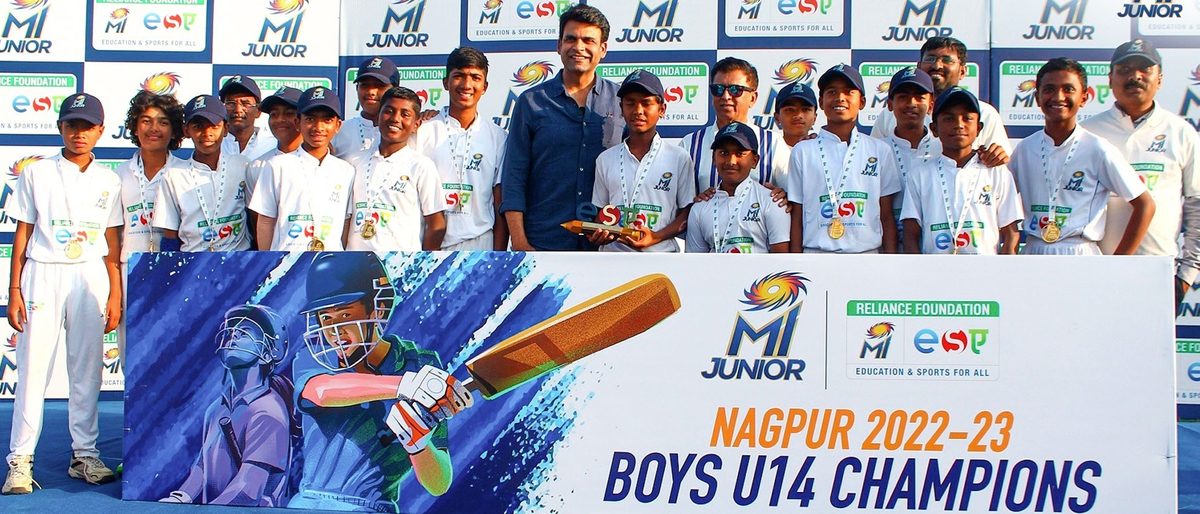 Important to nurture talent from early age: Mumbai Indians Scout, Kiran More
mi
Shri Rajendra High School and Aspire International School win the MI Junior Nagpur Championship in the U-15 Girls, U14 Boys and U16 Boys category respectively
The finals of the Nagpur leg for the month-long MI Junior inter-school cricket tournament were played at the Central Railways Cricket Ground, Ajni on Saturday. Doing a grand double, Shri Rajendra High School, Kothi Road won the Girls U-15 and Boys U14 city championship titles while Aspire International School Wardha Road clinched the Boys U16 trophy.
The teams received their winning trophies from former Indian cricketer and present Mumbai Indians Scout Mr. Kiran More on Saturday at the Central Railways ground.
The third edition of the MI Junior Interschool cricket tournament which was played across some of the iconic grounds in the city engaged with over 60 teams with close to 1000 boys and girls participating across three age groups of Boys U14, Girls U15 and Boys U16.
Speaking on the occasion, former Indian cricketer and Mumbai Indians scout Mr. Kiran More, said, "It is extremely encouraging to see the response and excitement of schools to participate in the tournament. It is extremely important to nurture young talent and I believe MI Junior gives them a competitive and professional platform to showcase their skills. I congratulate all the winners of the Nagpur leg and hope that they make a mark or themselves and bring more laurels."
The winning teams are now all set to train and gain invaluable knowledge under the guidance of a member of Mumbai Indians Coaching Team.
MI Junior is an initiative conceptualized by Mumbai Indians owner Mrs. Nita Ambani, who has been the flag bearer of promoting sports as part of the educational curriculum and has been spearheading various grassroots sports initiatives through Reliance Foundation including ESA (Education and Sports for All).
Match Report:
In the Girls' U-15 final, the Shri Rajendra team posted an imposing target of 237, without losing any wickets in their stipulated 20 overs, to set up an emphatic 203 victory over St. Joseph's Convent Girls High School, Mohan Nagar.
The opening pair of Sanskruti Sant (120 not out) and Kuntal Sharma (71 not out) tore into St. Joseph's bowling attack, to take a commanding position at the halfway stage. Chasing a challenging total, St. Joseph managed to score just 34 runs with Sanskruti Sant shining with the ball as well, picking three wickets (3-6).
In the Boy's U-14 final too, Shri Rajendra team romped to a convincing 8-wicket victory over Podar International School, Besa.
Riding on superb bowling performances from Sanay Shende (3 for 16), Karan Ninawe (3 for 31) and Mimoh Meshram (2 for 19), Rajendra side bundled out the Besa boys for 119 in 36.5 overs. Radhe Mahadane (35) was the lone warrior for Podar. Aaryan Nagpure (50) and Priyanshu Jachak (26) then took Shri Rajendra past the target in just 34.5 overs.
Meanwhile, the Boys Under-16 final was also a one-sided affair with Aspire International School, Wardha Road racing to a nine-wicket win.
Opting to bowl first, Aspire bowled out Centre Point School, Dabhas to 122 in 37.2 overs courtesy impressive bowling by the trio of Aryan Singh (2 for 16), Shreenav Tekade (2 for 12) and Devesh Kumar (2 for 27). The likes of Nakuul Chhokra (33 not out) and Addhyan Rauthan (20) were the main contributors for the Centre school team.
In reply, Wicket-keeper Vivek Yadav notched up an unbeaten 78 to give Aspire the coveted crown. They lost just one wicket in the process, with Aryan Singh also contributing with his 28 not out.