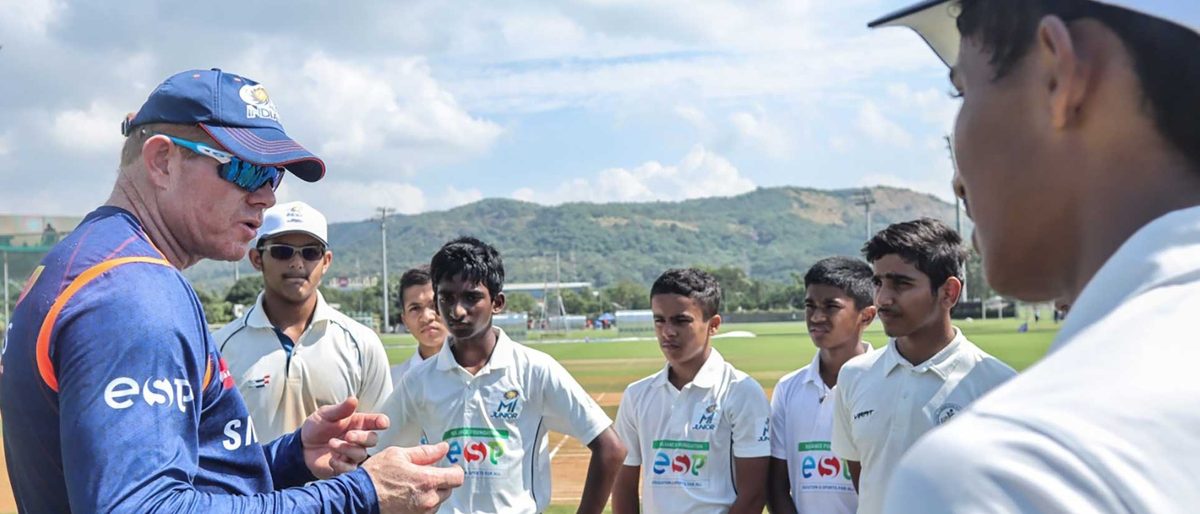 James Pamment guides youngsters at the MI Junior Training Session
mi
The MI Junior Training Session took place at the Reliance Corporate Park on Thursday. Finalists from the tournament scheduled earlier in the year were present at the venue. These included:

1) Shardashram Vidya Mandir - U-16, Girls.
2) Singhania School - U-16, Girls.
3) Rizvi Springfield - U-14, Boys.
4) Swami Vivekanand International School - U-14, Boys.

Various budding cricketers received some exceptional coaching assistance from our fielding coach, James Pamment, who was leading this session.
James greeted the kids early in the morning. He gave them a pep talk and kept a close eye as the cricketers hit the nets.
"Cricket is all about having fun. Being persistent, disciplined, having a good attitude, are all important but you have to be enjoying it. If you're not going to enjoy, you're going to stop doing it," James said.
Pamment aided these fresh faces at the camp, whether it was modelling their bowling action, advice on how to extract pace or improvising their batting technique.
He praised the girls and boys for their strokeplay in the nets and also appreciated the use of short deliveries. James asked them to focus and keep getting better in order to stand a chance to prosper in the coming years.
There were some crucial fielding tips on offer from the expert himself. Pamment asserted that fielding was also a craft like the other departments.
"You want the ball to come to you, that's the most important part of fielding. Just like batting and bowling, you build your skills in fielding as well. The best fielders have the best attitude. They go and stand in the position where the batsman is likely to hit the ball."
He gave his childhood example of how he would position himself at catching positions in the field to keep himself more involved.
"When I was your age and I wanted to be involved in the game all the time. If somebody was cutting, I would be standing at point. If somebody was gonna whack it out to long-on, I was out there at long-on."
Pamment also emphasised on the importance of understanding their own game even though coaches are there to guide.
"The coaches will help you, always be there and give you information. But you have to become your own best coach. That's the only way to progress in this game."
We wish these youngsters all the luck and hope to see them make the city and the nation proud in years to come.