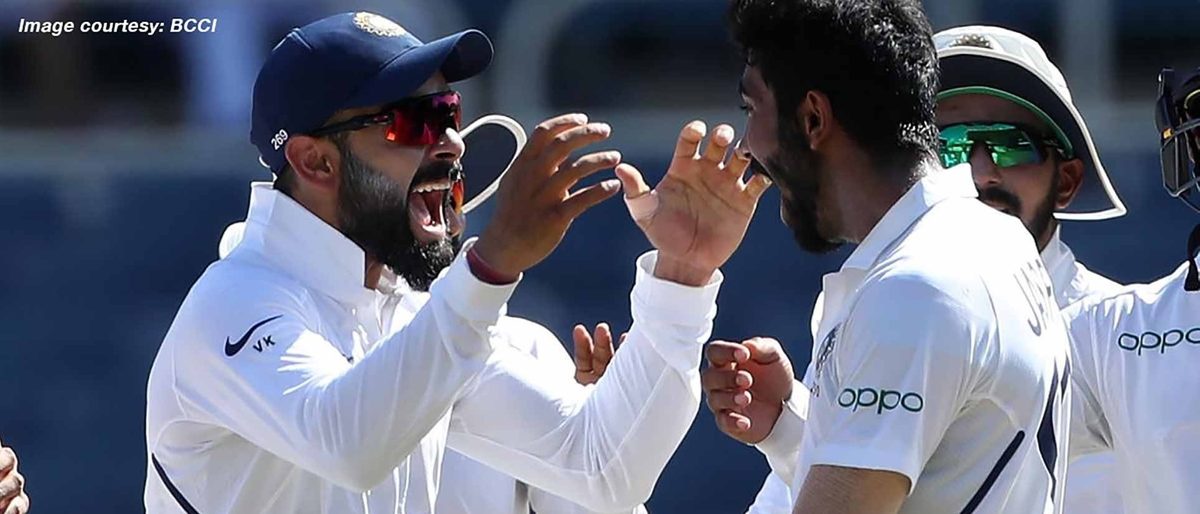 Jasprit Bumrah: I owe the hat-trick to Virat Kohli
mi
Jasprit Bumrah has carried his white-ball form in Test Cricket, as made evident with his staggering bowling performances in the Caribbean Isles. Not only did the pacer pick another five-wicket haul in Jamaica, but also went on to take a hat-trick and become only the third Indian to do so in the traditional format.
After the day's play, Virat Kohli took the task of interviewing his premier fast bowler for BCCI TV. When asked about his mindset with the new ball, Bumrah answered:
"When there is so much help from the wicket, you can get greedy and try to be over aggressive. That time, you have to keep things simple, bowl good balls and create pressure."
After getting wickets on two consecutive deliveries, Boom bowled an inswinger that struck Roston Chase on his pads on the hat-trick ball. The right-arm pacer credited Kohli for backing him and taking the review as he was uncertain about it.
"Actually I wasn't very sure of the appeal. I thought it was bat, so I didn't appeal so much. But it was a good review in the end. So I think I owe that hat-trick to the captain"
The Indian skipper whose call was pivotal in taking the review said both he and vice-captain Ajinkya Rahane were confident so they went ahead with it and it happened to be on the right side.
Bumrah was all praise for captain Kohli as he lauded him for giving the freedom to express themselves in the field and also back them.
"The captain gives you a lot of confidence, that gives you a lot of self-belief. When you bowl, you can express yourself, you can try whatever you want to do. That gives you a lot of confidence, not only me but each and every bowler is being backed by him so much."
Jasprit Bumrah the most complete bowler in world cricket right now: Kohli
After the win in Jamaica, captain Kohli spoke highly of Bumrah's memorable show of 14 wickets in the Test series.
"When you put your mind towards a certain thing, you strive towards it. Bumrah definitely wants to be the best bowler in the world. He has moulded his life like that. He has moulded his discipline, work ethic, the way he trains, his diet, bowls as much as he has to."
Kohli spoke about how well Bumrah has adapted to the traditional format and shut down all critics who felt he wouldn't sustain in red-ball cricket.
"When he steps onto the field, he knows how much he can contribute. Really pleasing for a guy who was tagged a T20 specialist first. He then came in and took over the one-day scene, now he's taking over Test cricket. He's proving people wrong that there's a set template for each format."
The Indian skipper went on to term him as the most complete pacer in the cricketing world at the moment. He described his experience of watching Bumrah bowl so lethally from the slips. He articulated the thoughts of all the Indian fans - India are very lucky to have a bowler like him in their ranks.