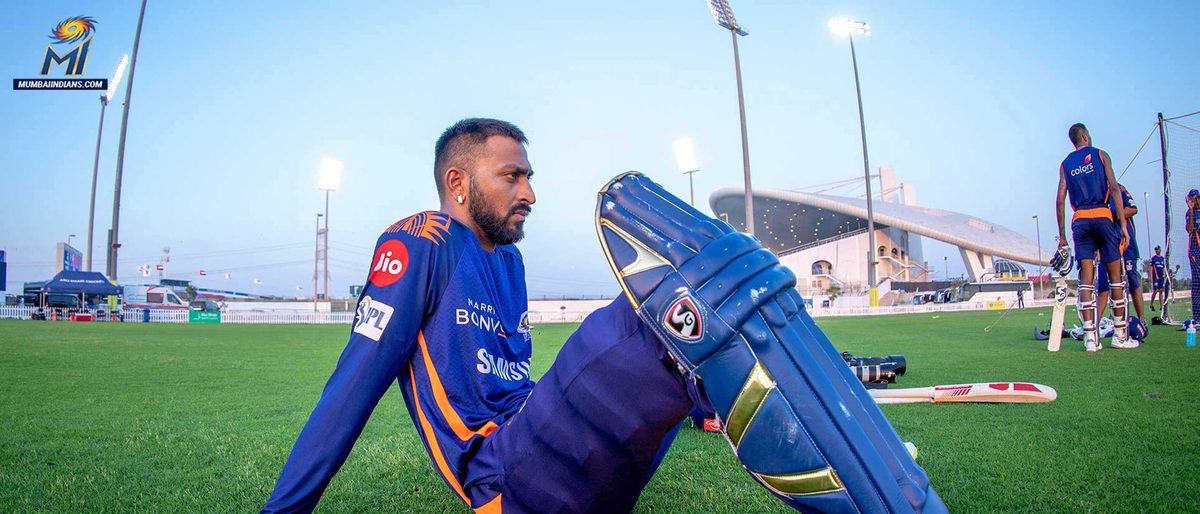 Krunal: Have always kept the team first
mi
He often bats as a floater in this MI set-up. When the side is four down, Krunal is sent ahead of Hardik and Pollard to stabilize the innings. When the big guns are back in the hut, he's expected to score big.
With the ball, Krunal has been best friends with the tramline. Bowling tightly in the middle overs, creating opportunities for other bowlers and dismissing crucial men too -- Krunal Pandya has been an absolute asset for the defending champions.
In his recent media interaction, Krunal talked about his 'thankless' role, learning from Hardik and stepping up as MI's premier all-rounder.
Q: Limited batting, bowling in the overs where you are usually attacked. Can you talk us through your thankless role?
Krunal: I've been playing in this role for the past 4 to 5 years for MI and that's how I've been. For example, this year I'm really happy how I've been going about with my bowling and batting, though what you said is exactly right, that this year we have started really well.

Especially our top order batters have batted really well, so I've hardly batted in this tournament, but whatever I have batted, I've had an impact with my batting as well. At the same time, bowling wise I have done really well. What I felt was that this year I have bowled those crucial overs for MI and the way I've gone about my play, I'm really happy. And what you said is that this is a thankless job but that is what I love doing. I like those tough situations as a player and I've always waited for those tough moments when you go out there and bail your team out from those tough situations and you win games for them.
Q: Will not getting enough time with the bat affect your chances for the national side?
Krunal: At the end of the day, I've never thought about this. I've always kept the team first wherever I've played - whether it's India or Mumbai Indians or Baroda Cricket. At the end of the day, it is not about how many runs you score or how many wickets you take. It's the impact. It's the time when you perform. Sometimes, in the shorter format, it is very important if you bowl a 6-run over, at a time when the required run rate is 15 per over. That is almost as close to taking a 4-wicket or a 3-wicket haul in the tournament. For example, against Sunrisers, I scored 20 runs in 4 balls, and that was an impactful performance that got the momentum going for us. Those crucial 20 runs really helped. So I've never thought of scoring the big runs or the wicket, it is about what is required for the team and I've always put the team first whenever I have played for any team. At the end of the day, T20 is about your economy rate as well, and it's about an impactful performance. In the shorter format, one over or 6 good balls if you bat well can change the momentum completely and I guess this is what I have been doing and I've always looked forward to whatever role I've been given. I just think about how I can give my best at that time.
Q: Who has had an influence on your batting lately?
Krunal: Generally, Hardik has been of big help for me when I was there in the lockdown, where we were together. We practiced together for almost 4-5 months and we were discussing cricket and everything else. So he has been of big help during this time and yes we also have a coach back home, whose name is Jitendra Singh and he's been with us for the last 7-8 years. He's also been a part of me getting better.

Q: Was your celebration against SRH directed at someone?
Krunal: (Laughs) No it was not for anyone. That is just the way I get going- it's actually very natural. Sometimes in games I feel like by doing that it gets me going and that's why I do it. It's nothing to show anyone or anything. It's just that I wanted to make the most of those 4 balls and the way I hit the first ball and every one after, it just pumped me up in that situation. It is, again, whatever the opportunity I get, I want to do well for the team and when I start doing that I feel really happy. I only got to bat, so I was curious about how I'd go along with those four balls. It came out really well, so I was just happy at that time. After scoring those 20 runs in Sharjah, it was a good wicket to bat on, I went and bowled those 4 overs. So I was really happy overall with how I went about it, and had to bowl to David Warner, one of the best T20 batsmen to bowl to. It was a small ground, so bowling to a left-handed batsman like David Warner as a left-handed spinner made me really happy, with the way I went about my bowling.
Q: With Pollard bowling barely and Hardik not bowling at all, you are the lead all-rounder for MI. How does it feel?
Krunal: I love challenges! I like doing these difficult things for my team because as an individual I've always wanted that. Once you step on the field, you have a chance to be a hero every game but you can only be the hero if you do well in those tough situations. I've taken it in a good way. I've been in a good space mentally, have been working really hard in the lockdown as well, and I've been focussing on specific parts of my batting and bowling. Again, getting so much responsibility is great. I love taking responsibility for the team. I'm looking forward to more of it and whatever I've done for the team so far, I'm happy with the way I'm going. So, yeah, all good with that.