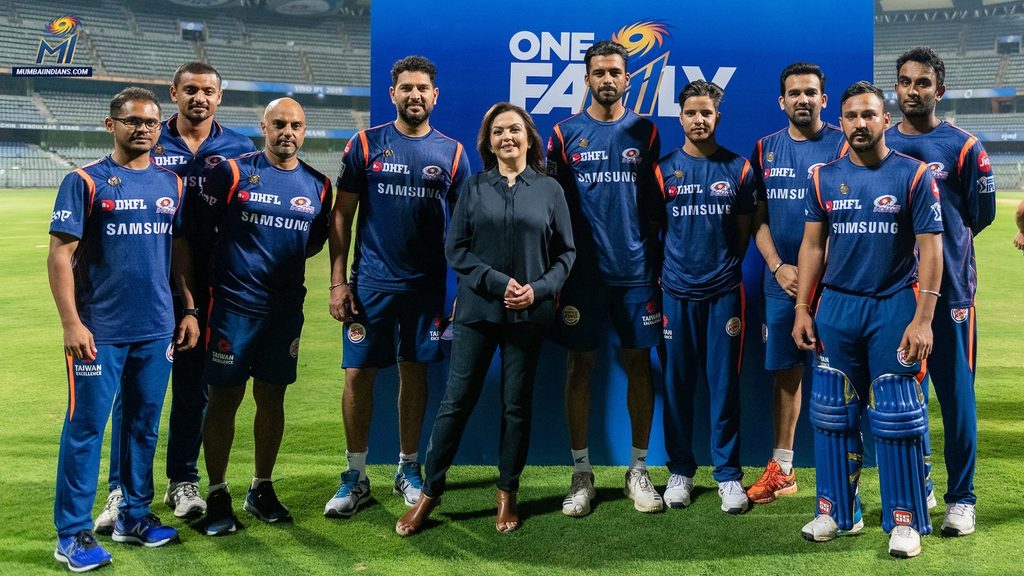 Mrs. Nita Ambani welcomes new recruits to MI Family
mi
Mumbai Indians marked one week of training as they prepare for the big stage – the 12th season of the Indian Premier League. New players continue to join and make this family even bigger. Local boys along with the international stars add more blue jerseys on the green field.
New faces, same ritual:
Player bonding is an integral part of a team and Mrs. Nita Ambani leaves no stone unturned in binding the squad together. Like previous years, she was present to witness her boys train hard and always had a smile on her face. She then welcomed the new MI players into the family by pinning MI batches on their jerseys. Something, the management has been doing for several years now.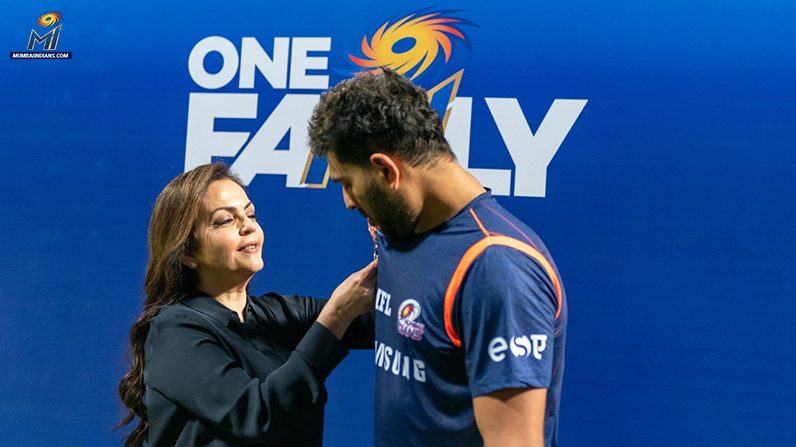 Mrs. Nita Ambani pins the MI badge on Yuvraj's shoulder
The players felt like home as Mrs. Nita Ambani met them after a hard day at work. It was a joyful moment as all the players felt connected. The MI Junior champions, both boys and girls were also present to meet the players and the support staff. It was a memorable evening for the youngsters as they got to meet their stars and idols. Something they will remember for a long time.
Batting and more batting:
No session is complete without batting practice. The players love it and make the most of it. Specialised batsmen took time off and hit the open nets. They tried getting as much as batting practice as possible. To get a feel of the game, they also practised match simulations.
Southpaws at it: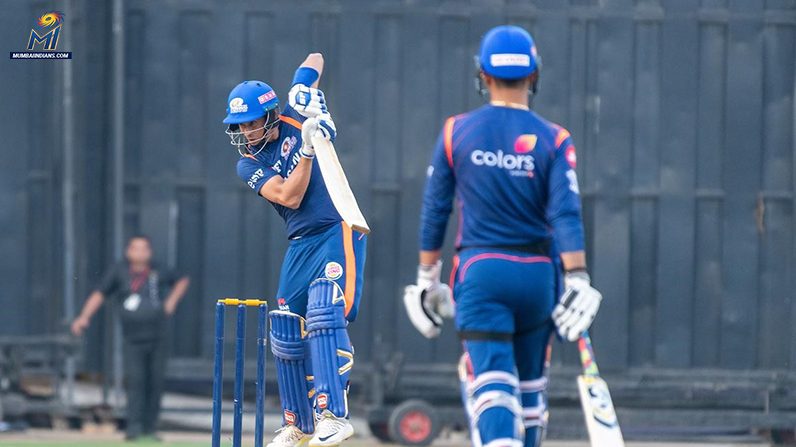 Siddhesh Lad plays a stroke off the backfoot.
Wicketkeeper-batsman, Ishan Kishan is grasping all the wealth he can from his fellow partner Yuvraj Singh. The duo spent valuable time in the middle to do what they do best. Kishan shifted gears as he tried going after everything. No fear of spin or pace, the Jharkhand lad used his feet and looked to maximize the occasion. One such instance was when he charged forward and lofted Jayant Yadav for a nonchalant six. Yuvraj was not left behind as the veteran stuck in and got good results too. He played some of his trademark shots, rolling back the clock at the Wankh
Endurance test:
After having good game time, Paul Chapman, the strength and conditioning coach of the Mumbai Indians had his time with the players. He ended the session by splitting the team into two groups – batsmen and bowlers. He made them sprint in intervals to test their endurance and fitness levels. The team was made to sweat it out and made sure Chapman was happy about it bringing curtains to another eventful training session.
Keep being with us for more information from the MI pre-season camp.