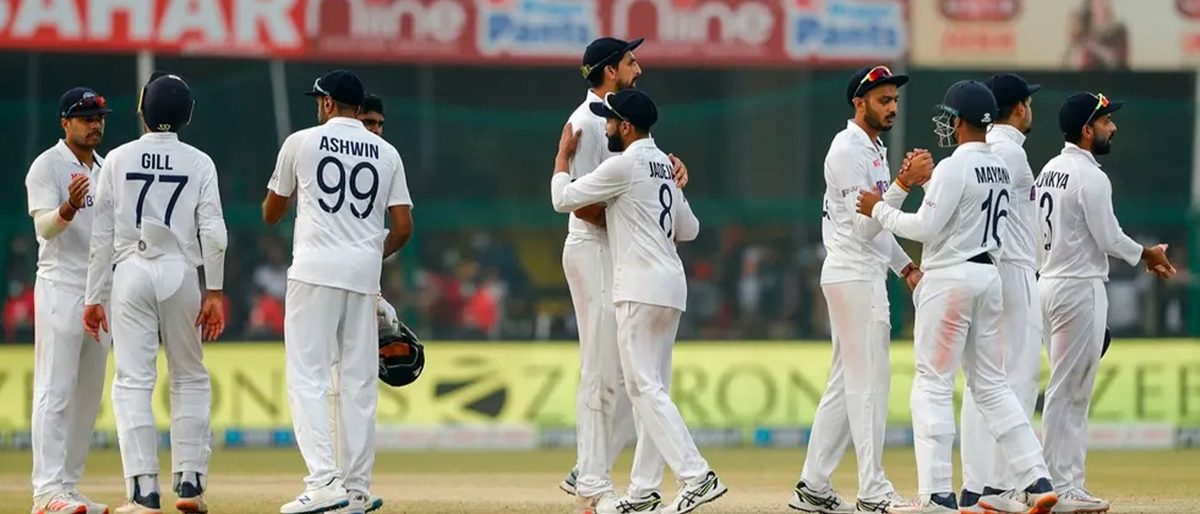 New Zealand eke out a draw at Kanpur with one wicket left
mi
India and New Zealand took their rivalry to Kanpur to play their first Test of the Black Caps' tour to India. Ajinkya Rahane called it right at the toss and opted to bat first. Mayank Agarwal and Shubman Gill opened the batting for India, and Shreyas Iyer received his Test cap from Sunil Gavaskar.
We take you through the highlights of the first Test between India and New Zealand so far.
DAY ONE
Gill gives India a good start
Opener Shubman Gill scored a valuable half-century at the top of the order to give India a good start despite losing fellow opener Mayank Agarwal early. Gill's matured innings of 52 (93), aided by Pujara's 26 (88), gave India a promising platform.
Kyle Jamieson strikes
Pacer Kyle Jamieson, who is playing international cricket for the first time in Asian conditions, was the stand out performer for the Black Caps. He took out both the openers and captain Rahane for 35 (63) and ended Day 1 with numbers 15.2-6-47-3.
Iyer makes a memorable debut, Jadeja shines
Shreyas Iyer, coming in to bat at number five, steadily marched to 75* (136) at Stumps, Day 1. His patient knock came with seven fours and two sixes. He was involved in an unbeaten century stand with senior batter Ravindra Jadeja, who currently sits at 50* (100). The duo will look to take off on Day two exactly from where they've left things today.
Bad light forced the stop of play with a few more overs left. The duo will be back on field at 9.30 AM tomorrow.
DAY 2
Shreyas Iyer scores a century on Test debut
Debutant Shreyas Iyer, who was at 75* overnight, displayed a matured knock of 105 (171) at Kanpur's Green Park stadium in the first session today. He got to the triple figures with a couple of Kyle Jamieson, and became the 16th Indian to score a century on Test debut. His knock helped India reach 345 in their first innings.
Tim Southee bags a fifer
Tim Southee earned himself a five-wicket haul with some splendid bowling that put a halt to the Indian batting line-up. He ensured that India were bundled out for 345 early in the day, giving New Zealand a push even before their batting started. He ended with bowling figures 27.4-6-69-5.
New Zealand openers look fluent with the bat
Tom Latham and Will Young built a strong platform in New Zealand's response to India's total. The duo batted through the day, skillfully deflecting tougher balls, taking singles when possible and sending away some boundaries. Latham's 50* (165) and Young's 75* (180) currently share an unbeaten partnership of 129 runs.
At Stumps, Day 2, New Zealand trail by 216 runs with all their 10 wickets intact. The visitors have made a strong case for themselves and will look to continue their clinical effort tomorrow.
DAY 3
Ashwin, Umesh set the tone early for India
After a Day 2 that was majorly dominated by New Zealand, the Indian bowlers struck back, with Ravichandran Ashwin beginning the attack. Ashwin accounted for Will Young's wicket at 89 (214) to break the opening partnership at 151 runs. Umesh Yadav removed captain Kane Williamson soon after for just 18 runs, leaving New Zealand at 197/2. From there, it only went downhill for the Black Caps.
Axar Patel gets a fiver
Spinner Axar Pater was the main cog in India's attack against the New Zealand batters. He grabbed five wickets, sending back Tom Latham, Henry Nicholls, Ross Taylor, Tom Blundell and Tim Southee. Axar now has five five-wicket hauls in four Test matches. His spell restricted New Zealand to 296/10.
India lose an early wicket
Mayank Agarwal and Shubman Gill kickstarted India's second innings. However, Kyle Jamieson took Gill out of the equation early at 1 (3) to make way for Cheteshwar Pujara. The senior batter and Agarwal saw India through the day without too many mishaps, with the scorecard reading 14/1 in 5 overs.
At Stumps, Day 3, India lead the Test match by 63 runs. It has been a see-saw affair so far, it will be interesting to see what Day 4 has in store at Kanpur.
Day 4
Shreyas, Saha get important half-century
Debutant Shreyas Iyer, who became the 16th Indian to score a century on Test debut just two days back, continued his good form in the second innings. Wriddhiman Saha also stepped up to the occasion with a crucial knock. While the rest of the Indian batting line-up - Cheteshwar Pujara, Ajinkya Rahane, Mayank Agarwal and Ravindra Jadeja fell in quick succession, Iyer scored a handy 65 (125) and Saha scored 61 (126) to stabilise the innings and push the team from 51/5 to 234/7.
Southee, Jamieson take three wickets each
Tim Southee and Kyle Jamieson exhibited some clinical bowling to inflict fear in the Indian batting order. While Southee took out Agarwal, Iyer and Jadeja, Jamieson claimed the wickets of Gill, Pujara and Ashwin. Southee finished with 22-2-75-3 and Jamieson with 17-6-40-3. However, Iyer and Saha's innings had done the damage.
Ashwin strikes early
India declared their second innings at 234/7 with a lead of 284 runs. No visiting team had chased down more than 276 runs in the fourth innings in India, and Tom Latham and Will Young began the chase for the target and to script history. However, Ravichandran Ashwin spoilt their party with an early wicket of Young, leaving New Zealand at 4/1 at Stumps, Day 4.
Day 5 of the Test match at Kanpur between India and New Zealand comes with a possibility of a win for India, a chance to create history of New Zealand or to force a draw. It is going to be cricket at its best, so tune in at 9.30 AM.
Day 5
Latham, Somerville make India toil in the first session
Overnight batters Tom Latham and William Somerville did well to not let wickets fall for New Zealand in the first session. They stitched together a 73-run partnership, but more importantly, held the New Zealand ship steady in the session before lunch. Latham scored 52 (146) and Somerville added 36 (110) before Umesh Yadav sent the latter back in the very first delivery post lunch.
Jadeja, Ashwin almost win it for India
Once Umesh Yadav came in with that breakthrough, it seemed like the seasoned duo of Ravichandran Ashwin and Ravindra Jadeja had taken it upon themselves to cause a mini destruction in the middle. Ashwin accounted for the openers and Tom Blundell, while Jadeja did a neat work with Kane Williamson, Ross Taylor, Kyle Jamieson and Tim Southee. Ashwin finished with 30-12-35-3 and Jadeja with 28-10-40-4.
Rachin Ravindra, Ajaz Patel see New Zealand to a draw
Rachin Ravindra and Ajaz Patel, the final partnership for New Zealand, held fort until bad light ensured the day was called off at least 10 minutes before the scheduled end. While their 10-run and 52-ball partnership may not have been much, it changed the result of a Test in New Zealand's favour.
It has been a match with the most interesting Test flavours, with the game dilly-dallying between the two teams throughout. It was a testing game for both the batters and the bowlers. While the Indians bowled their hearts out, trying everything they could to get all of New Zealand's wickets, the visitors kept their calm amidst losing a flurry of wickets, as they went from 118/2 to 155/9.
While this thrilling game has come to an end, there is one more Test to look forward to. The party will move to Mumbai's Wankhede stadium for a final Test on December 3rd, 2021.