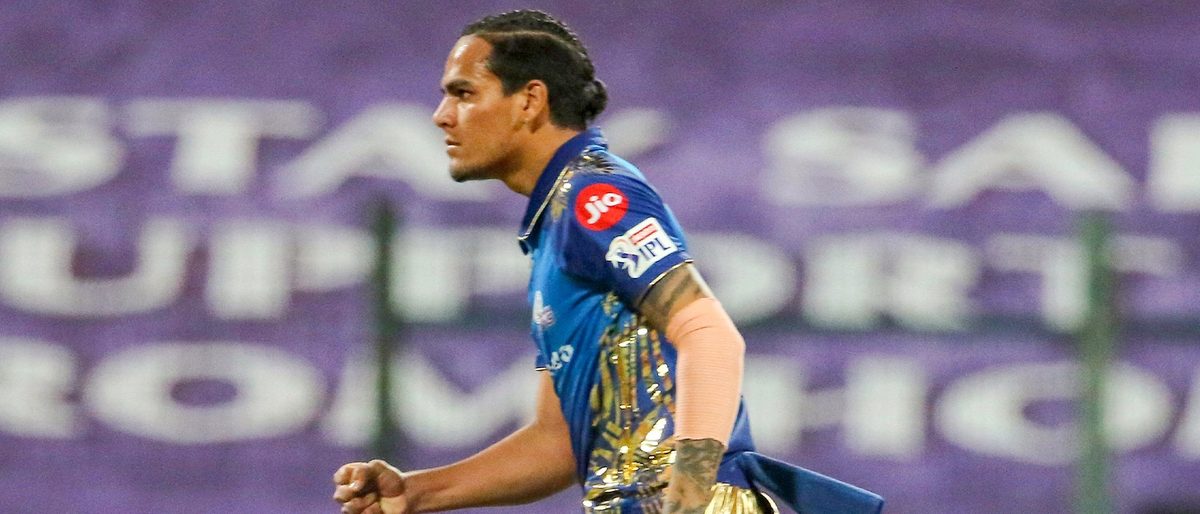 Quinton de Kock: Rahul Chahar is very hungry in what he does
mi
Mumbai Indians defeated Kolkata Knight Riders by eight wickets at the Sheikh Zayed Cricket Stadium in Abu Dhabi.
After being reduced to 61/5 at one stage, an unbeaten partnership between Pat Cummins and Eoin Morgan took KKR to a total of 148/5.
The openers put up a 94-run partnership for the first wicket as MI stayed in control throughout the run-chase. They went on to win by eight wickets with more than three overs to spare. Quinton de Kock carried his bat throughout the innings scoring 78* (44). He was also awarded the Man of the Match for his match-winning innings.
Quinton addressed the media at the post-match press conference. The wicket-keeper batsman shared his thoughts about his magnificent knock, Rahul Chahar's outstanding spell with the ball, and playing at venues other than Abu Dhabi.
Another great performance today. Take us through your pre-match chats, preparations, and plans coming into the game.
Quinton: "I think when you're playing too much, we know what our strengths are. It's just a matter of keep doing what you have been doing. Obviously, in our team, there's a lot of experience for everyone to stand up and now it's just a matter of going out there and doing it again, that's just about it."
Five back-to-back wins for the Mumbai Indians. How is the mood in the camp? Have preparations for the playoffs already started?
Quinton: "No, there's no preparation for the play-offs starting yet. We're taking every game as it comes. Whatever happens, we're just going to keep it simple. Stay humble in the way we do things. Just play to our strengths. That's all we can control for now. Whether we get to play so much, it's not controllable. We are all here trying to play the best cricket that we can."
Talking about Rahul Chahar's consistency, you see a lot of him from behind the stumps. You must be very happy with his performance. Tell us a little bit about the thought process that has gone on to turn this youngster into a match-winner.
Quinton: "I think the process was to just back him. He also backs himself which is very key in a player. He knows his talent and understands. We know that if he has a bad game, he's going to come back stronger. He's going to go back to work harder. He's very hungry for what he does. So it's good to see. That's all we can do as players and just keep backing them."
The captain spoke about managing the workload of the players. So, can we anticipate further changes in the playing XI in the coming matches?
Quinton: "To be honest, you're speaking to the wrong person. Not a part of the selection committee so I have no clue what the plans are. But, I'd like to say that the team's consistent. We'll see it until the next game."
Playoffs look very well within reach. What are the takeaways from this? Also, what are the focus areas to ensure a top-two finish for the Mumbai Indians?
Quinton: "Like I said, just keeping things simple, that's the way we like to do it. Just keep backing each other. Not overthink things, got a great bunch of players and experienced ones too which is key. It's also important that guys don't think too far ahead in the game. Just keep it simple. I think that's all we're going to do and try our best."
Now you've played six of your matches in Abu Dhabi so far, there are six more matches to go, four of which will be played in the other venues. Will there be a need to change plans or unlearn some of the plans that were specific to a venue like Abu Dhabi?
Quinton: "To be honest, we don't talk too much about the wicket. We like to as a team get out there and assess things. We like to rather be proactive. No one's overthinking. We get out there and assess things. We start with our decision-making when we get to a certain ground. We started watching a couple of games to see how the wickets are preparing. We'll plan when we get to certain venues."