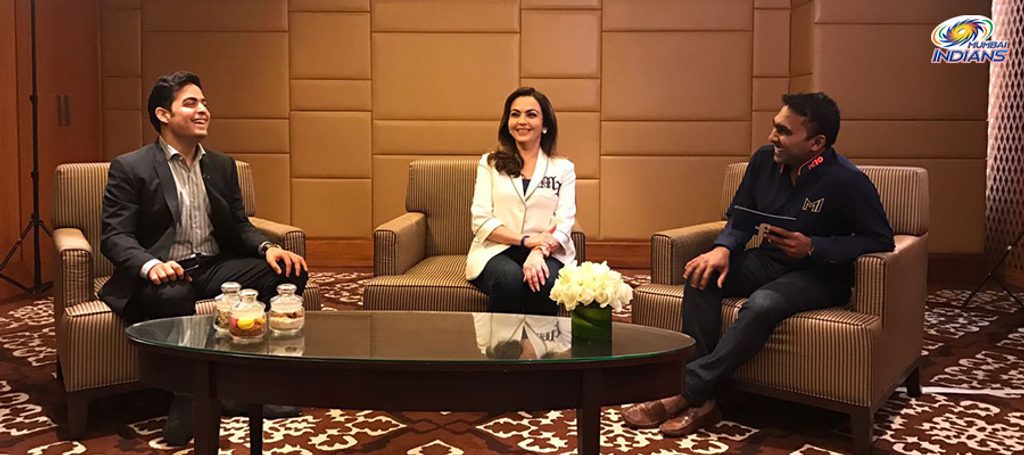 "We are really happy with the auction!" voices Akash Ambani
mi
With the much-awaited Indian Premier League auction for the 2017 season coming to a conclusion, team owners Mrs. Nita Ambani and Mr. Akash Ambani joined newly-appointed coach Mahela Jayawardene for a LIVE QnA session on Facebook with the fans. The die-hard Mumbai Indians fans had plenty of questions about the action-packed auction and the trio took some time out to answer them. 
Excerpts:
Mahela Jayawardene: This one is for Mrs. Ambani – you have been the driving force behind one of the best franchises in world sport. Tell us something about your best moments.
Nita Ambani: Gosh! There are so many of these cherished moments with Mumbai Indians that it is really going down memory lane. I got involved more after IPL 2 and in IPL 3, I was completely involved with the team. That edition would always be special to me. Sachin was the captain and we had youngsters like Saurabh Tiwary, Shikhar Dhawan along with Harbhajan, Zak, Malinga. It was my first time taking over cricket – those memories will remain with me forever. Then, of course, winning the championships in 2013 and 2015 were really special. 
There is something else too when it comes to Mumbai Indians is my 'Education For All' initiative. When I had those thousands of children filling up the Wankhede stadium and their positive energy just leaves me mesmerised.
Mahela Jayawardene: Next one is for me – have you already decided on the frontline bowlers and are you willing to try out different combinations?
Mahela Jayawardene: It is too early to talk about that. I think we need to first get together as a team. We have some fantastic bowlers in the squad, especially with guys like Malinga coming back gives us lot of stability and different options. To have Mitchell Johnson back as well along with Mitchell McClenaghan gives us a lot more options. As a coach, it is a headache, but a healthy one! It is better to have such amazing options than not having them. Looking forward to it, the bowling has not been decided and the team management will sit together and decide on the best combination to be put out on the park for the first game in Pune.
Mahela Jayawardene: Akash, next one is for you. Tell us about your journey from being a Mumbai Indians fan to gradually managing the team.
Akash Ambani: I think I am still a Mumbai Indians fan! I still read the blogs and I am reading all the comments now and seeing people post about the XI. I am seeing the different combinations here and I am thinking this works and this one too! The best thing about being passionate about a club is that I still am a fan and we take decisions at this franchise like fans only, passionately knowing about what is best for our team. I don't think anything has changed for me, from being a fan to an owner. 
Nita Ambani: I must say this, and Akash will agree with me on this – I am a fan first and an owner later. So, I talk as a fan of cricket and MI first, and then as an owner.
The trio answered many interesting questions during this engaging discussion. You can watch the entire Facebook LIVE session here.