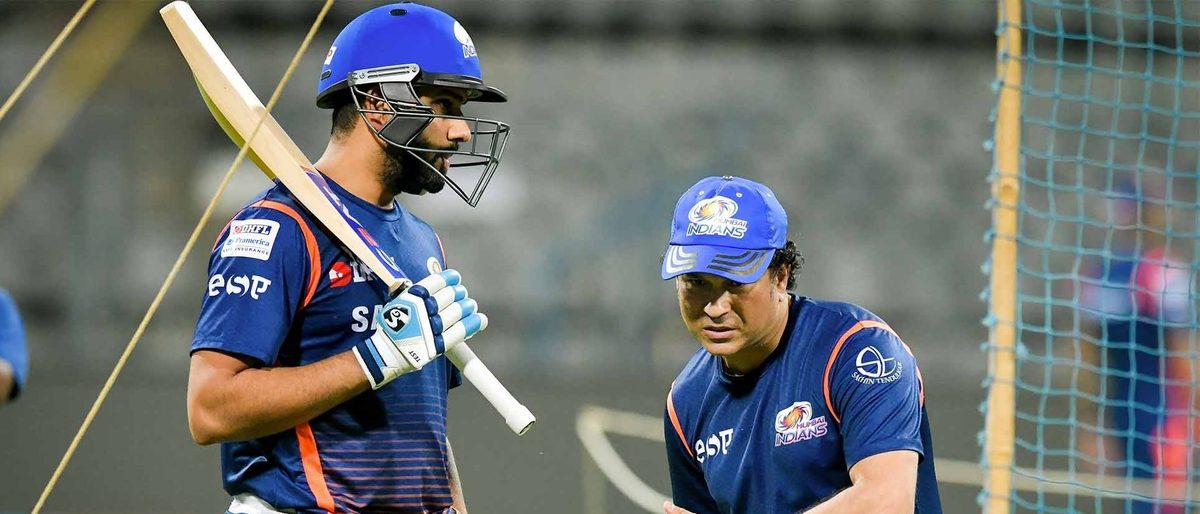 Rohit Sharma: I'd like to bring Sachin and Pollock back
mi
Rohit Sharma appeared in various live sessions with different cricketers on Instagram throughout the lockdown. For a change, he decided to interact with his fans on the occasion of Friendship Day on his Twitter account.
Rohit was reminiscent of his first paycheck and also spoke about the story behind his jersey number 45.
Here, we take you through some of the highlights of the ask session:
Coming back to cricket
With the ongoing pandemic having affected the sporting industry, Rohit addressed his concerns as cricket resumes in the coming future. He also mentioned that the cricketers will have to be aware and also get used to playing behind closed doors.
"Cricket definitely will be played differently now from what it used to be before. Something unusual for the spectators as well. There will be nobody at the stadium as we know. There are more other things that we need to be mindful of. All we need to do as players are just follow protocols set by your team and abide by it."
The Indian opener also stated that it won't be easy to get back to normal. He focused on the importance of basics and how it was important to get used to the conditions, skills, etc.
"It's not easy to get back to normal, especially when you're facing 140 plus. You need to get back to your basics. Try and find that perfect rhythm for yourself. Focus on technique a little bit which is why all the franchises are going a little early to Dubai to get used to the conditions."
Q: #askRo Hey Rohit, how much of a challenge will it be for those cricketers who have had absolutely no/negligible practice to get back in shape? Considering that playing fast bowling in tune or 140kmph + is seriously tough
- @chawla_yash

A: pic.twitter.com/dxESPlyZcS

— Rohit Sharma (@ImRo45) August 2, 2020
Biggest turning point
Rohit has faced a lot of challenges in his 13-year long international career. However, the biggest turning point came through a book which was written on Master Blaster Sachin Tendulkar.
"There have been many turning points in my life but the biggest turning point of my life was when I read the book, 'The Making of a Cricketer'. It's about Sachin Tendulkar."
Q: #AskRo @ImRo45 What is your life turning moment?
- @senthimuthu4

A: pic.twitter.com/fr7LwJ4hdS

— Rohit Sharma (@ImRo45) August 2, 2020
On a potential six-hitting competition with MI teammates
We also participated in the ask session asking Rohit about a potential six-hitting competition this year between him, Chris Lynn, Hardik Pandya and Kieron Pollard.
"I can't compete with these guys. They're way too powerful than me. I would be happy hitting boundaries and a few sixes here and there."
Q: Will we see a six-hitting competition between @hardikpandya7, @KieronPollard55, @lynny50 and you?#AskRo @ImRo45
- @mipaltan

A: pic.twitter.com/Yg2qTO1ifq

— Rohit Sharma (@ImRo45) August 2, 2020
One retired MI cricketer he could bring back
A lot of legendary cricketers have been a part of MI since 2008. If Rohit had a chance to bring someone back from retirement, who would it be?
"If I could bring back one retired MI player, not one actually, I want two players. The one and only, Sachin Tendulkar and Shaun Pollock."
Q: If you could bring one retired MI player back, who would it be?#AskRo @ImRo45
- @mipaltan

A: pic.twitter.com/kQfyK1hLQl

— Rohit Sharma (@ImRo45) August 2, 2020
Favorite Hundred in the World Cup
Rohit Sharma was at his peak during the 2019 World Cup as he slammed five tons through the course of the tournament. When asked about his favourite one, he picked his knock of 122* (144) against the Proteas at Southampton.
"My favourite hundred in the World Cup last year was against South Africa, the first game we played. Although it was a low total, the conditions were quite challenging and the bowling attack was really good."
Q: @ImRo45 #askRo
Which 💯 is your favourite among 5 World cup centuries and why ?
- @DineshDinu1128

A: pic.twitter.com/1ZuWwc8vyM

— Rohit Sharma (@ImRo45) August 2, 2020
Best moment with MS and captaincy style
Rohit and Dhoni have shared the dressing room for a while now but what is the Hitman's favourite memory of Captain Cool?
"My best moment with MS was when I scored my first double hundred. He was batting with me. We had a long partnership and sharing a lot of other things on the field was the best."
Q: #askRo can you share your one of the best moment with MS Dhoni?
- @Bhawani8350

A: pic.twitter.com/z2PigR5Zmw

— Rohit Sharma (@ImRo45) August 2, 2020
He was further asked about Suresh Raina's statement where he drew a comparison between the captaincy styles of Dhoni and Rohit. The 33-year old wasn't in favour of such comparisons.
"MS Dhoni is one of a kind. Nobody can be like him. I believe comparisons shouldn't be made. Every individual is different and has his strengths and weaknesses."
Q: Raina recently made a comparison between Dhoni and you. Can you explain what you see as most important elements of your captaincy style and how you differ from other captains. #AskRo
- @UjwalKS

A: pic.twitter.com/d4SbarzNBA

— Rohit Sharma (@ImRo45) August 2, 2020
Is Yuzvendra Chahal calling him?
Everyone is aware of the bond between Rohit and his Indian teammate Yuzvendra Chahal. A curious fan inquired if the wrist spinner has been in constant touch with him on calls.
"Chahal doesn't call me when I'm at home because we've enough of each other during tours. So we enjoy our time off from each other."
Q: How many times does Chahal call you in a day? #AskRo
- @fcbsiaaaa

A: pic.twitter.com/HTvG2OmkSc

— Rohit Sharma (@ImRo45) August 2, 2020
First-ever paycheck
"My first paycheck was not a paycheck. It was cash which I won playing a match near my society. I got 50 rupees which I spent eating roadside vada pavs with my friends."
Q: #askRo How much was your first paycheck worth and at what age did you get it? How did you spend it, with friends or family?
- @dhruvy21

A: pic.twitter.com/J0nfNWF6sj

— Rohit Sharma (@ImRo45) August 2, 2020
Mystery behind number 45
"There is no such story behind no. 45. It's just that my mom asked me to take that number and I didn't argue why. She just said it would be very lucky for me, so I took it."
Q: What is the story behind your jersey number 45?#askRo
- @VasandaniAkshay

A: pic.twitter.com/FBDwrDiPfb

— Rohit Sharma (@ImRo45) August 2, 2020
My fans are my friends
"I love my fans. I would like to address them as friends because you guys have played a big role in my career. I need your support moving forward as well. Without you guys, there is none of us."
Q: @ImRo45 One word about your fans? What do you want to tell?#AskRo
- @rohit29karthik

A: pic.twitter.com/s73nZKlnxh

— Rohit Sharma (@ImRo45) August 2, 2020