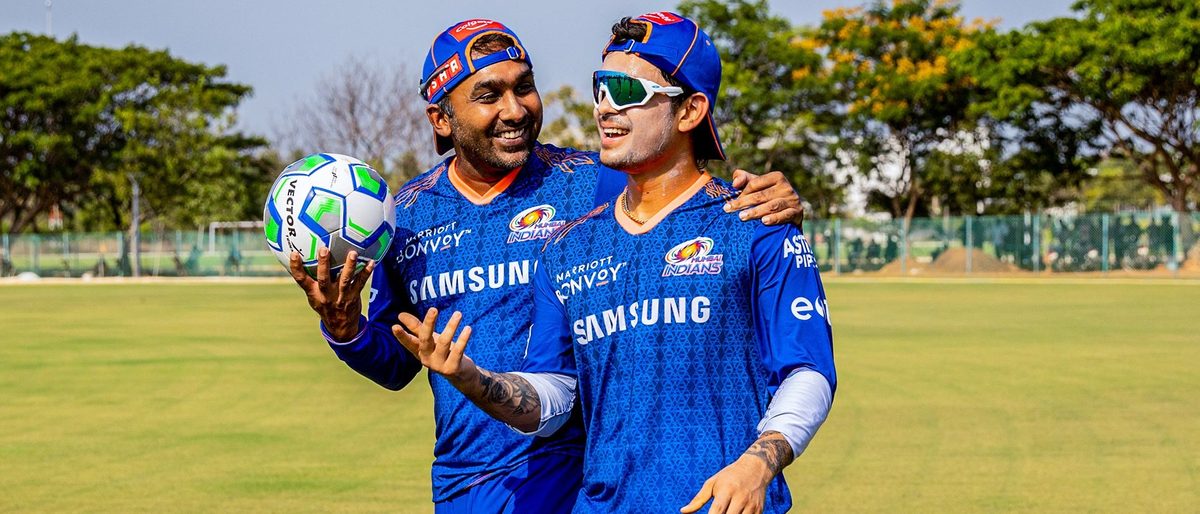 Sculpting quality out of talent: Ishan's journey through Mahela's eyes
mi
Mumbai Indians' Head Coach Mahela Jayawardene has watched the youngster Ishan Kishan become the player that he is today over the last three years. While he always showed promise and talent, the Sri Lankan great, in an interview with Cricbuzz, shed light on converting the same into responsibility and a matured innings.
Dealing with the younger Ishan
"You must have seen the Netflix documentary. We had to train him with all his bad habits off the field too. Bad as in not partying but he was gaming a lot," Mahela said.
In the documentary, clearly, the team management had an earful to give to Ishan for his routines. Strength and Conditioning coach Paul Chapman was also exasperated with a talented 20-year-old not applying himself enough.
On understanding Ishan's mindset
In the 2018 game against KKR, Mahela recalls giving Ishan explicit instructions to score a 30-odd in 10-15 balls after being promoted to number 4. It was a must-win game and any contribution from the player would be much appreciated.
The youngster went on to score a match-winning 62 (21) - an innings that the Head Coach feels made him understand Ishan better.
"I learned that day that he wanted that kind of clarity. From that point onwards, I tried to give him that kind of instruction and clarity. I felt that the more he thinks, the more he gets into trouble. Like his state coach was saying, sometimes he tends to make easy situations tough because he sometimes overthinks unnecessarily."
Keeping the youngster focussed
Acknowledging that they were, after all, dealing with a 20-year-old at the end of the day, Mahela and the fellow coaches took up the responsibility of managing him on and off the field. "Keeping Ishan focussed, as a coaching group, is a constant effort."
"Sometimes he walks into practices not focussed for the job in hand. After he plays the first few balls, if I know his mind is not there or his feet are not working, I pull him out of the nets and ask him what do you want to achieve from the net session?'. I tell him 'If you don't want to achieve anything, then go sit out.' For me, whatever 20 minutes or half an hour the guys put in, each session has to be productive."
Additional efforts for Ishan's growth
"When we got him, we had a bit of work to do with him on his technique. But mainly, it was about him adapting to that level of cricket, playing against quality opposition bowlers and his gameplans. We always challenge him to get better. Even on fitness as well, we put a lot of emphasis to get him to that standard. Otherwise, it doesn't matter how talented you are, it will be tough for you to maintain that."
"The first few years, we probably couldn't give him the opportunities because we opened with him and batted him in different positions. There wasn't a consistent role that we could offer him. We tried to give him the exposure that he needed. As a franchise and a management group, we need to have patience to go with that because we knew whenever he came off, he was good."
Planning Ishan as a long-term investment
"I know we paid quite a bit of money (6.2 Crore in 2018) for someone who wasn't a proven entity in domestic cricket but he was a potential talent and an Under-19 player."
"When we saw him in our camp three years back, we definitely knew that he had the natural ability to hit the ball and had the talent. And him being a 'keeper-batsmen, we were very interested in him joining MI."
The dip in form in 2019
After his match-winning knock against KKR in 2018, Ishan failed to sustain that form. The next season, he could just register a highest score of 28 runs in 7 innings. Mahela sheds light on that saying, "All our practice sessions are optional. But if you're coming to train, it has to be productive."
"There are no sessions for him to come and go through the motions. Every session he has to take something back. He will get out to certain bowlers, he will try to do something. It's fine for me as long as there is a purpose behind it. It's a constant battle that I have with him. But he knows now that when he walks into a net session, he has to have that focus, he has to have that kind of mindset."
The flip in form for IPL 2020
Having just nursed a shoulder injury and coming back from a pandemic-hit period of no cricket, he missed out on the first two games. When he was given a chance against RCB, in Abu Dhabi, his 99 (58) was instrumental in bringing the game that was slipping away into a thrilling super over finish. After that, there has been no looking back for the Jharkhand youngster.
"Last year, we decided that he will be our No 4. We could give him that role and tell him: 'You are our number 4, this is how you need to bat, this is the tempo.' That is probably how it came around to him getting that responsibility."
"In a couple of games, Rohit got injured, he got to open the batting, which also helped him because that's his natural place in the T20 format. But in the MI environment, he has to play to our strengths. We feel that he is a versatile player, bat at top 4 and get the job done for us."
"Over the last few years, he has matured"
The 22-year-old ended up with the highest runs for MI in a dominant IPL 2020. His call-up for the senior national team also come following this performance. While he has been brilliant in the past, his consistency was what was left to be addressed.
"For any youngster in the IPL, three years is a great time to develop. Ishan took the full cycle of three years to show what he's capable of and it is a natural progression."
"I only work with the guy 10 weeks a year. He then goes back to his state team and works with the coaches there and at the national academy as well. It's only fair that they are also credited for it. A rise wouldn't have happened otherwise"
"Over the last few years, he has matured and understood what he needs to do. He deserves it because he has worked hard and that India representation is something that he is very happy about, and as a franchise, we've seen the way he has grown over the last few years."
We can't wait to see Ishan Kishan back in action in the MI Blue and Gold when he takes on one of his favourite foes, RCB, in the IPL 2021 opener.