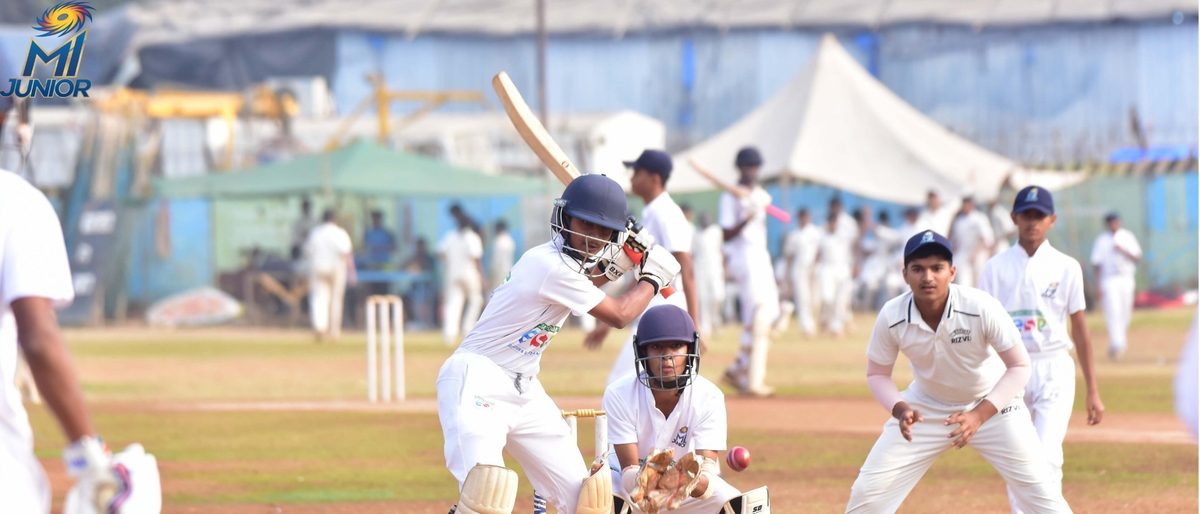 Sharadashram, IES VN Sule, Sri MA Vidyalaya and others reach QFs of MI Junior
mi
Sharadashram Vidyamandir English Medium High School (Dadar), IES VN Sule English School (Dadar) , Sri MA Vidyalaya (Thane), IES New English School and others reached the quarter-finals of the third edition of Mumbai Indians Junior Under 16 Inter School Cricket Tournament here on Thursday.
Sharadashram Vidyamandir English Medium High School (Dadar) recorded a whopping 248-run victory over Cardinal Gracias High School, (Bandra W) to storm into the quarterfinals of the Mumbai Indians Junior Inter-School Cricket Tournament (Under-16).
A smashing 122 by Siddhant Singh, 67 by Atharva Shelke and 54 by Aryan Divate guided the Sharadashram school to a commanding 312 for 8 in 40 overs. In reply, Cardinal Gracias were bundled out for 64 in 18.2 overs, with Arjun Bagade (5 for 15) and Atharva Kamble (2 for 8) doing the bulk of the damage.
Shreyansh Rai also scored a masterful hundred (106) to help IES VN Sule English School (Dadar) to a comfortable 56-run victory over VK Krishna Menon Academy (Borivali) in another Boy's U-16 match. IES VN Sule could only score 220 in chase of 277 runs with Rehan Mulani (2 for 23) and Shaurya Rai (2 for 28) shining with the ball.
In another pre-quarterfinal match, Sri MA Vidyalaya (Thane) rode on Hari Reddy's 5 for 13 to beat SVKM-JV Parekh International School (Vile Parle) by seven wickets to enter the last eight.
Batting first, the Vile Parle school could muster only 114 all out in 25.2 overs. Sri MA raced to the target in 18.1 overs, losing only three wickets in the bargain. Rujul Rajne anchored the chase with a steady 35.
In an exciting clash, IES New English School notched up a four-wicket win over Al Barkaat Malik Muhammad Islam English School. Agasthya Bangera and Muhammad Taha took three wickets each to halt Al Barkaat at 157 in 37.3 overs.
IES crossed the target in 27.3 overs, losing six wickets in the bargain. Hamza Khan (41) was the highest scorer for IES while Shimmer Sapra (2 for 18) and Kavya Gori (2 for 45) battled vainly for Al Barkaat.
Meanwhile, Aarya Karle's superb (67) and Dhairya Rasam's vital 47 helped RR Education Trust (Mulund) beat IES Secondary School (Mulund) by 55 runs in another Boy's U-16 pre-quarter final match. In chase of 175, IES Secondary were bowled out for 120 with Bhavik Desai claiming 2 for 16.
Riding on brilliant performances from Abhigyan Kundu (78) and Ayush Wadekar (4 for 21), Anjuman-I-Islam Allana English (CST) beat Rizvi Springfield High School (Khar) by 98 runs in another U-16 match.
Varun Doshi's fine fifty (54 not out) helped Don Bosco High School (Matunga) chase down the target of 78 runs quite comfortably against
Smt Sulochanadevi Singhania School. Before Doshi's innings, Gokulraj Devendra (3 for 29) and Arnav Gupta (2 for 15) shone with the ball for Don Bosco
Elsewhere, superb bowling performances by Sanchit Kadam (3 for 19) and Dhruv Athule (3 for 27) helped Swami Vivekanand International School (Kandivali) restrict Lakshdham High School to 151. In reply, Swami Vivekanand team chased down the target with Kshitij Pal (41) and Shaurya Sharan (32) playing vital knocks as they lost four wickets in the process.
Brief Scores:
Mumbai Indians Junior Under 16 Inter School Cricket Tournament Season - 3 (Pre Quarter Final)
SVKM-JV Parekh International School (Vile Parle) 114 all out in 25.2 overs (Prath Patel 50; Hari Reddy 5 for 13, Ishan Tawde 2 for 12) lost to Sri MA Vidyalaya (Thane) 115 for 3 in 18.1 overs (Rujul Rajne 35)
Player of the Match: Hari Reddy
Al Barkaat Malik Muhammad Islam English School 157 all out in 37.3 overs (Chauhan Tanveer 33; Agasthya Bangera 3 for 30, Muhammad Taha 3 for 41) lost to IES New English School 158 for 6 in 27.3 overs (Hamza Khan 41; Shimmer Sapra 2 for 18, Kavya Gori 2 for 45)
Player of the Match: Agasthya Bangera
RR Education Trust (Mulund) 175 all out in 37.4 overs (Aarya Karle 67, Dhairya Rasam 47; Mann Koli 3 for 23, Tejas Morey 3 for 36) beat IES Secondary School (Mulund) 120 all out in 29.3 overs (Tejas Morey 65; Bhavik Desai 2 for 16)
Player of the Match: Aarya Karle
Anjuman-I-Islam Allana English (CST) 231 all out in 37.5 overs (Abhigyan Kundu 78, Abdur Rahman 36; Devansh Rai 4 for 35, Dev Damania 3 for 50) beat Rizvi Springfield High School (Khar) 133 for 9 in 32.5 overs (Aryan Nikalje 28; Ayush Wadekar 4 for 21)
Player of the Match: Abhigyan Kundu
Smt Sulochanadevi Singhania School 77 all out in 28.5 overs (Arnav Wankhade 37; Gokulraj Devendra 3 for 29, Arnav Gupta 2 for 15) lost to Don Bosco High School (Matunga) 79 for no loss in 6.3 overs (Varun Doshi 54 n.o)
Player of the Match: Varun Doshi
IES VN Sule English School (Dadar) 276 for 6 in 39 overs (Shreyansh Rai 106; Vinay Utekar 4 for 52) beat VK Krishna Menon Academy (Borivali) 220 for 7 in 38 overs (Aadil Shaikh 82 n.o, Aarav Joshi 56; Rehan Mulani 2 for 23, Shaurya Rai 2 for 28)
Player of the Match: Shreyansh Rai
Lakshdham High School 151 for 9 in 40 overs (Tanish Shetty 38, Ishaan Sethi 35; Sanchit Kadam 3 for 19, Dhruv Athule 3 for 27) lost to Swami Vivekanand International School (Kandivali) 154 for 4 in 32.4 overs (Kshitij Pal 41, Shaurya Sharan 32; Ishaan Sethi 3 for 20)
Player of the Match: Sanchit Kadam
Sharadashram Vidyamandir English Medium High School (Dadar) 312/8 in 40 Overs (Siddhant Singh 122, Atharva Shelke 67, Aryan Divate 54; Swayam Jadhav 4 For 46) Beat Cardinal Gracias High School, (Bandra W) 64 all out in 18.2 overs (Arjun Bagade 5 for 15, Atharva Kamble 2 for 8)
Player of the Match: Siddhant Singh