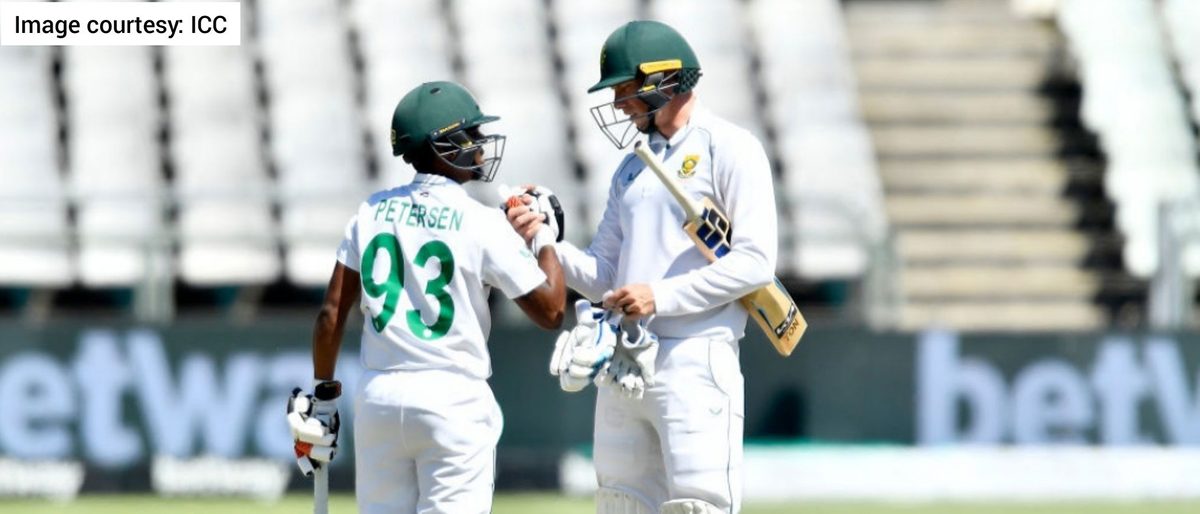 South Africa batters clinch Freedom Series
mi
The Freedom Series decider is the game. Newlands, Cape Town is the venue. The conditions are overcast. Virat Kohli marked his return to the side with a toss win and decided India would bat first. Virat came in for Hanuma Vihari and the injured Mohammed Siraj was replaced by Umesh Yadaav. South Africa, unchanged. Will India finally get their hands on that elusive Test Series victory in South Africa? Let's find out how Day 1 went:
Protean quicks with the early breakthroughs
South Africa were asked to field first which may have felt like a blessing in disguise considering the overhead conditions. Kagiso Rabada and Duanne Olivier were on the money right from ball one keeping our openers honest throughout. The lines were good and runs were hard to come by. Eventually, both KL Rahul and Mayank Agarwal relented under the pressure after fighting hard valiantly until that point. The wickets fell in quick succession which meant Virat and Cheteshwar Pujara were out in the middle with neither being settled in. However, the duo dug in and weathered the storm to end the session without losing another wicket while adding some vital runs on the scoreboard.
Near identical second session keeps match on a knife's edge
Hopes that Pujara would continue his strong resilience in the Post-Lunch Session were quickly dashed as he was set up well by Jansen. He was looking in good touch but his innings came to a premature end. Ajinkya Rahane was soon to follow leaving the team in disarray. Then, the Delhi-duo of Rishabh Pant and Virat began a counter attack and scored some quick runs to tip the game back in balance.
Jansen double strike triggers collapse
India started the final session in aggressive fashion scoring a touch above four an over. Unfortunately for us, Jansen struck twice in quick succession to send Pant and Ashwin back to the hut. Pant was playing well too which made his dismissal even more disappointing. He was done by the extra bounce from Jansen. Shardul Thakur joined his skipper in the middle and they kept the scoreboard ticking briskly. A soft dismissal ended his cameo abruptly and left India reeling. Bumrah fell immediately after that as well. Virat tried to up the ante to milk what he could from there but was dismissed by Rabada in the process falling just short of a century. India were eventually bundled out for 223.
Bumrah's magical spell
Jasprit Bumrah bowled the perfect spell bowling peach after peach and eventually dismissing the Protean skipper Dean Elgar. He bowled four overs without conceding a single run and tormenting the batters.The game hangs in the balance with the momentum on Team India's side. Fingers crossed we can get a few wickets early on tomorrow and keep the pressure on the hosts.
Petersen & van der Dussen stage resistance after Bumrah & Umesh strike:
Bumrah picked up where he left off yesterday bowling an absolute gem to get rid of Aiden Markram off the second ball of the day. Umesh Yadaav got in on the act dismissing night-watchman Keshav Maharaj. After that, it was a session of near misses as the bowlers did everything right but nothing went their way. Balls were falling short of the fielders in the slips and there were a couple of dropped chances as well. Credit where it's due, Keegan Petersen played exceedingly well to keep our bowlers out while scoring at a fair clip.
Shami Shatters the Protean spine:
Rassie van der Dussen fell early on in the Post-Lunch session but the resistance continued as Temba Bavuma joined Petersen in the middle. Runs were flowing and things looked ominous for us. Then, Mohammed Shami finally had luck go his way getting Bavuma and the new batter Kyle Verreynne in the same over to swing the momentum our way. Bumrah kept our foot on the gas continuing his battle with Marco Jansen and eventually getting him clean bowled with a jaffa.
Bumrah & Shardul wrap up the tail: Bumrah got the key wicket of the settled batter Petersen with the best ball of the day leaving the batter shell shocked as Pujara pouched it in the slips. Rabada's cameo made it seem like South Africa might yet get a slender lead but Shardul foxed him with a slower delivery and he holed out to Bumrah in the deep. And Bumrah got his fifer at the venue of his Test debut with the wicket of Lungi Ngidi keeping India 14 runs ahead.
Protean quicks rock Indian openers:
India's opening stand lasted just 20 runs with Rabada and Jansen getting Mayank and Rahul in quick succession. However, Virat and Pujara came to the crease and showed how it's supposed to be done. An exemplary display of Test batting wherein they left well, defended well, played late, and put away the loose ones. They took some body blows in the process but it didn't shake them in the slightest. The duo were able to close the day out without losing another wicket and taking India's lead to 70.
The match still hangs in the balance with India just shading it slightly. Our boys need to reset and start again tomorrow morning if they are to set an unsurmountable target for the hosts. If how they've played so far is anything to go by, we're on track to do just that.
Virat, Pant steady ship after turbulent start:
Day 3 got off to a horrific start for Team India with Pujara and Rahane both falling in the first two overs. That would have put us on the back foot if not for some courageous batting from Rishabh Pant. Our young keeper played sensibly, picking his bowlers to attack, and not holding back when he did take the chance. He doing so allowed Virat to drop anchor and just play time to tire out the Protean bowlers, while still scoring when the opportunity arose. The pair were able to close out the morning session stretching India's lead to 150 in the process.
Pant battles to heroic century despite collapse:
It was all going well until Lungi Ngidi came in and dismissed Virat. Kohli will be disappointed with himself. After playing so well and leaving the good ones, his old Achilles heel of ball's at sixth stump came back to haunt him. Ngidi followed that up with the wicket of Ashwin to really swing the momentum the hosts' way. That's when Pant showed his usual aggression to up the ante while wickets continued tumbling around him. Eventually, he made his way to a fine century just before the final wicket fell. It was an innings that was a real show of his character and determination. He managed playing with the tail effectively farming the strike as needed. He was the dominant one during his partnership with Virat as well. Take a bow, Rishabh Pant. And with that, South Africa were set a target of 212 to win.
Hosts get their chase off to a solid start:
India were hoping to get their bowling off to a fiery start and they did when Shami got Markram. However, it went quiet for most of the session after that. Midway through, Elgar was adjudged out LBW against Ashwin on the field but it was overturned on review for height to the disbelief of our players. The bowlers toiled hard and finally Bumrah got the big wicket of Elgar to close the day out on a high for us.
The game is by no means over. India's late collapse is evidence of that. If we can get a couple of early wickets tomorrow morning, we'll be back on top. The conditions are not easy out there and will continue to deteriorate with time. Let's hope it all falls into place for us.
Overnight batters continue their partnership despite terrific bowling:
We were hoping for a fast start with some early wickets to put pressure on the hosts. Unfortunately for us, it just wasn't our day. The batters were playing & missing, edging and playing plenty of false shots. Everything seemed to fall in no man's land and Pujara dropped an important catch to add to our pile of misery. Shardul Thakur did dismiss Keegan Petersen towards the tail end of the first session but it was too late by then. Temba Bavuma and Rassie van der Dussen were able to get the final 40 runs with ease to snatch the series from our hands.
The match was evenly poised right to the end. It's just a matter of small margins. It could have very easily gone our way. Credit to the South African batters who made it difficult for our bowlers and made them work very hard for their wickets.