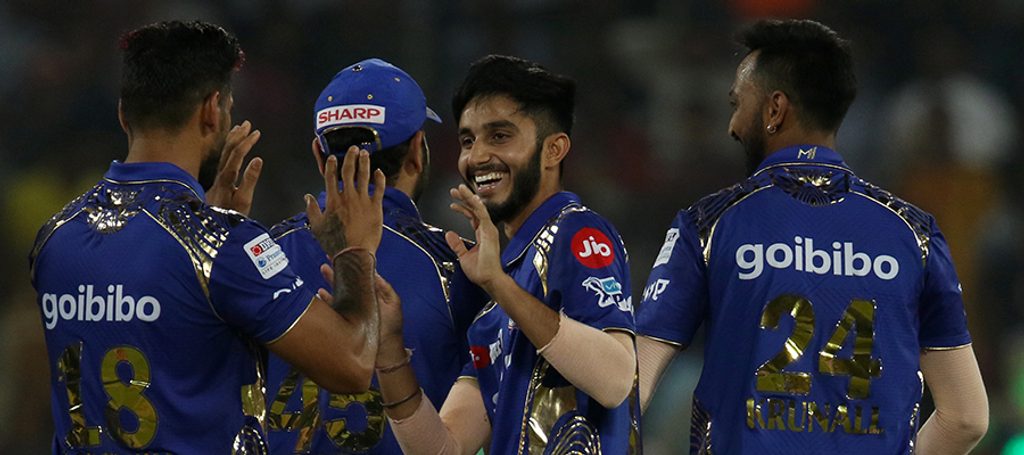 SRH win last-ball thriller
mi
Our season-opener was a humdinger alright. But our first away game turned out to be an even more thrilling encounter. Chasing 148, Sunrisers Hyderabad were running away with the game, but our bowlers pulled out some neat tricks out of the bag to take the game down to the last over, and eventually, the final ball of the game. With 11 runs required off the final over, SRH managed to go across the line in the nick of time to get their second win. We suffered our second loss in as many games but walked out with our heads held high at the Rajiv Gandhi International Cricket Stadium.
We lost the toss for the second time in a row, and were put in to bat once again. Hardik Pandya, who suffered an injury to his leg in the previous game, sat out and was replaced by Pradeep Sangwan. The second change in our line-up was Ben Cutting's inclusion in place of Mitchell McClenaghan. Sunrisers Hyderabad were forced to make a change, with Sandeep Sharma slotting in for the injured Bhuvneshwar Kumar.
Rohit Sharma and Evin Lewis got off to a cautious start. Our skipper threatened to get going with a trademark pull for six, followed by a pristine cover drive in Billy Stanlake's first over. However, that was all we saw of Sharma who miscued a flick to Shakib Al Hasan. Lewis and Kishan didn't hold back from playing their strokes and maintained a healthy run-rate.
The big Trinidadian dished out severe punishment to Stanlake, taking the Aussie quick for 14 runs with a couple of boundaries and a crunching, flat six over cover. Just when the innings seemed to be taking off, Siddharth Kaul applied the brakes on our scoring rate by dismissing Kishan and Lewis in the same over. At the end of the Powerplay, we were 54/3.
Krunal Pandya and Suryakumar Yadav got together to stitch a partnership. The Sunrisers bowlers tightened their grip on proceedings with a couple of tight overs. Citing the necessity to score a few quick runs, Krunal Pandya ran hard and picked up a couple of boundaries off Shakib, but was done in by a leading edge on the final ball of that very over The innings slipped further, as Kieron Pollard walked out to bat.
At 72/4 off nine overs, we needed a sturdy partnership, and Yadav and Kieron Pollard were the perfect men for the occasion. The Hyderabad bowlers kept coming at us. However, the duo ensured that one of them picked up a boundary in each over. The 38-run stand kept MI afloat and away from a collapse.
Stanlake brought an end to the resistance by claiming his second wicket, that of Pollard, on 28. From here on, Surya held one end up as he struggled to find reliable company at the other end. Ben Cutting, who has had experience playing at this venue during his Sunrisers days, could only manage a run-a-ball nine. The death overs didn't go our way as we kept losing wickets. The last five overs yielded just 36 runs and three wickets to boot.
After we lost Yadav and Sangwan off consecutive balls, Bumrah and Markande kept calm and ensured that we completed the full quota of 20 overs. The duo picked up 10 runs in the final over which was capped with a smart ramp by Markande off the final ball.
Sunrisers Hyderabad got off to a sound start. Openers Shikhar Dhawan and Wriddhiman Saha flexed their muscle early and picked up at least one boundary in each of the first four overs. Dhawan carried on from where he left off in Sunrisers' previous game. Saha got a life in the third over when Cutting dropped a catch running back from mid-on. Nothing seemed to go our way during the Powerplay. They notched up three runs more than us in the Powerplay; the difference was, we had lost three wickets, while they had all 10 intact.
It took Mayank Markande's magic to give us the first breakthrough. The youngster who claimed a three-for on debut during our season-opener foxed an advancing Saha right in front, confirmed by the review (DRS) taken by Sharma. It was a brave decision to go for the review as the batsman had danced down the track. Rohit introduced Mustafizur Rahman in the eighth over. The Bangladeshi quick responded with a wicket on the final ball of the over, as Williamson feathered one to Kishan, the only one on the field who was convinced that the Kiwi had edged it. He prompted Rohit to go for another review, and the Snicko obliged. If it hadn't been for Kishan's sharp eyesight or hearing, an appeal and the review thereafter would have never transpired.
Markande proved that his performance on debut was no aberration as he went on to claim two vital wickets. He got Dhawan to top edge a sweep that was safely pouched by Bumrah inches within the ropes, at fine leg. In his next over, Manish Pandey tried to take on the leggie, but skied the ball straight up to be taken by skipper Sharma. The flight and guile with which Markande bowled deceived three Indian batsmen who have 224 international matches between them.
Markande wasn't done yet! He sent the dangerous Shakib Al Hasan back with another one of his googlies. Shakib prodded away from his body and inside-edged the ball on to the woodwork to give Mayank his fourth wicket. He went one better than his first outing (3/23), as he went on to claim magical figures of 4/23 and usurped Kaul to seize the coveted Purple Cap as well.
Tension was in the air as the Sunrisers batsmen needed 41 runs off 42 balls. The required run-rate wasn't steep by any means, but the hosts were under pressure to not lose any more wickets, especially with Bumrah and Fizz set to bowl. Deepak Hooda and Yusuf Pathan kept their cool and steered clear from playing rash shots.
The fielders were on their toes too, as saving every run became vital. Ben Cutting pulled off a stunner near the long on fence. Pathan launched the ball into the sky, but it dipped near the ropes. Cutting, who was patrolling the ropes, jumped up with both hands and cupped them around the ball. The problem though, was his momentum, that was about to take him beyond the ropes. Cutting, with all the presence of mind, threw the ball back in play, while his body went beyond the ropes.
Hooda and Pathan curbed their natural, attacking game and played with cool heads. They put together a gutsy partnership through the death overs. Boundaries were hard to come by, but they ran well between the wickets. A crucial boundary on the final ball of the 17th over tilted the equation back in Hyderabad's favour.
They needed 15 runs off 18 balls. This is when Bumrah rose to the occasion and brought out all his variations. The yorkers, the slower ones and sheer pace were on display, as the number 1 ranked bowler in T20I was suddenly on a hat-trick. He dismissed Yusuf Pathan & Rashid Khan off successive deliveries, and Hyderabad were in a bit of bother. He conceded just three runs in the 18th over.
12 required off 12

Fizz was given the responsibility of bowling the penultimate over. Hooda picked up a single off the first ball of the over, exposing Kaul to Fizz. The Bangladeshi bowled two back-to-back dot balls before he, just about, held on to a return catch off the fourth delivery to get rid of Kaul. At this juncture, SRH needed 11 runs off 8 balls. After bowling another dot, Fizz struck once again. Sandeep Sharma miscued an attempted pull down Krunal's throat at short fine-leg. Just one run conceded and two more wickets in the bag!
FINAL OVER: 11 required
Until last year, Ben Cutting was part of the SRH camp, and in his first game in Vivo IPL 2018, he was handed the ball in the final over of a high-pressure chase. Deepak Hooda unleashed his natural game by smashing the first ball for a maximum, over cover. Cutting followed this up with a wide, well outside the off stump. Pressure was telling on the big man from Queensland, but he held his nerve. The third ball was nearly a yorker and was drilled down the ground for one. Number 11, Billy Stanlake was brought on strike. Big Billy had 12 runs in all, across all competitive formats of cricket before this game (ODI, T20I, FC, List A & T20 cricket). Stanlake managed to get bat on ball, dabbing it to the off side for a quick single. Hooda was back on strike with SRH needing two off two balls. Hooda tried to pull a shortish slower-ball, but miscued it in the air, towards short fine leg. Bumrah scooted forwards and dived, but the ball landed short. He recovered well to keep the batsmen down to just one run. Stanlake received a slow delivery, but read it well and lofted it into empty spaces near the deep mid-wicket region, hitting the winning runs.
We fought hard yet again, took the game down to the final ball and bowled magnificently to create and build on immense pressure. Although we played well, we ended up on the losing side yet again. Mayank Markande proved to be the pick of the bowlers, claiming a magical four-for that got us into the game. SRH were pushed to their limits, but came out on top on the final ball of the chase.
Brief Scores: Mumbai Indians 147/8 in 20 overs (Evin Lewis 29, Suryakumar Yadav 28, Kieron Pollard 28; Sandeep Sharma 2/25, Billy Stanlake 2/42, Rashid Khan 1/13, Siddarth Kaul 2/29, Shakib Al Hasan 1/34) lost to Sunrisers Hyderabad 151/9 in 20 overs (Wriddhiman Saha 22, Shikhar Dhawan 45, Deepak Hooda 32*; Jasprit Bumrah 2/32, Mayank Markande 4/23, Mustafizur Rahman 3/24) by one wicket.