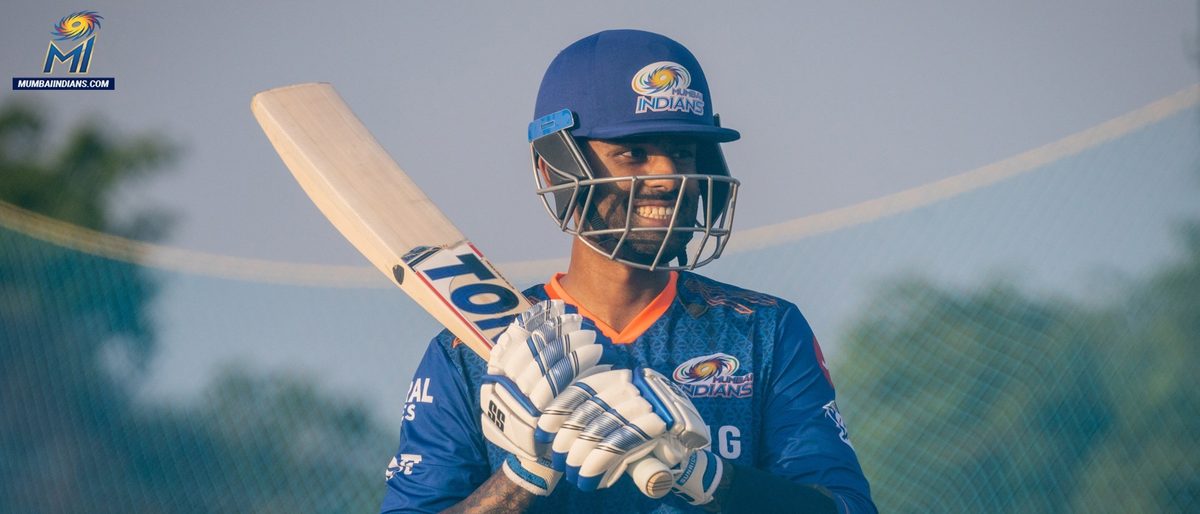 Suryakumar Yadav: I wanted to create a bigger impact after not getting selected for India
mi
'When you live for a bigger purpose, then hard work becomes a necessity.'
It holds true for Suryakumar Yadav who saw his dream turned into a reality after being presented the Indian cap earlier this year. SKY as he's often referred to, made a great impression in international cricket, scoring a half-century against England.
He also looked in sublime form during IPL 2021 before it got suspended. The dazzling batsman now stands a chance to make it to India's World Cup squad if he continues his scintillating form in the upcoming Sri Lanka tour.
Surya engaged in a detailed interview with Harsha Bhogle on Cricbuzz. The prolific batsman shared his thoughts about playing for MI, Rohit Sharma's captaincy and more.
We take you through some of the excerpts from Surya's interview:
I was just 21 going into such a big franchise with star players
It was in 2011 when Suryakumar Yadav got his first shot in the IPL. For a youngster who had just played his debut season in the domestic circuit, sharing the dressing room with stalwarts like Sachin Tendulkar would have been quite moving. Surya recalls that it was a good learning process for him and helped him plan ahead with regards to the domestic season.
"I used to only go to practice sessions, gym and observe things during my initial years with Mumbai Indians from 2011-2013. I was just 21, going into such a big franchise with star players. I was overwhelmed at first as its stature was difficult to cope up with. At the same time, I had so many people around who used to come and talk to me on the ground and even off the field. I didn't get to play that time but learnt a lot with regards to how I carry myself from here in the domestic circuit."
Things started falling into place when I was doing well in 2018
Surya was bought by MI for 3.2 CR in the IPL auction. This time, he was bestowed with the opportunity to open for the defending champions. He shined with an aggregate of 512 runs in 14 games and ended up as MI's highest run-scorer with the bat with four half-centuries. The local Mumbai boy also became the highest uncapped run-scorer in IPL 2018.
"The money from my move to Mumbai Indians really helped me find a new house. There were a few nerves in the first 2-3 games for MI in IPL 2018, but things started falling into place. I understood how I can get better and perform at bigger stages. I started batting at number four before I began opening. The T20 Mumbai League which was held at Wankhede right before the IPL helped me understand my role batting higher up the order. I remember Rohit telling me not to worry about the pressure of scoring runs as an opener. I was really happy with the way things went for me personally."
Rohit's greatest quality as a captain is keeping the team ahead of himself
Rohit Sharma was a middle-order batsman before he began opening for Team India and the rest is history. Surya too had been batting at the lower-order for a reasonable period before he started batting at the top order for MI and getting plenty of runs. The acrobatic batsman revealed that he was often inspired by his captain's journey.
"I used to watch a lot of Rohit's interviews. He always says that since 2013 when he started batting higher up the order, things changed completely for him. In 2019, I started thinking if I am also going in the same track, it can be the same for me. I had been following him for a long time ever since I made my first-class debut in 2010 when I played with him. I have seen how his career changed from then till now. However later, I realised that my game was completely different compared to his."
Talking about Rohit's leadership skills, Surya was full of praise. He described that the MI skipper was quite calm when it came to making crucial decisions on the field. Lauding his achievement of winning five titles as a captain, Surya stated that he is a team man which has helped in cultivating a positive atmosphere.
"Rohit is a very relaxed and an instinctive captain on the field. I often see how he acts under pressure and when the team is doing well. He is very clear in mind about the bowling or fielding changes he wants to make. Winning five trophies for a franchise in eight years is remarkable. Everyone in the management is very proud of his quality to keep the team ahead of himself. It also spreads a great message to others in the squad."
Half the job for MI is done in the pre-season camp
Praising the culture and environment in Mumbai Indians, Surya remarked that with the routines and processes in the MI pre-season camp, half the job was done back then only. He cited an example of the 2020 season where most of the players who had missed out on training due to lockdown were provided ample practice before the tournament.
"When there was a lockdown and the monsoon season was about to begin in June, people were worried as to how they would prepare for the IPL. That's when MI created a bubble bringing in all the players and keeping them together. Everything was ready with regards to indoor facilities. Only hard work we had to do was to walk from the dressing room to the tent. They covered all bases in terms of training ahead of IPL 2020 so when we reached Abu Dhabi and started our camp, many players were already prepared for the tournament."
I wanted to make a bigger impact playing for MI after not getting selected for national team
Surya was in the midst of his third good season in a row during IPL 2020. His performance in the domestic season had also been quite splendid. With the hype he had created, there was a lot of buzz regarding his selection in the Indian team. Hence when he wasn't amongst the probables for the Australian tour, Surya wasn't quite pleased about the same.
"There was a little bit of disappointment because of the build up before selection. When I used to go to the team room, many players told me you're almost there. Hence after I wasn't selected, I just took some time out and went to the beach for a walk alone. There I had two options - either I get disappointed and sit in my room letting this tournament go with the same momentum, or I try to turn things around, score more runs, win more games for MI and make a bigger impact."
Surya decided to channelise his energy into the latter. With a key game against RCB coming up, he revealed how Head Coach Mahela Jayawardene and Director of Cricket Operations, Zaheer Khan raised his spirits. Hence, when Surya walked out to bat in a tough situation, he was beaming with confidence.
"When we went to the ground for our game against RCB, I had no interest in warming up. That's when Mahela and Zaheer told me this is your game. If you score runs today, it will be a completely different story. When I walked into bat, I told myself, this is the game I need to win for my team and make a mark. I remember starting really slow but once I picked up, I never looked back."
Suryakumar Yadav ended up scoring his IPL best score of 79* (43) and also won the Man of the Match. Staying dedicated and focused on his goals helped him climb the ladder from MI to the national team after a few months.