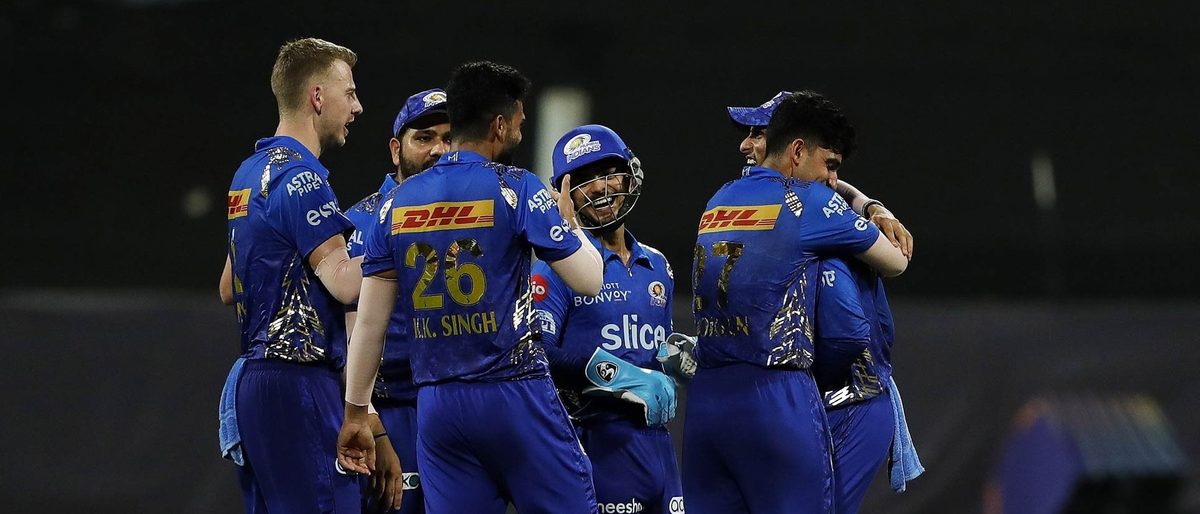 MI pull off first victory at Wankhede!
mi
Get live score updates on WhatsApp.
You can also follow the live match centre.

10:42 PM: The bowlers set it up with an early jolt and continuous wickets. In response, though Ishan was dismissed it in the first over and Mukesh Choudhary and Simarjeet Singh took four early wickets, Tilak and Hrithik's mature stand took us to a big position of strength before Tim finished it in style. Excellent team performance!

10:41 PM: SIX! And that's that! Tim goes deep in the crease and thrashes it over mid-wicket to get us to a memorable victory!

10:40 PM: Scores are level with that Tilak single to long-off!

10:39 PM: SIX! That should be the shot that seals it! Moeen flights one, Tim is equal to it with a powerful slog over long-on!

10:38 PM: Six runs off Theekshana's over and the score is 89/5 in 14 overs We need nine more runs to win.

10:34 PM: Three in the over and we are 83/5 in 13 overs.

10:32 PM: Big man Tim David has walked in at no.7 and takes a single off his first ball.

10:30 PM: WICKET. Hrithik jumps down but is beaten in flight by Moeen and he is bowled.

10:29 PM: Moeen Ali is brought into the attack. Tilak punches for a single in the second ball.

10:28 PM: Seven again and we are 80/4 in 12 overs, with 18 more runs required.

10:26 PM: FOUR! Tilak with the reverse sweep! Full from Theekshana, Tilak was quick to change his stance and nailed that to the deep third ropes!

10:24 PM: Seven in that Bravo and we are 73/4 in 11 overs. We need 25 more.

10:18 PM: FOUR! Lucky again is Tilak! Looked to make room and drive but got an outside edge that zoomed past slip! We are 66/4 in 10 overs.

10:17 PM: FOUR! Oh a misfield in the outfield and we get a lucky boundary! Hrithik drives aerially to deep extra cover where Uthappa fumbled and allowed the ball to go through!

10:14 PM: Maheesh Theekshana into the attack now. Hrithik takes a single on the second ball.

10:12 PM: Nine in the over and we are 55/4 in nine overs. We go to a timeout!

10:08 PM: FOUR! Good shot by Hrithik! DJ Bravo into the attack, Hrithik deftly opens the face of the bat to get it past Moeen Ali at slip!

10:07 PM: Four off the over and we are 46/4 in eight overs.
Keep it steady, boys. 👊

We are 46/4 after 8 overs.#OneFamily #DilKholKe #MumbaiIndians #CSKvMI @TilakV9 @Hrithik14S pic.twitter.com/rbaJkk2yct

— Mumbai Indians (@mipaltan) May 12, 2022


10:05 PM: FOUR! Tilak is playing smart cricket! He is waiting for the bad balls, gets one down leg and glances it to fine leg!

10:03 PM: MS is looking to maximise the swing on offer here as Simarjeet will also bowl out. Tilak defends the first ball.

10:02 PM: Six off the over and we are 42/4 in seven overs.

9:59 PM: FOUR! Oh finally! It's a lucky one though, Mukesh swings it in to Tilak who got an inside edge to the fine leg ropes.

9:58 PM: Mukesh Choudhary is going to bowl out here. He is getting prodigious swing so we need to be wary.

9:57 PM: Not the start we wanted but we are 36/4 after the powerplay.

9:54 PM: Hrithik survives! Walked down and it caught his thigh-pad through to MS behind. Umpire gave him out but Hrithik confidently went for the DRS. Good call!

9:51 PM: Hrithik Shokeen has come out at no.6. These two youngsters have to rebuild now. We are 34/4 in five overs.

9:50 PM: WICKET. Stubbs has to go. Mukesh with another inswinger and it catches Stubbs in the crease on the backfoot.

9:48 PM: Tristan Stubbs walks out at no.5 on debut in a pressure situation.

9:46 PM: WICKET. Mukesh gets one to swing in sharply, Dan went for the drive and is struck in front. He went for the DRS but it was all reds.

9:43 PM: We are 32/2 in four overs.

9:42 PM: Tilak walks in at no.4 and takes a quick single first ball to get off the mark.

9:40 PM: WICKET. Ro goes. Simarjeet bowls an outswinger on a length, Ro can only edge it behind to a diving MS.

9:39 PM: FOUR WIDES! Ro jumps down, Simarjeet bowls it way too short for anyone to get a hold of it!

9:38 PM: FOUR! Ro is in the mood tonight! Gets a full one from Simarjeet now and the skipper drives it straight back down!

9:37 PM: Eight in the over and we are 21/1 in three overs.

9:34 PM: FOUR! Now straight back down! Full on off and Ro creams the drive past the umpire!

9:33 PM: FOUR! Beautiful from Ro! Moved leg-side early to make room and sat down to lift this over mid-off!

9:32 PM: Close but they don't go for the DRS, MS has a wry smile on his face! Swinging in at pace from Mukesh to hit Ro on the pads but it was pitching outside leg.

9:31 PM: Five in the over and we are 11/1 in two overs.

9:29 PM: FOUR! Ro off the mark with a classy boundary! Full outside off and he simply lifts it over mid-off!

9:28 PM: Simarjeet Singh to share the new ball for CSK. Ro defends his first ball.

9:26 PM: Dan Sams walks out at no.3! We are 6/1 in the first over.

9:25 PM: WICKET. Ishan is gone. Another outswinger wide of off, Ishan threw his hands at it and it caught the edge behind to MS.

9:23 PM: FOUR! Now it's off the bat alright! Full and swinging away, Ishan is all class with a perfect high-elbow cover drive!

9:22 PM: Inswinger first up and MS goes for the DRS! Ishan is struck on the pad but it is pitching way outside leg.

9:21 PM: Ro and Ishan at the crease, Mukesh Choudhary with the new ball for CSK. Let's do this!

9:20 PM: Thrill-a-minute action!
6⃣ overs 😎
5⃣ wickets 🔥
3⃣ bowlers 💥
1⃣ fine performance 💙#OneFamily #DilKholKe #MumbaiIndians #CSKvMI @Jaspritbumrah93 pic.twitter.com/fdz4jeT8Rn

— Mumbai Indians (@mipaltan) May 12, 2022


9:04 PM: CSK are all out for just 97! Marvellous double strike in the first over from Dan Sams and the wickets just didn't stop after that. Boom, Riley, Kartikeya and Ramandeeep, who got his first wicket, all found their names in the last column. Simply terrific stuff from the bowlers!

9:03 PM: WICKET! Ishan finishes the innings off, he has been brilliant all night! Short from Riley, flew over MS and he went for the bye to keep strike for the next over but Ishan's throw caught Mukesh well short!

9:01 PM: SIX. Length again and MS pulls this over deep square leg.

8:59 PM: FOUR. Riley is back, goes length and MS pulls it behind square.

8:57 PM: Just two off the over and CSK are 87/9 in 15 overs.

8:55 PM: Two well-disguised slower balls and MS is deceived both times!

8:54 PM: Dan Sams comes on to finish his quota. MS punches first ball and understandably refuses the single.

8:52 PM: FOUR. Almost the end! Raman comes round the wicket, Mukesh edges it past a diving Ishan! CSK are 85/9 in 14 overs.

8:51 PM: Last man in for CSK is Mukesh Choudhary.

8:50 PM: WICKET! Now he gets it! Slower one, Theekshana tamely hits and it easily carries to Ro at short cover!
पहिली #TATAIPL wicket. ती पण at Wankhede. 🏟️💙

Well done, Ramandeep paaji! 👊#OneFamily #DilKholKe #MumbaiIndians #CSKvMI @Ramandeep__13 pic.twitter.com/LvXt2Gb8oi

— Mumbai Indians (@mipaltan) May 12, 2022


8:49 PM: Almost a wicket! Raman gets one to climb onto Theekshana, who just about fends at it but it fell comfortably short of any fielder.

8:48 PM: Ramandeep Singh will bowl for the first time in our jersey for the 14th over! MS punches to take a single first ball.

8:45 PM: Maheesh Theekshana comes out at no.10. CSK are 80/8 in 13 overs and we go to the game's second timeout!
Tilak: 😎
All of us: 🤯

Varmaji literally caught that before we could even say, "CATCH!" 🔥#OneFamily #DilKholKe #MumbaiIndians #CSKvMI @TilakV9 pic.twitter.com/q3Xd516ADh

— Mumbai Indians (@mipaltan) May 12, 2022


8:42 PM: WICKET! Is that another for Kartikeya?? Deceives Simarjeet in flight to strike him in front of the wicket and batter takes the DRS. It's three reds and it's two in the over!

8:41 PM: Simarjeet Singh has come in at no.9 for CSK.

8:39 PM: WICKET! Oh wow, what a catch that is by Tilak at short cover! Full toss from Kartikeya, Bravo nailed the full-blooded hit but Tilak put his hand out and it seemed to just stick!

8:38 PM: SIX. Kartikeya on for his third over, Bravo dances down and hits it way over long-on.

8:37 PM: Just one run in that Boom over and CSK are 72/6 in 12 overs.

8:34 PM: Boom on for his third over already and beats Bravo's drive first ball!

8:33 PM: Bravo is living dangerously! Came down and tried to hit out, edged it towards deep cover, where it fell short of Dan. CSK are 71/6 in 11 overs.

8:32 PM: Just wide of Tilak! Bravo comes down and chips this towards short extra cover, where it went just past Tilak.

8:31 PM: Kartikeya is back and MS takes a leg-bye first ball.

8:29 PM: 11 runs in the over and CSK are 65/6 at the halfway stage.

8:26 PM: SIX. MS is turning it on, we need to get him soon. Hrithik on for his second over, bowls fuller, MS comes down and hits it over the mid-wicket ropes.

8:25 PM: FOUR. Short and wide now, MS cuts it past Riley at backward point. CSK 54/6 in nine overs.

8:24 PM: FOUR. Flighted from Kartikeya, MS powers it wide of long-on. 50 up for CSK.

8:22 PM: Kartikeya comes on in the ninth over.

8:21 PM: 10 in the over and CSK are 45/6 in eight overs.

8:18 PM: FOUR WIDES. DJ Bravo at no.8, Riley goes short first up and it bounces over everyone, including a jumping Ishan.
Riley putting the smiley on our faces with his 🔥 bowling 😎#OneFamily #DilKholKe #MumbaiIndians #CSKvMI pic.twitter.com/wPuesT2b3U

— Mumbai Indians (@mipaltan) May 12, 2022


8:17 PM: WICKET! Boundary and a wicket is becoming a pattern for Riley! Goes with a rip-snorting bouncer this time, Dube tried to play it late, left it too late as it turns out as it catches the edge and Ishan completes a fantastic jumping take behind!

8:16 PM: FOUR. Riley is back for his second, bowls length at Dube, who pulls powerfully to mid-wicket.

8:12 PM: Only three in the over and CSK are 35/5 in seven overs. We go to a timeout!

8:09 PM: Hrithik Shokeen into the attack for the seventh and an excellent save from Stubbs at long-off to save two!

8:08 PM: End of the powerplay and we could not have asked for a better start! CSK are 32/5.

8:07 PM: Shivam Dube at no.7 and he flicks past mid-wicket for two runs in his first ball.

8:05 PM: WICKET! That's the best comeback! Riley bowls it on a length, does not give Rayudu any room whatsoever and he inside-edges to Ishan behind!

8:03 PM: FOUR. Another outswinger but it shorter, Rayudu punches it past cover.

8:02 PM: Riley Meredith for the final powerplay over. There is definitely some swing on the wicket here, Riley swungs it away from Rayudu, who defends.

8:01 PM: FOUR. Full and outside off, MS responds with a crisp drive past cover for his first boundary. CSK are 25/4 in five overs.

7:57 PM: Some big cheers in the stadium as out walks MS Dhoni at no.6!

7:55 PM: WICKET! It's another and Dan gets Ruturaj again! Bowls it down leg, Ruturaj feels for it and edges it behind to Ishan for a simple take.

7:54 PM: Terrific stop from Riley at fine leg! Rayudu glanced it fine, Riley ran and put in the dive to save two! CSK are 17/3 in four overs.

7:52 PM: FOUR. Slightly short of a length from Boom, Rayudu opens the bat face at the last second to divert it past short third.

7:50 PM: FOUR. Boom is back, bowls a half-volley and Ruturaj drives it through cover for CSK's first boundary of the night.

7:49 PM: Now just one run from Dan's second and the game's third over! CSK are 6/3.

7:47 PM: A wicket maiden to start, just Boom things!

7:45 PM: Ambati Rayudu walks out at no.5.

7:43 PM: WICKET! Uthappa was being troubled all over and now Boom gets him! Bowls on a length, gets it to hold the line just slightly, it's enough to beat Uthappa's flick and trap him in front!

7:42 PM: Some swing on offer! Boom bowls full and very wide and that one swung back in a long way to beat Uthappa's drive!

7:41 PM: And repeat. Top stuff from Boom to begin!

7:40 PM: It's Boom time folks and he starts in typical fashion, on a length, seaming away from Uthappa's outside edge!

7:39 PM: A fantastic first over from Dan, two wickets and just five runs off it!

7:38 PM: Dan has got his line wrong a bit here, bowls two wides to Uthappa.

7:37 PM: Robin Uthappa at no.4 for CSK.

7:35 PM: WICKET! Dan is the man in the opening over again! Bowls short at Ali, who seems surprised, fends at it and Hrithik completes a simple take at short mid-wicket!

7:34 PM: Moeen Ali walks out at no. 3 for CSK and defends his first ball outside off.

7:32 PM: Seems to be some issue with the DRS - Conway wanted to review but umpires tell him it's not available yet. Ro had a short talk with the umpires and Ruturaj before Conway walked off.

7:31 PM: WICKET! It's not the first one but Dan gets the wicket second ball! Full and swinging in to Conway, traps the Kiwi in front and umpire raises the finger!

7:30 PM: Close but not quite. Dan bowls on Ruturaj's pads, who nudges it to mid-on for a single to get himself and CSK off the mark.

7:29 PM: Dan Sams it will be to start with the new ball for us. He got Ruturaj first ball last time out - can he do it again?

7:28 PM: A short huddle talk later, our boys also run out onto the field!

7:27 PM: The umpires are out there and so are the CSK openers - Ruturaj Gaikwad and Devon Conway.

7:23 PM: Those feels!
Ro-MSDtossImageNostalgia.JPEG 💛💙#OneFamily #DilKholKe #MumbaiIndians #CSKvMI @ImRo45 @msdhoni pic.twitter.com/zOFxgZXANy

— Mumbai Indians (@mipaltan) May 12, 2022


7:13 PM: Here is our line-up for tonight.
कशी वाटत आहे आजची 𝐏𝐋𝐀𝐘𝐈𝐍𝐆 𝐗𝐈, पलटन? 🤔📝

2⃣ changes for us from the last game.

➡️ Stubbs, Shokeen
⬅️ Pollard, Ashwin#OneFamily #DilKholKe #MumbaiIndians #CSKvMI @Dream11 pic.twitter.com/czlMqyKeb6

— Mumbai Indians (@mipaltan) May 12, 2022


7:07 PM: So two changes for us today - Stubbs makes his debut in place of Polly while Hrithik Shokeen comes back in place of M Ashwin. We will have the full team for you soon!

7:05 PM: "It's the nature of the Wankhede so we feel it is better to chase, it also suits our team. It was a difficult decision to drop Polly but we are keeping an eye on the future and want to try out a few players. CSK is one of the games we look forward to every season but it is important to not get overawed by the occasion," Rohit said at the toss.

7:04 PM: Ro calls heads and it is heads! We will field first!

7:02 PM: Some issues with the lights at Wankhede, which has delayed the toss a bit.

7:00 PM: Tristan Stubbs has received his cap from Ro and will make his Tata IPL and MI debut tonight!

6:50 PM: Just 10 minutes to go for the toss now!

6:48 PM: MS Dhoni took CSK to a thrilling last-over victory in our previous clash this season. This time though, the match is at our home in Wankhede, so expect even more loud support from the Paltan!

6:45 PM: Hello and welcome to our matchday coverage of El Clasico 2.0 this season!