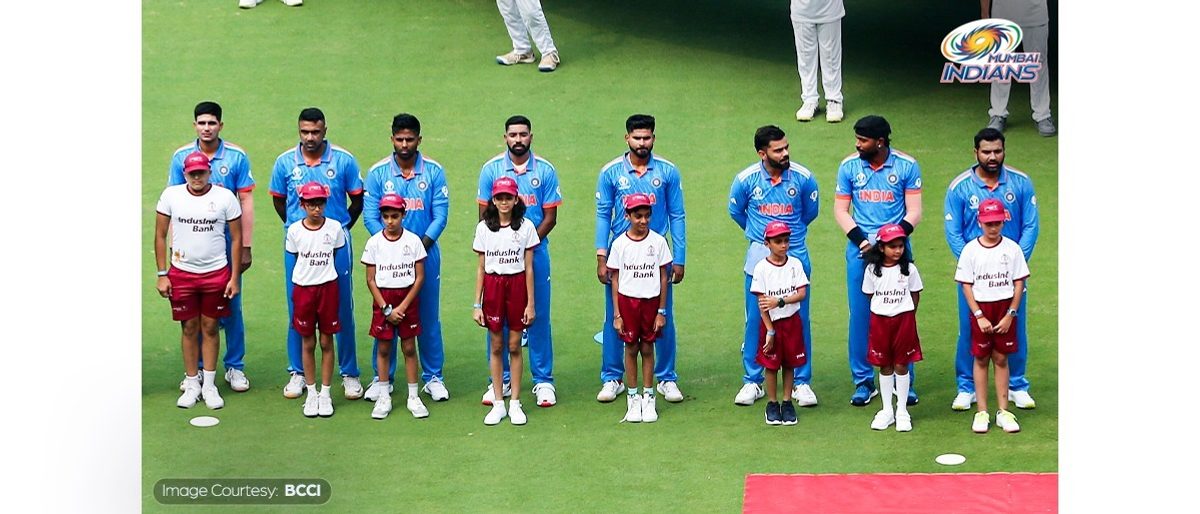 INDIAAAAAAAA INDIA!!!!: Road to the 2023 World Cup Final
mi
"It will be nice to win the World Cup."
Who knew these words of skipper Rohit Sharma are now just a stone's throw away from being a reality? One step. One historic step. That's all that remains.
Everything has been well thought out, as the Hitman emphasised at the curtain raiser to cricket's grandest gala event. "There's a way to do it (win the World Cup). There's a procedure that you need to follow. There's a process to it."
As we get ourselves ready to BELIEVE in India bringing home CWC Trophy #3, let's recap all the CWC23 games of your favourite Men in Blue….
Turning setbacks into victories: the Team India version
Match 1, IND vs AUS: India's tournament began with a stern test, with some difficult questions to tackle. But confidence and ability was shown immediately. From a situation where three batters fell for ducks and the score on 2 for 3, KL Rahul (97*) and Virat Kohli (85) not just rescued the ship, but helped India script one of the greatest turnarounds in history.
HITMAN announces himself!
Match 2, IND vs AFG: Elemental. Colossal. All the adjectives fall short of the impact of Rohit Sharma's carnival century (131) against Afghanistan. Infused with 16 fours and five sixes, Ro-Hit set the platform for India to chase the target of 273 runs, and the pairing of Virat Kohli (55*) and Shreyas Iyer (25*) would run it up inside 35 overs. Besides the Hitman, Boom Boom Bumrah took the plaudits for his four-wicket haul (4/39) - his best figures since returning from injury.
The scoreline is now 8-0
Match 3, IND vs PAK: Turn on the TV for an India vs Pakistan match, and as a cricket fan, you can expect it to be a BLOCKBUSTER affair. With PAK batting first, five of India's six bowlers claimed two wickets each - Jasprit Bumrah recorded the most economical spell with two wickets for 19 runs in seven overs.
After two early dismissals, Mum-boys Rohit Sharma (86) and Shreyas Iyer (53*) took charge of the ship. They steered the hosts to a comfortable seven-wicket win at a full-house Narendra Modi Stadium in Ahmedabad.
Taming the Bangla Tigers
Match 4, IND vs BAN: Bangladesh gave a challenge to India, a target of 257. But if you have an opener in the form of Rohit Sharma, and a chase master in Virat Kohli, everything becomes simple.
Rohit's 48 and Shubman Gill's 53 were a display of batting aesthetics, and following their ambitious contributions, Kohli took over the baton of run-scoring. He led the Men in Blue to a seven-wicket triumph with his 48th ODI century and was supported at the other end by KL Rahul (34-ball 34).
A 20-year wait ends!
Match 5, IND vs NZ: Oh! How long has India waited for this result? The scenic HCPA Stadium at Dharamsala turned into a cauldron on the back of quality performances from India and New Zealand.
But, the underlying difference was the finesse with which the hosts operated - Mohammed Shami announcing his arrival at CWC 23 with a fifer, Rohit Sharma's ascension as the first Indian batter with 50 ODI sixes in a calendar and the crucial 50-plus run partnerships for the third, fourth and sixth wicket). India won by four wickets.
Cometh the R, Cometh the man
Match 6, IND vs ENG: 100th ODI match as captain, committed innings with the bat (87 runs) on a tricky wicket and a victory; this was a perfect treat for Rohit Sharma as his boys ended England's reign as World Champions with a 100-run win.
Aapla Dada Surya (49 runs off 47 balls) also joined the party with a quick blitz at the death before Shami (4/22) had another one of his crazy running-through-batters-for-fun evenings.
2011: CONQUERED; 2023: THRASHED
Match 7, IND vs SL: For the second time in recent months, Sri Lanka found themselves at the mercy of the Indian cricket team. Rohit and Co. notched up a whopping 357/8 at our Wankhede. And then our bowlers - especially Mohammed Siraj and Mohammed Shami - returned the favour twice to have Sri Lanka bundled out for 55 and seal an emphatic 302-run victory.
2003 winning streak matched, in style
Match 8, IND vs SA: South Africa's status as a free-scoring team in CWC23 met its end at the hands of India in Kolkata. First, the Proteas witnessed the hosts amass their second successive 300-plus score of the tournament thanks to Virat Kohli (101*), and then, their challenge to chase was cut short by Ravindra Jadeja's five-wicket (5/33) haul to finish with a team score of 83.
Entertainment, Entertainment, Entertainment
Match 9, IND vs NED: The last game of the CWC 2023 group stage didn't allow itself to be written off as a simple dead rubber. India's top-five Indian batters all notched fifty-plus scores - the first instance in a World Cup innings - as they pioneered India to a gigantic score (410/5) in the first innings.
Virat Kohli and Rohit Sharma took the crowd by storm - by bowling and taking wickets. This was a complimentary gift after the frontline bowlers' efforts to restrict Netherlands to a score of 250.
The night we became unbeaTEN!
Semi-final, IND v NZ: The Wankhede Stadium is known as a breeding ground for iconic milestones for India, and another page was added to the book with the CWC23 semi-final.
Virat Kohli's record-breaking 50th ODI hundred, Rohit Sharma's multiple sixes record in CWC history, Shubman Gill's fourth fifty-plus score and Shreyas Iyer's quickfire hundred off 67 balls - the fastest in an ODI World Cup knockout game - got India to a record total of 397/4.
New Zealand's chase of 398 runs fell short by 70 runs, thanks primarily to that man again - Mohammed Shami. With every wicket, the pacer kept writing his name in the record books until he reached a page where he wrote his final figures of 7/57 - the best-ever bowling spell by an Indian in ODI cricket.
A new chapter on the Chronicle of India at the Cricket World Cup will be written in less than two days. It's the final lap, and it comes down to one sacred word: BELIEVE. Paltan, let's bring this home!