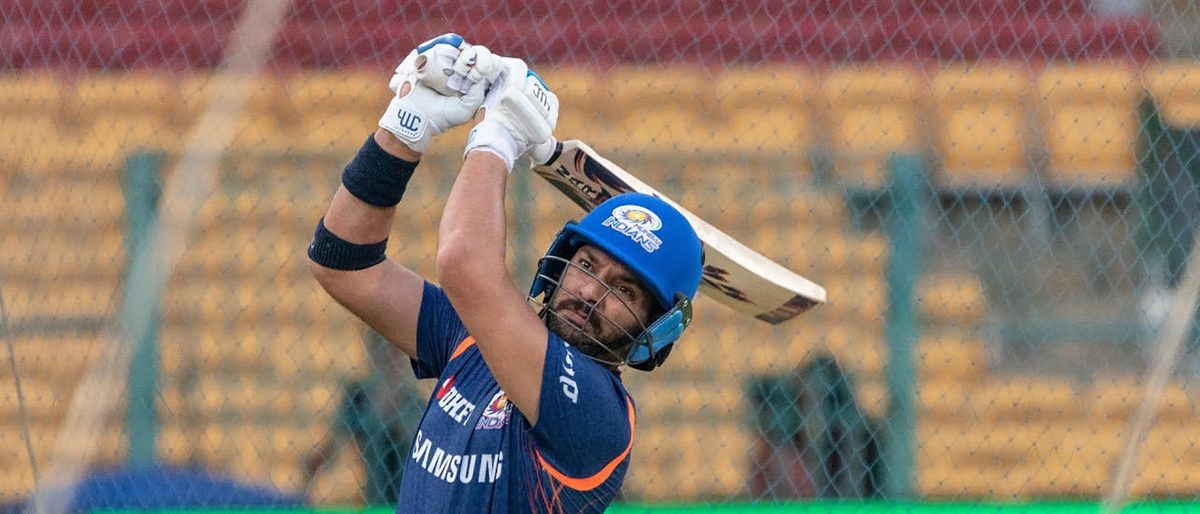 Yuvraj Singh - A warrior, a fighter…. You name it
mi
A day after India was celebrating their win against Australia at the World Cup, Yuvraj Singh called it time on his cricketing career. One that has many embedded memories. If you fancy a better number 12 in International cricket, you might want to change your mind post this.
First glimpses of Yuvraj, 2000
New boy, Yuvraj Singh, 18 years of age comes out to bat against Australia in the ICC KnockOut Cup Quarterfinals. Playing just his 2nd ODI, Yuvraj took an indication from Sachin Tendulkar and stood tall among the likes of Glenn McGrath, Brett Lee, Jason Gillespie and others. Yuvraj took the onus of the latter half of the innings and smashed 84 runs helping his team reach 266. The southpaw along with Robin Singh stitched 64 runs in 12 overs. Yuvi cantered to his half-century in 46 balls and won the Man of the Match Award for the game. India eventually went on to win the match by 20 runs.
Yuvi... I was the batsman alongside you on your debut vs Australia in Nairobi and I knew I was witnessing something special and
Greatness would follow ..
Congratulations on your journey thus far and Good luck for the future. . @YUVSTRONG12

— Robin Singh (@imrobindra) June 10, 2019
NatWest and Yuvraj - The Match-winner, 2002
Who can forget the iconic Ganguly celebration at the Lord's balcony? Nobody. Not even England fans. Needing 326 to win, India started well but lost 5 wickets for 40 runs when most fans switched their TVs off. It was then when two young blokes became protagonists and starred in an emphatic win. Yuvraj Singh and Mohammad Kaif added 121 runs for the sixth wicket and made India believe. Yuvi stroked his way to a 63-ball 69 and showed the world that India can chase. Kaif took his side home and won the game with 3 balls to spare. The day when Yuvraj and Kaif became overnight heroes for India. Not only this but the Yuvi-Kaif partnership on the off-side inspired the youth of India to dive around and save runs. Yuvraj at point and Kaif at covers became a success story for skipper Sourav Ganguly back in the 2000s.
One of the greatest match-winners in the history of the game,a fighter who built an extraordinary career through difficult challenges & came out a winner every time-We all are so proud of you #YuvrajSingh , u can be very proud of what u have you done for our country @YUVSTRONG12 pic.twitter.com/w4wUe31De0

— Mohammad Kaif (@MohammadKaif) June 10, 2019
Conquering arch-rivals Pak, 2006
Top-scorer in the 2006 Pakistan series with 344 runs in 5 innings with an average of 172 and a new finishing partner in MS Dhoni. Yuvraj Singh was growing with stature. He started to become a consistent match-winner and was reaping benefits under Greg Chappel. He scored 87 and 79 during the series which helped India win the series in Pakistan. Needing 287 in the finals, the upright left-hander scored a brisk 107 off 93 balls and added the finishing touches. Yuvraj Singh was the Player of the Match and the Series.
My best memories of Yuvraj, other than the Natwest Final, WT20 2007, WC2011 would be the partnerships he and Dhoni would stitch against Pakistan on flat tracks to chase the totals successfully (2005-2006 season). Somehow can relate to a sense of euphoria with those times.

— Ishan Bose (@ishanbose31) June 10, 2019
Takes the inaugural T20 World Cup by storm, 2007
6,6,6,6,6,6. Six sixes in an over and the fastest ever international 50 in just 12 balls. Yuvraj Singh got Durban on its feet that day. One of the most iconic innings in the history of the format. Yuvi came in to bat in the 17th over and struck gold from the first ball itself. He mauled Stuart Broad and shifted the momentum towards the Men in Blue. Yuvraj Singh will be best remembered for this in years to come.
6️⃣ 6️⃣ 6️⃣ 6️⃣ 6️⃣ 6️⃣

Wishing Yuvraj Singh a happy retirement from international cricket ✊ pic.twitter.com/Te0duzjlA0

— ICC T20 World Cup (@T20WorldCup) June 10, 2019
If you were heartbroken in 2003 after Australia defeated India in a big World Cup final, this knock will surely top the charts. India was facing Oz in the semi-final of the inaugural T20 World Cup.

Yuvraj came back from injury after missing the game against South Africa. He hammered the Aussies and scored a quickfire 70 off just 30 balls taking India to the final. A 119-metre flick off Brett Lee will forever be ethced in the memory of every Yuvraj fan.
Yuvraj Singh's Longest six against Australia T20 World Cup 2007 semi final https://t.co/nQDDQURdWH via @YouTube

— Vicky (@vicky10158) November 29, 2016
World Champion, 2011
A batting masterclass against the West Indies. It was just one of those days for Yuvraj Singh. He was doing everything he could and everything came off just right. He hooked, he cover-drove, he swept. It was a stage made for him. Battling dehydration and vomiting, Yuvraj Singh scored a fighting 133 to bag his third Man of the Match in the tournament. He was not done there. He came back and scalped two important wickets handing India a comprehensive win in the end.
The quarters against the Men in Yellow was another Yuvraj Singh special. Another Yuvraj Singh Man of the Match. Fielding first, Yuvi got crucial wickets - that of a well-set Brad Haddin and Michael Clarke. Chasing Australia's target for a spot in the final, India were reduced to 187/5 when 70-odd runs were still needed. The two southpaws in Yuvraj and Raina kept their heads on the shoulder and steered India home. The former remained unbeaten on 57 and was on his knees as he drove Breet Lee through covers to hit the winning runs.
End of an era! Yuvi pa, ur ability with the bat, the glorious 6s, the impeccable catches & the good times we've had, will be missed beyond years. The class & grit u brought to the field will be an inspiration forever. Thank u, @YUVSTRONG12 Have an equally remarkable 2nd innings! pic.twitter.com/ZWNeC9WkZL

— Suresh Raina🇮🇳 (@ImRaina) June 10, 2019
Saving best for the last
Yuvraj Singh saved his best for the last. At 35 years, nowhere close to getting to the ODI team and then scoring his career best 150 was some story. The celebrations said it all. Having scored his last 100 way back in the 2011 World Cup, Yuvraj Singh was at it again. He added 256 runs with MS Dhoni and took the team past the 380-run mark after being down to 25/3 at one stage. The swashbuckling lefty hit 24 boundaries enroute to his 150.
There will never be a Yuvraj Singh again. We wish him all the luck for his second innings a happy retired life.