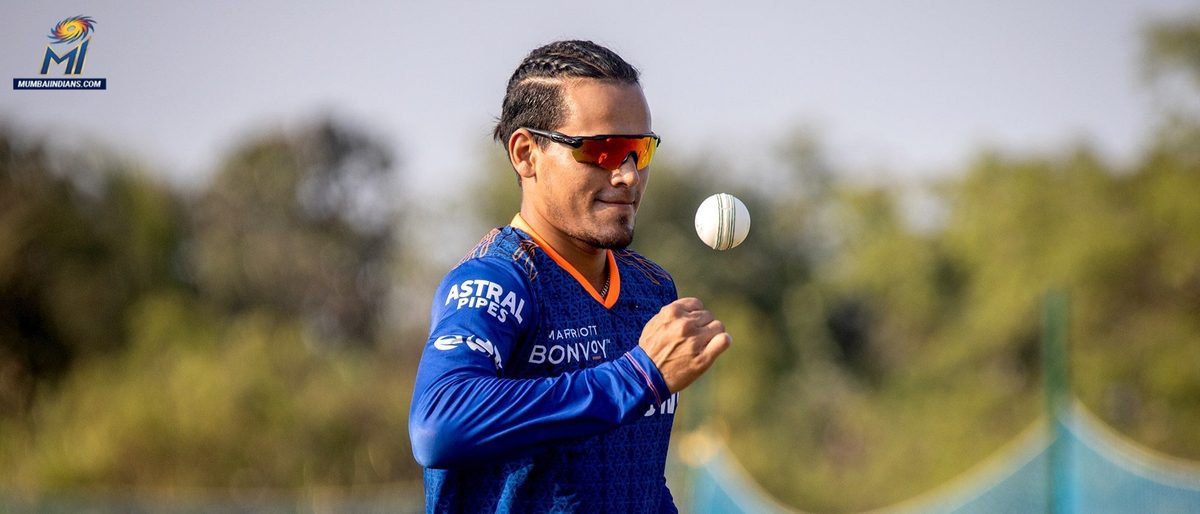 "As a coach, I am very happy with Rahul's progress": Mahela Jayawardene
mi
Both teams, Mumbai Indians and Delhi Capitals, are gearing up for a big clash on Tuesday evening. The teams ride high on confidence, coming into this game with four points in their pockets each, and a win in their previous games.
Prior to this big clash, the media caught up with the Head Coach, Mahela Jayawardene, for a question-answer session. Below are some excerpts from the same.
Amidst a strong bowling line-up, Adam Milne gave away 11 runs in an over in the last game. Does that mean he will be sitting out or playing the next one?
Mahela: "I don't think it's a worry. If you see some games, the bowlers are going at a much higher rate. But I think Adam was playing his first game for us, his debut, there were a bit of nerves as well. He bowled well. In patches, yes, there was execution issues, but he was up against two of the most destructive openers in the IPL, Jonny and David. So I think we take all that into account when we make decisions going forward, and whether it is tactical or not. So, I am pretty pleased with the way Milne bowled. But yeah, that happens, you have bad days at the office, but we take that as a bowling group effort rather than an individual."
Rahul Chahar currently has the most wickets for a spinner so far. Tell us more of his rise in the last couple of years.
Mahela: "Rahul's been quite consistent for us the last three years. We knew that he had talent. He also was quite raw when we started playing him. I believe it was in 2019 that he had a breakthrough season. Even in UAE in the last season, he bowled well. He had his ups and downs. He wasn't consistent in execution. But every year, I think, we see improvement in Rahul."
"Mind you, he's still a young player. We feel that he's been around for a long time but he's also learning every day, and he gets challenged by different oppositions and some top-class players. So, it's constant learning for Rahul. But very happy with the way he's come out. He is one of the leaders in our bowling group, especially in the spin department with Krunal. Those two work well together and as a coach, as a management team, we are very happy with his progress."
"On the intelligence part of it - learning the game and how to go about it, he has vastly improved. It's not just the skills. I think for the bowlers the most important thing is the thought process in the middle, and having a game plan and executing it. The game plan can keep changing depending on the opposition batsmen and what they're trying to do. I think that evolved a lot in the last few years as well and we are very happy about that."
Thoughts on MI's middle order, given Rohit, after the last game, said that they needed to bat better there?
Mahela: "I think, probably, the last game was a bit of an off one for us. But in the previous two games, I think our tempo was very good. In the KKR game, the overs 7-10 were some of our best. I think, overall, we are happy. Knowing Rohit, he will keep pushing the guys every time we don't hit those marks. He will bring it up and want us to improve. That's the team culture that we have."
"I think in the last game, we have to consider being up against two quality spin bowlers, especially in the middle overs where we also lost a couple of wickets, of Rohit and Surya. So, I think, considering all that, we handled the situation better, to set it up in the last few overs, and get that par score."
"We always try and get to that par score, whatever we think on that day and that wicket would be a good score. Obviously, if you're chasing, it's the other way around, we try and keep the opposition under that par score. That would be the challenge for the bowlers. So, there are areas where we could improve, but pretty happy with how things are going on."
Has adapting to the wickets in Chennai become a problem for the batsmen, because this place hasn't produced batting beauties till now in IPL?
Mahela: "I think it's unfair for me to say that you need batting wickets for IPL matches. The reason why the tournament is interesting is that every venue is different. I think it is being evenly contested between the bat and the ball. Yes, the wickets are slightly on the slower side, but we still see scores of 150-160. The other day we saw 200. So, on a given day, depending on the opposition and how you approach them, you can have different variables. They are not unplayable wickets. They are good, competitive wickets and I think adjusting to those challenges is always the key for any batsman or any team."
"I think we've been consistent with that approach. It is challenging but our boys have adapted pretty well. Sometimes you will make mistakes and that's a part of the game. But we knew that coming to Chennai and the wickets here play, we needed to play as a unit. And every game is a challenge because we are playing different oppositions. We are not just playing CSK in Chennai. That would have been different but when you're playing different oppositions, they will also apply different tactics and the way they play is quite different. Therefore, we also have to adjust to them."
Are the couple of run-outs that Hardik Pandya pulled off the other day assets that add to his value? Does his fielding make him a more valuable player?
Mahela: "Yeah. Obviously, skills are something that we look for in a player and as long as he is developing and evolving those skills, it is always going to add value. Not just for him as an individual, but also for us as a team. We've always used Hardik on the boundary line because of his speed and he has a good throwing arm and catching abilities."
"Last few games, he had a little niggle issue and we kept him in the 30-yard. He's proved the value of that as well by picking up a few run-outs because he is agile and is a good mover around short distances. We saw that in the two run-outs. So obviously, it's great. Going forward, we will and consider him staying in that ring longer before he gets pushed out to the boundary ropes."
Until the last season, Hardik Pandya was usually sent out to bat at the 13-over mark if a wicket fell. In the last game, we say Kieron pollard coming in. Is there a change in plan?
Mahela: "You're not going to have the same breakfast every day, right? So if we keep having the same thing, I think it is easy for the opposition to plan against us. We would like to try and change depending on the opposition, the conditions and what we want to achieve in that particular moment. Especially in a competition like this, we need to keep everyone guessing of what we're trying to do. So that was the thought process."
"Obviously, Polly got a little more time out there in the middle early on, which we couldn't give him in the first few games. So yeah, we have a very versatile line-up. The guys can bat at different positions depending on the situations. They understand that we're going to utilise that and they are well aware of it. So that's how we've operated in the last three-four years in different conditions and we will keep doing that."
How do you see Surya's growth in the MI camp? How did the management keep him motivated while he waited for an international call-up?
Mahela: "Well, I think, we didn't have to do much. Obviously, SKY was quite motivated. He had the ambition to play for India, and he worked towards that. Not just on the field, but off the field as well, getting his fitness, and everything sorted. But, you know, the last three years, we've challenged Surya in different positions, mostly up the order, because before that he was used mostly as a finisher. We saw potential in him batting up the order, that way he actually can manage his game."
"The main challenge for him is to have that game-plan and execute that out there in the middle. I think what he has done that over the last few years is to evolve that thought process against different oppositions, on different surfaces, because he definitely has the skill set to do that. We've seen him grow over the last three years and be a very valuable asset for this line-up, of what he brings to the table. And when you have other batters around him, doing different things, it actually blends really well for us."
"When Surya is batting at three or when he is opening, he pretty much had the same kind of impact as well for us. So, I'm very happy, very proud that he made the Indian debut. Well deserved, for all the hard work that he's put in because it's not an easier setup to get in, due to the amount of talent that the Indian Cricket has at the moment. But, he'll definitely show that he is in top form, and he's someone to be reckoned with."
In the last five games in Chennai, the chasing team has lost. How are you going to tackle losing a toss and having to chase?
Mahela: "Well I'm pretty confident that if we have to chase anything, this is the batting line-up that can do that as well. We believe in that ability, it's not just in Chennai, but in any conditions.
It's the same for us in Wankhede where you get dew, it's easier to chase totals down, but we've defended totals in Wankhede, with the dew."
"So, we try and believe in our ability as a group that nothing's impossible. We can't control the toss, we can't control the conditions. What we can control is our mindset, and how we approach those situations. So, I know it'll be a challenge, but I'm pretty confident that if we had to chase something down, this is the batting lineup that can achieve that."
MI have pulled off sensational wins in some low scoring games. What is the planning process for the bowlers?
Mahela: "I can't go into too much detail on the planning, unfortunately, but, I think the bowling unit is something that we've focussed on. Like I've always said, bowlers win championships. And we've worked so hard over the years to create that culture in the setup, because, you need to have attacking options in all the conditions. The quality, the skills to be able to execute certain game-plans against certain oppositions, in certain conditions. So, that's something that we've thrived on."
"We know that our batting lineup is quite capable of doing special things. But, when you add a bowling unit that can complement that, it's always going to be tough for any opponent to be comfortable around that. So, that's something that we've always tried to create. It's a tough competition. If you take all the teams, everyone's skilful, very talented. So, there are very few errors that you can make out there in the middle. You have to be a bit different from the others in certain conditions to be able to control situations. So, that's something that we've focussed on."
"It's the same with the bowling unit as well. They've always tried to create opportunities. They're very positive, very attacking. They understand when we need to hold back, when we need to control certain situations, and when we need to attack and take the initiative. Having guys like Jasprit and Krunal, who are seasoned campaigners, and then you add Trent Boult too, who has amazing skills. And then a young Rahul Chahar, who comes in and has that fearless attitude. These are things that sometimes we cannot plan for but, these are the skills that the individuals have, and we try to let them express those skill sets out there in the middle."
Do you think Boult and Bumrah's death bowling gives your team an added advantage? They target the stumps all the time and it's difficult for batters to get away with it.
Mahela: "Yeah, I think they are experienced bowlers, they are quality. It's all about having that confidence at the backend. We can always try and execute to the best of our ability. On a given day, it might not work, but, as long as they have that ability, it's good. At the same time, we're not attacking the stumps all the time, we would be attacking other places as well. So, it's not just them doing it with certain opposition, it will be a different plan every day."
"I think you need to have that skill set, that mindset to adapt and do different things, against certain opposition. But the quality that we have to deal with opposition, you have to be that, because, it's amazing what you get with a guy like AB, who batted really well against us in that RCB game. So, you have to be able to try and back yourself to execute and see what happens. On a given day it might work, or might not but, these guys are confident, and are able to execute brilliantly."
Is there a deliberate attempt from the management to not let Hardik bowl since he is back from an injury? When will we see him bowl again?
Mahela: "We were obviously looking forward to him bowling this season. It's just that last season he was coming back from an injury, and he wasn't ready. But, after those matches against England, in the last ODI, I think he picked up a niggle. That's something that we are nursing at the moment. We don't want to risk it, because it's important that we make sure that he is completely in a position to comfortably come in and bowl."
"So, hopefully in the next few weeks, with a bit of work and all that, you might see him bowling. It's not that we are deliberately trying to not bowl him. We would love to have him bowling. But, as soon as the niggle goes off and he is comfortable, we should be able to utilise that asset as well."
The Head Coach's views and thoughts have been insightful. We hope to see the Mastermind's plans in action in tomorrow's game against the Delhi Capitals.