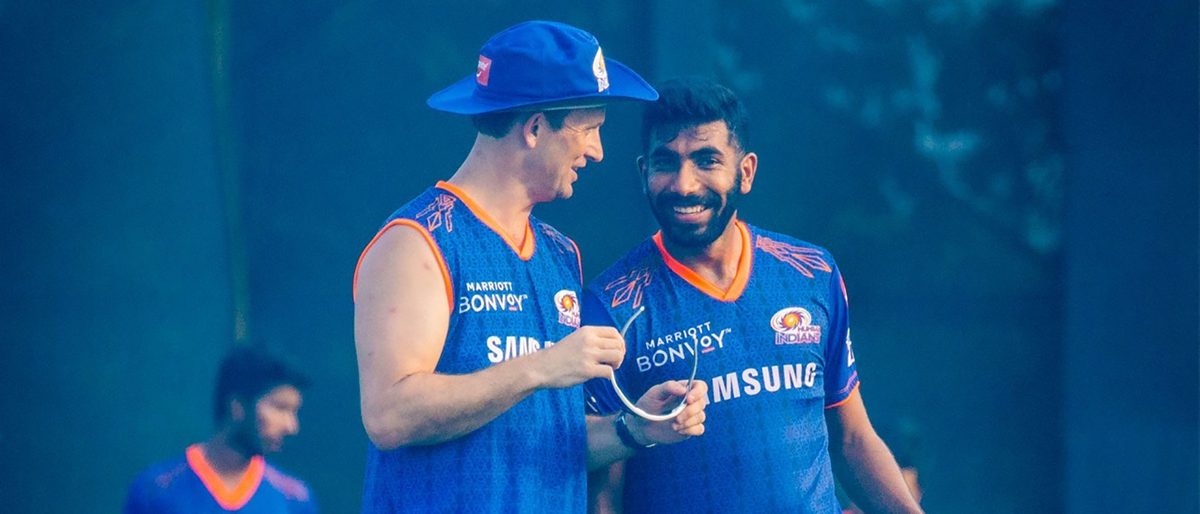 "How Bumrah bowls makes him brilliant to work with": Shane Bond
mi
Jasprit Bumrah's spell in the fourth Test between India and England at London's Oval was important and iconic. While his crucial wickets steered the game in India's favour, personally, he scaled the massive mountain of 100 Test wickets in this particular game.
His spell drew appreciation from cricket pundits across the world. One among them is former New Zealand pacer Shane Bond, Bumrah's current bowling coach at Mumbai Indians. Having worked with this pace machine for the last seven years, Bond had some keen observations as to why Bumrah is a special bowler, Insidesport reported.
"He's now one of the best in the world"
Bumrah had a great tour against England. He took 18 wickets at an average of 20.83 with impressive best figures of 5/64. Bond recalls how quickly this pacer's advancement escalated. "We've had seven years together and you get to know someone pretty well," Bond said,
"He was this wiry, scrawny kid who had just come off a knee reconstruction and didn't play more than a couple of games in my first season (in the IPL). The next thing he's playing for India and he's now one of the best in the world," Bond expressed.
"There are certain things in his action that make him unique and that's also what makes him so great. People mention his run-up and it's probably too loose a term to actually call it that, it's more of a stuttering walk. Often when he's warming up I'll imitate him and throw the ball back. He just looks at me and shakes his head," the former Kiwi pacer recalled fondly.
"He just flicks the wrist and whammo, it's on you"
Bond also elaborates on Bumrah's bowling action and how, although unique, has helped the bowler. He also tells what it is that ensures Bumrah's pace doesn't get compromised despite his truncated run up. "He has these amazing supple wrists so he can move it around, which gives him the ability to swing the ball," Bond said.
"His bowling position, most people deliver it here (Bond lifts his bowling hand up parallel with his ear), whereas he delivers it way out in front of him so the batsman has less time to adapt. That makes his bouncer so difficult to see. Most other bowlers will use a method that's distinguishable - he just flicks the wrist and whammo, it's on you. That's why he hurries guys up," Shane Bond added.
"You only change bowler's action if it isn't causing the batter problems"
Bond, a pacer like none other in his own times, also believes that every bowler is entitled to their bowling actions, as long as they are causing problems for the batters. "In terms of his action, we've never really tinkered around with it. We've talked about where he bowls on the crease but how he bowls makes him brilliant to work with. That's what I find most interesting about his bowling," Bond said. Bumrah, too, had spoken about how he was lucky enough to have coaches who did not try to change his action.
"I have parents call me and say, "Can you look at my son's action and tell me if it's good or not?". I'm like, I've been lucky enough to work with (Trent) Boult, (Lasith) Malinga, (Mitchell) Johnson, (Mitchell) McClenaghan and Bumrah - all these guys are so different but all awesome," he exclaimed.
"You realise, it's not about how it looks and you only need to change a bowler's action if it's not causing problems for batters at the other end. I would say that wasn't an issue for those blokes I've listed, so why would you go and alter it?" the Kiwi pacer questioned.
Jasprit Bumrah is set to play his 100th IPL game when the UAE leg of the tournament commences on 19th September, 2021.