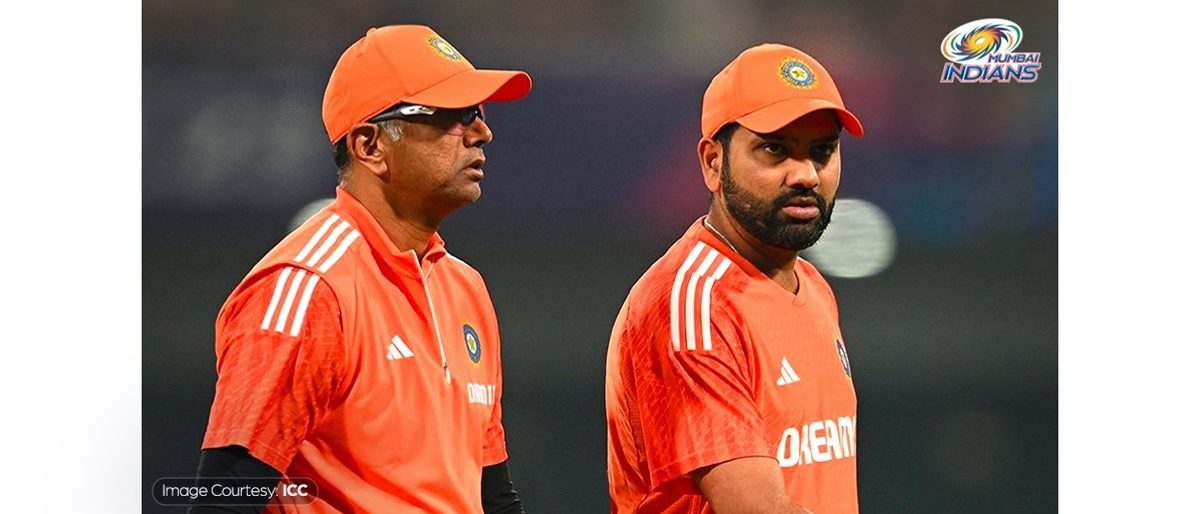 "We tried everything we could": Captain RO as Australia lift the World Cup
mi
Rohit Sharma, our captain, leader, and icon, will be the flag-bearer of the Indian cricket team as the Men in Blue aim to bag the top prize in cricket for the third time. And here, we bring you everything the Hitman says in front of the microphone right through the competition, before and after each game right through the tournament. It is a rolling blog, so keep scrolling, and keep the chanting going! Indiaaaa, Indiaaaa!!!
November 19: Final - India vs Australia
"The result has not gone our way. We were not good enough today." - Captain RO's heartbroken summary of the CWC23 Final.
"KL and Kohli were stitching a good partnership, and we were looking at 270-280, but we kept losing wickets. Credit to those two guys in the middle for stitching an outstanding partnership." - Ro was pleased with KL Rahul and Virat Kohli for steadying India's batting during the tough overs.
"When you have 240 on the board, you want to take wickets, but credit to Head and Labuschagne, who stitched together a big partnership and put us completely out of the game." - The Hitman had some words of praise for the opponents.
"The biggest occasion in the cricketing event. We have to stay nice and calm. It's a dream come true to be captaining the team in the final. I know what lies in front of us. We need to play well and get the result." - Captain RO at the CWC23 Final toss.
******
November 18: Rohit speaks to media ahead of IND vs AUS in the CWC 2023 final
"Rahul Dravid's role has been massive, especially in giving role clarity to players. It's quite contrasting in how he played his cricket and how I play my cricket, and to agree on certain things, to give us that liberty, that says a lot about him. Also, he has stood by the players in difficult times, especially during and after the T20 World Cup. We had a good run until the semi-finals, then we lost. And how he reacted to certain situations and informed the players about how we want to play also says a lot about him. What he has done for Indian cricket is massive, and he also wants to be part of this occasion. Let's do it for him!" - The captain paid a strong tribute to the Head Coach.
"The bowlers have done a great job for us in this tournament. We were chasing in the first four or five games, and restricting them to below 300 takes work in India. Our pacers and spinners have been great. When we were defending as well, they were great. Bumrah, Shami, Siraj have been excellent. The same for the spinners as well when we wanted to take wickets in the middle overs." - Captain RO praised his bowlers for their commitment with the ball.
"It was tough for Shami not to play the initial part of the World Cup. But he was there for the team to help Mohammed Siraj and Jasprit Bumrah. That shows the quality of him being the team man he is. We had a chat with him about why he was missing out. But he kept working hard, which shows the mental space he was in before the tournament. It says a lot about him. Once the opportunity opened up for him, he was right there. We can see with his performances." - On Mohammed Shami being a 'team player' for India.
******
November 15: CWC 2023 semis - India vs New Zealand
"Today obviously being the semifinal, won't say there was no pressure, whenever you play there's pressure. Semifinal adds a bit extra, we wanted to not think too much about it, just do what we've been doing like in the first nine games. Things came off for us nicely in the second half." - Captain RO assuring that the approach to every game in CWC 2023 is all and the same.
"Shami was brilliant. The form all the guys are in, top five-six batters, whenever they've gotten an opportunity, they've made it count. Very pleased to see what Iyer has done for us this tournament. Gill, the way he's batted for us has been brilliant. Unfortunate he had to go off with cramps. Kohli did what he does, also got to his landmark century as well." - RO credits the important cast members of India's semi-final victory.
"We knew there will be pressure on us. We were very calm, even though we were a bit sloppy on the field. These things are bound to happen but glad we could get the job done." - Captain RO's short summary of the INDvNZ semi-final.
"Whatever we do, we need to do well. I think it's a very important day... but you have to turn up on that particular day. It is about controlling the controllables." - Captain RO at the toss.
******
November 14: Rohit speaks to media ahead of IND vs NZ in the semis
"I don't have a mantra. As a captain, if you have decided this is how you want to play, then you must have clarity. You have to back the players to the hilt. We have backed certain players whom we have given certain roles. We'll back players and stand with them. We must credit Rahul Bhai for buying into that thought and not shuffling much when it doesn't come off. We'll continue to do that in future as well. Role clarity and giving guys the freedom." - Ro on how his decisions as India captain is on the wavelength as head coach Rahul Dravid.
"For me, the ODI World Cup is at the top. All three formats are equally important because you are playing for your country, which is rare. Even this tournament has been fantastic. Many teams have challenged the bigger teams...so any team can beat anyone. Every team is capable." - Captain RO on whether the World Cup still stands important against other up-and-coming tournaments across formats.
"It's a conscious effort. We wanted to build it, and that can't be done with one or two players. All of them have chipped, including the support staff. We have had a great environment since the start. We have done everything to keep the environment of the team easy." - On having a good team synergy.
"Focus is on the game, not my journey. I will probably think about my journey after 19th November, but now it's business, pure business and getting the job done for the team". - Hitman's reply when asked about his rise from a young Mumbai cricketer to leading India in the World Cup.
"That's the beauty of this team. We weren't even born when we won the World Cup in 1983. Half of them were not playing when we won in 2011. I don't see them discussing how we won our previous World Cups. The focus is on how we can get better and how we can improve. That's the beauty of the current crop of players. From game number one, the focus is on winning today." - Captain RO's answer on whether the team is concerned about past INDvNZ matches in the World Cup.
******
November 12: India vs Netherlands
"When you have five bowlers, you want to create those options within the team. Today we had nine (bowling) options, it's important, this was the game where we could have tried certain things. The seamers bowling those wide yorkers when it was not needed, but we wanted to do that. As a bowling unit, we wanted to try doing something different and see what we can achieve." - RO on the surprise strategy with the ball today.
"It's important, the results do matter to keep the dressing room environment lively. There's going to be a lot of expectations, we wanted to keep everything aside and focus on the job at hand. We enjoyed the company of each other once the tournament started. We wanted to play the game on the field with a lot of fun, excitement and that reflected on our performances. When we try and do these kind of things, we keep the atmosphere nice and healthy outside, guys tend to perform really well without any burden." - The secret to the positive camaraderie within Team India.
"Because you play in different venues and different conditions, you got to adapt and play accordingly, that's exactly what we did. Very pleased with how we have played in these nine games. Very clinical from game one till today. That's because different individuals have stepped up at different times. This is a good sign for the team when everyone wants to take the responsibility and get the job done for the team. Although we play a lot of cricket in India, we know the conditions, but still when you play different opposition, that's the challenge in different conditions." - Captain Rohit summarises the key objective that India successfully achieved in the league phase.
"Whether we have batted first or bowled first, we have done extremely well. Another opportunity to play well today and tick all the boxes. Extremely happy with how we have played in this tournament. Hats off to the guys who have stood up at different times and taken the responsibility." - Captain RO at the toss.
******
November 5: India vs South Africa
"If we look at how we played in the last three games, we played better in terms of adapting to the situation." - Captain Rohit on what is the key factor in the recent results.
"We needed (Virat) Kohli to go out there and play the situation. We then knew we had to keep it in the right areas and let the pitch do the rest." - Ro on the importance of Virat Kohli's knock.
"Even if the faith hadn't been repaid, I would have still stuck to them. We need to keep the trust. It can't be done everyday. For (Mohammed) Shami to come back the way he has, shows the mindset. The last two games has shown what (Shreyas) Iyer is capable of." - On backing Mohammed Shami and Shreyas Iyer.
"(Ravindra) Jadeja has been really good. Big matchwinner. He keeps doing the job, goes under the radar but today is a classic case of what he does - score late runs and take wickets." - A well-deserved praise for Jaddu from the skip.
"It'll be a good game, two teams who have played consistent cricket and topped the table, will be nice to win and go on top." - RO is ready for IND vs SA.
******
November 2: India vs Sri Lanka
"South Africa are playing some good cricket, and so are we. It's gonna be a great spectacle for the people out there and people of Kolkata are gonna enjoy that game." - RO gives a short preview of the Sunday Box-Office fixture.
"Shreyas is a very strong lad, strong in his mind, and today he did what he is known for - take on the opposition and the bowlers. He's been working very hard on his game and today we saw what he's capable of. As for Siraj, he's a quality bowler and if he does that it's quite a big difference for us. So very happy with how the squad as performed, even Surya in the last game. To put in a performance like this back to back, against England and now, shows the quality of the seamers." - Captain Rohit Sharma's words of praise for tonight's match-winners.
"Very happy knowing that we have officially qualified now. Been a good effort from the squad, when we started off in Chennai. This was our goal, to qualify first and then obviously to be in the semis and the finals. The way we approached these 7 games, it was quite clinical. Everyone put in the effort and a lot of individuals have put their hand up." - A jubilant RO on India's qualification into WC semis.
"Great honour to captain India at the World Cup where I've grown up playing. As a team, we thrive on getting better however way we can. Obviously, important for us to not get carried away and it's important to stay balanced" - Captain RO at the toss for INDvSL.
******
November 1: Rohit speaks to media ahead of Sri Lanka clash
"It has been more than a decade so it doesn't matter much. They have one player (Angelo) and we have two players. Everyday you have to turn up thinking it is a new day with a fresh challenge." - RO's take on the parallels with the 2011 WC final clash with Sri Lanka.
"I am enjoying my batting. But obviously, keeping the situation of the team in mind. It's not like I go there and try to swing the bat always. I'm looking to play well and wield my bat properly. I need to put my team in a strong position. This is my mindset. The scoreboard starts from zero when you're opening. As a batter, I have to set the tone for the game. So, I have an advantage that I'm starting things off. So, when you start like that, you can be fearless. Last game, we were put under pressure in the powerplay as we lost three wickets. So, I had to change the game as well. As a batter, my focus is on what is necessary at that time. What's the requirement in the first over, the 5th over? So I think about all these things and play according to what the situation demands." - Captain Rohit had a definite answer to calls for being 'selfish' instead of 'selfless'.
"Read the situations in the game, where the game is heading to, you analyze and then you make a move. Sometimes it works, sometimes it doesn't. You have to be ready for every scenario. I believe whatever calls we make on the field, it is in the best interests of the team. Taking these factors into account, I study the strengths of the opposition; what they like to do in certain situations in the game and based on that, I relay the message to my team on how we should approach the bowling and batting in key overs. Hats off to the players to comply with it. It's not my thought process but it's the team's thought process that everyone needs to comply with. I know when things look good, it works well. But I'm also aware that one game, here and there, suddenly I'm a bad captain. So I try to do everything from the team's perspective and be sure of that (positive results)." - Constructive perspective of India's ongoing successful run in WC 2023.
"I was lucky to meet him (Percy Abeysekera) in Colombo during the Asia Cup 2023. He has been such a great fan of cricket. He is first-ever fan that I met who was genuinely a strong supporter for his team (Sri Lanka). When I went to Sri Lanka in 2005 for U-19 World Cup, I was a little boy and had no idea how things work outside the cricket field. But when I went back with Team India in 2008, I saw him for the first time then and saw how passionate he was. I got lucky to meet his family who were very sweet. Its a sad loss to the cricket fraternity because in my eyes, he was the number one supporter of cricket at that point in time. There are so many passionate fans now but the first-ever cricket fan I saw was him. So, its a sad moment for us." - Hitman's tribute to legendary Sri Lankan supporter Percy Abeysekera.
"As Indian players, we have played in these conditions. We have batted first and chased targets. This is a ground where things can be unpredictable at times. There is so much in it for the bowlers, who can rattle through the opposition with a couple of top spells. It might be a high-scoring ground but if the bowlers bowl in the right areas it can be difficult to bat. Everyone gets some value here, bowlers especially spinners and batters as well. We'll see the conditions in the morning and then decide whether to bat or bowl first in the game." - A direct answer to questions on possible playing strategy.
******
October 29: India vs England
"This was the game, a lot of character in the squad. All our experienced players stood up at the right time and got the game for us." - RO-Hit was delighted with the all-round effort from Team India.
"It was top-class pace bowling from Bumrah-Shami duo. England couldn't recover from that blow. Kuldeep bowled a ripper to clean Buttler. That was the killer blow." - A heartfelt credit to the bowlers from the Skip.
"It was necessary for me to create that partnership with KL. I still felt we were 20 runs short (at the halfway stage). Batting against the new ball was a bit challenging, the ball got softer, and it wasn't easy to rotate the strike either. Like I said we were 20-30 runs short, but I will take that win any day." - Captain RO on the turning point with the bat.
"I have got experience, it's not only about going out there and playing my shots. You have to assess the conditions and situation as well." - Ro on his match-winning innings of 87.
"We wanted to bat first anyway. We had a good time batting second. It's a new surface relaid here, and it plays well all through. So we don't mind batting second. It's important to get those two points, and whatever it takes to do that, it takes. It's always nice to have a break, you get the time to reflect where you stand." - A composed Captain Rohit Sharma spoke at the coin toss.
******
October 26: Rohit speaks to Star Sports ahead of England clash
"I try and put myself in their (teammates) shoes and think about what this individual will be needing now ... I think what is needed to be successful is to understand everyone's need, their requirement and give them that space and freedom to go and execute their job and their roles ... It's important to just stay together as a team, understand what each one needs to be in that good zone where they can come out and play free cricket and not worry about what is happening outside." - The Hitman leadership mantra.
******
October 22: India vs New Zealand
"Good start to the tournament but the job is half done. Shami took the opportunity with both hands. He's got class and so much experience and he used the conditions really well. We love travelling and playing in different parts of the country. So far we have not been disappointed and we have not disappointed the crowd as well." - A jubilant Captain RO gives a short summary of the trip to Dharamsala.
"Important to keep the momentum going and forget the past. We know the nature of the WC - all teams can beat anyone." - Rohit on what India's priorities are.
******
October 19: India vs Bangladesh
"We're doing well as a group, a medal for all performances on the playing field and that's something which motivates everyone to do well. Everyone in the squad has gone through pressure, the crowd is coming in big numbers, the stands are full, they haven't disappointed us, they've been brilliant and I'm sure they'll be louder and louder as we move on." - Ro on the INDvBAN victory.
"It (bowling first) has been working at this point of time, don't see any reason to change it. That's important in this WC, keeping everybody in good space. The boys are in good shape, good mental space as well and enjoying the cricket. So far so good, we want to continue this momentum." - Captain Rohit Sharma at the INDvBAN coin toss.
******
October 14: India vs Pakistan
"The bowlers were the ones today as well who set the game up for us. The way they showed grit says a lot. That is something we pride ourselves in. Whoever gets the ball does the job. My job as a captain is important there as well. It's to read the conditions and figure out who's the right guy to do the job. It's only because the guys - before entering the WC - they got a lot of runs. Every opposition we come up against are all quality. You have to play well on that particular day, and that's what we're looking at." - Ro on what today's victory means to him.
"Lot of us are going to experience something really extraordinary. We want to keep striving for the best, we want to come out there and give our best in every game. Keeping the atmosphere in the team relaxed is the most important thing in a tournament like this." - Rohit Sharma at the coin toss.
******
October 13: India vs Pakistan pre-match press conference
"In sports every day whenever you face an opponent, they bring a fresh challenge, and you have to be ready to confront it. That is something I have focused on during my preparations as a batter for any game. That's how I have understood what my game is, and the team's requirements from my game. I try my best and if a good performance comes out, it comes out and if it doesn't, it's okay." - Rohit Sharma on his growth from 2019 World Cup to 2023 World Cup.
"I am not a person who looks at all such stats. We focus on how we can play good cricket. Both teams will start fresh. I don't think there's any favourite. For us, it is important to focus on what we want to do and carry the momentum forward." - Ro's frank take on all the talk around the 7-0 record against PAK.
******
October 11: India vs Afghanistan
"It is about absorbing pressure and taking the right decision on the field. You have got players with different skill sets in our team. They bring different attributes of the game, putting you in good positions as a team when you have that." - Ro showers praise on his team.
"I knew once I got my eye in, the wicket would get easier for me. Something that I have been working on for a long time. It's a special feeling to get a World Cup hundred." - Rohit, the Player of the Match.
"We were under pressure (against Australia) to start with, but KL and Kohli batted well. They were magnificent, and we take a lot of pride in our performance. It was a good game for us; hopefully, we can repeat that and keep the momentum going forward." - Rohit on how India must use the AUS result to influence the schedule ahead.
******
October 9: India vs Australia
"Good feeling to come out on top. Adapting to different conditions on different pitches will be the biggest challenge for the team moving forward. The Chennai crowd never disappoints. They were brilliant from the word go. Sitting in the heat and cheering says a lot." - Captain Ro summing up today's entertaining victory.
"The conditions are there for the bowlers and the ball will turn as the game goes on, you need to understand what line and lengths to bowl and adjust accordingly. We played a lot of cricket before that, we played two good series before the warm up games, we have covered all bases." - Rohit Sharma at the coin toss.
******
October 8: India vs Australia pre-match press conference
"It's a fresh day, fresh game for both teams. And I'm sure both teams will be raring to go and have a good start to the tournament." - Captain Rohit being calm and not letting recent results against AUS affect the team approach for the CWC23 opener.
"All 7-8 batters that we have in the squad, they bring a different dimension to our team. They bring a different sort of style to our team, and that is why they have been picked to play the game, play the tournament for us, and that is what you want. I always spoke about being flexible and being a bit versatile in how you want to play. All of these guys bring that kind of quality with them." - Ro on the composition of batters in the team.
"I'm sure at certain stages of the tournament some players will go through pressure, the teams will go through pressure, but that is where we need characters. We need a strong mentality from the players to come out and say - okay, pressure is not leaving us, but I'm better off focusing on what I need to do for the team rather than thinking about - there's too much pressure." - Professor Rohit's guide for players to compete with pressure.
"We definitely want to be a team where we want to play the best 11, but you can pick your best 11 based on the conditions that you have in front of you. Your eight, nine, 10 players will remain the same. There will be one or two changes here and there, which you've got to be ready to accept and take it into your stride and move forward. And that is the communication that we've had with the players at the beginning, and everyone's ready to do it." - Rohit Sharma on how the team is ready for tough selection calls.
******
October 4: Captains' round table event
"We were happy to get those days off, looking at the heat and stuff like that. We have been playing a lot of cricket of late. We played four games in the Asia Cup and three against Australia, which helped us know where we are and what is needed as a team." – Rohit Sharma on the warm-up games getting washed out
"People are going to love this tournament. The stadiums will be jam-packed. People in India love their cricket as much as they love the team. Rest assured, It is going to be a great tournament." – Exciting warning bells sounded
"I had to work on a lot of things. To be a leader, you need to understand your teammates, their strengths and weaknesses and give them the freedom to go out and play. Our job is to make sure we lay that platform for them, and then it's their job to go and do what they do best." - Captain RO's leadership mantra