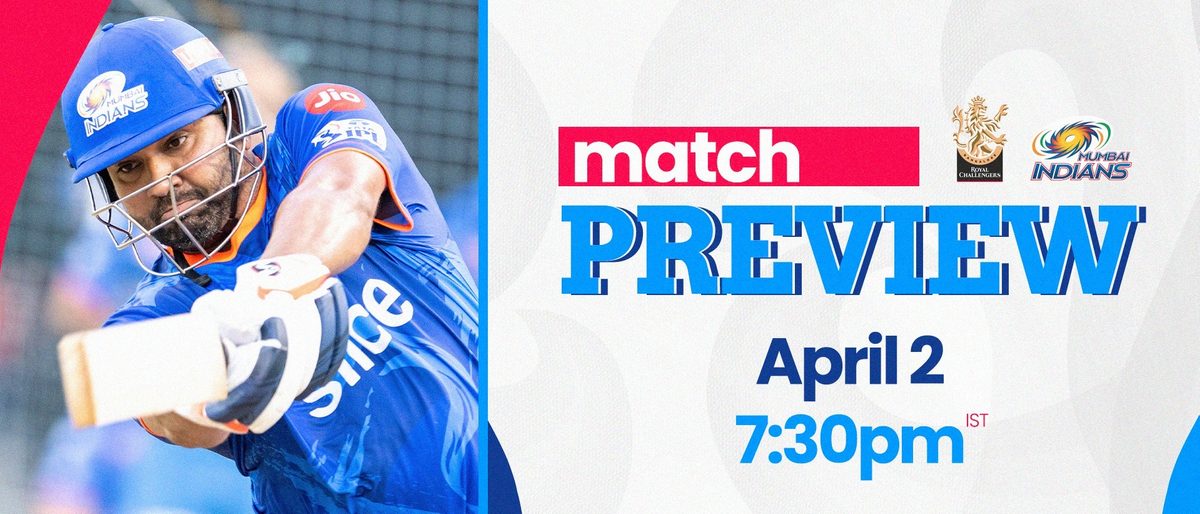 ONE DAY TO GO! RCB vs MI: Let's paint Bengaluru Blue and Gold!
mi
Stop the countdown. Ready your alarms. Bring on that Blue and Gold jersey and be ready to shout: Mumbaaiiiii!!!! Mumbaaiiii. ** clap, clap, clap **
We have touched down in the garden city of India, Bengaluru - one venue where we enjoy playing IPL cricket. Eight wins in 10 matches at the M.Chinnaswamy Stadium should tell you everything you need to know.
It's 358 days since the last cricket match between Royal Challengers Bangalore and us, with the seven-wicket loss still fresh in our minds. The lessons were learnt, and now, it is time to show how hungrier and more prepared we are to get the momentum back in our hands. Also, it's high time we learn from the women's team and reverse our first match jinx ;)
A new think-tank, a new batting coach and a renewed confidence in the camp. Mumbai, the five-time champions, are here to put the smiles back on our faces. New player battles, old rivalries renewed. It's all to play here.
What: Royal Challengers Bangalore vs Mumbai Indians
When: Sunday, April 1
Where: M.Chinnaswamy Stadium, Bengaluru
What to expect: An eruption of talent from both sides, plenty of superstars, the impact player drama, a flat deck, big sixes, and of course, the epic Rohit vs Virat.
Stat check
| | | | | | |
| --- | --- | --- | --- | --- | --- |
| Teams | Matches played (overall) | Won | Lost | Tied | No result |
| MI | 30 | 17 | 12 | 1 | 0 |
| RCB | 30 | 12 | 17 | 1 | 0 |
| | | |
| --- | --- | --- |
| Teams | Highest run-getter in MI-RCB rivalry | Highest wicket-taker in MI-RCB rivalry |
| MI | Rohit Sharma: 566 runs in 22 matches | Jasprit Bumrah: 24 wickets in 18 matches |
| RCB | Virat Kohli: 827 runs in 32 matches | Yuzvendra Chahal: 22 wickets in 15 matches |
Ahead of our first game, head coach Mark Boucher calmly approached the first wave of questions coming his way. A domineering person in his own right, the gaffer was in awe of Jofra Archer's commitment as be a MI-ker.
"Jof (Jofra Archer) is good. He is a 100 per cent for tomorrow. He didn't train today. We had a couple of optional training sessions. He felt was ready to put out some sparks tomorrow. We are happy about the progression he has made since the last few days he has been with us. So yeah, he might probably being playing tomorrow."
Paltan, we are now a few hours away until we see 'Hitman' Rohit, Aapla Dada Surya, 'Pocket Dynamo' Ishan Kishan and the rest of the boys in action. The cricket fever in Mumbai has spanned generations, and we recently marked a decade of our first IPL trophy.
Are you ready to see your heartbeat levels go on a rollercoaster ride? Remember, this rollercoaster stops only once the trophy comes in our hands. Our #6.