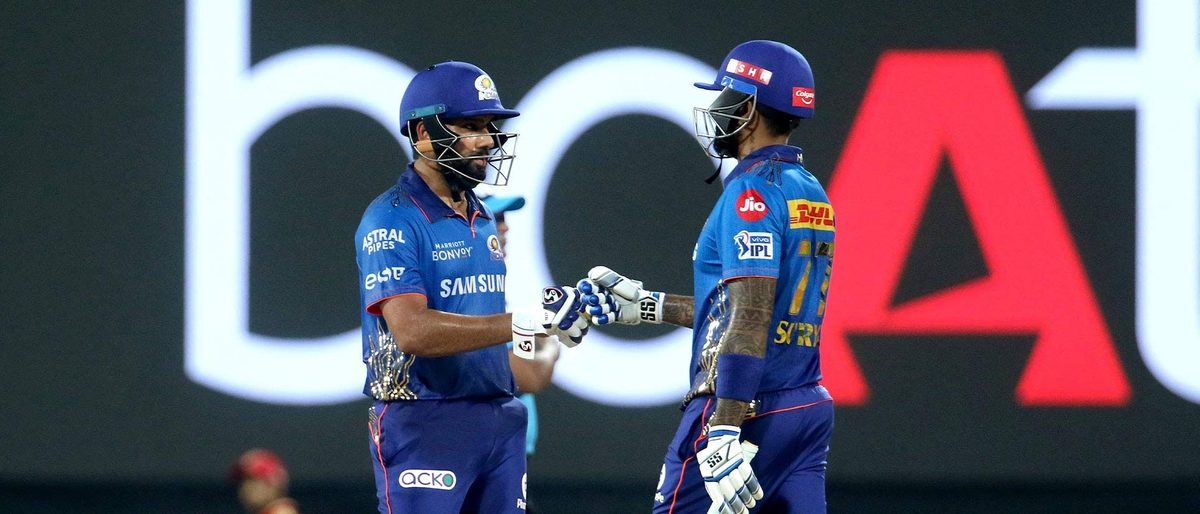 "It's a matter of one game, we can come back really strong": Surya
mi
The Mumbai Indians ended their campaign at Chennai on a rather dismal note, losing to PKBS by nine wickets. The game was a wake-up call of what needs to be done to regroup, rejuvenate and get going in the upcoming legs of IPL 2021.
Post the game, Rohit Sharma, who scored a captain's knock of 63 (52) to keep a sinking MI ship sailing, addressed the media. He spoke on some important aspects of the performance so far, and here are some excerpts from the same.
"We're not batting all 20 overs the way we want to": Rohit Sharma
"Not enough runs. I still feel it's not a bad wicket to bat on. You can see how Punjab Kings batted and won with nine wickets in hand. We are missing application in our batting. If you get 150-160 you're always in the game and that is something we've failed in the last two games, we need to look at that. We can look at it either way - their bowlers bowled very well in that powerplay. Ishan was trying to hit but couldn't get it, even I wasn't able to."
"We were trying but the wicket was easy. In the last four games we really batted well in the powerplay but today we failed to do so. We're missing batting all 20 overs the way we want to. Something we need to look at. Ishan at 3 was just a tactical thing, we wanted someone to bat in the middle who plays well against spin and we identified Surya as that player. When it works it looks good, when it doesn't it looks bad. There's no one person who makes a decision, it's the entire unit. We just need to understand how you need to bat and bowl when the conditions are tough."
Batter Suryakumar Yadav, who partnered his captain in a half-century stand and scored 33 (27), addressed a press conference post the game. He gave insights on the team's mindset, performance and more.
Has the middle order not performing well become a cause of worry for MI?
"Not really. They have been doing really well and have been working very hard in the nets, everyday in the practice sessions. I feel it's just a matter of one game that we'll be coming back into the game. Everyone is trying to take that responsibility in every game. It's just that it's not working. It happens in this sport. But, I'm sure they'll come back really strong."
Why do you think middle order has not been able to perform?
"I think conditions are obviously different. You have seen the difference in wickets between Wankhede and Chepauk. So, yes conditions are a little bit different, but during practice sessions we are constantly trying to play according to the conditions. Wherever we've practiced, we have tried playing on the same conditions. It's just that it's not working the way we want it to. It's not that we have never played in such conditions. We have faced this situation before and we have come back much stronger. So, I think we will come back really stronger, it's just a matter of one game, like I said. Once we fire up in one game, there's no looking back."
After how the last two games turned out, do you think MI needs to rethink their plans?
Surya: "No, sir. I feel everything's going fine. Everyone's mindset is also good. From what I've been seeing, everyone's preparations have been spot-on. What I feel is, like I already mentioned, it's just a matter of one game. Everyone is backing each other, everyone is there for each other. That's why we call it One Family. It's about just one game. We just have to go out there and play the same way we used to in Mumbai and everything will fall into place. Just because things are not falling in place, we cannot sit back and think about what went wrong. One phase is completely over. It's time for the next phase and I am 100% sure that we'll start the next phase really strong and come back into the tournament really hard."
What was the reason behind promoting Ishan to number 3? When a player comes off a great domestic/international season and doesn't perform in IPL, do doubts creep in?
Surya: "Not really. Firstly, Ishan's promotion was completely management's call. We collectively decided that if a lefty gets out, a left hander walks in. And he and I have been playing a similar role in the past few years. So, I was completely okay with it. We both decided we'll do what everyone decides, we were very clear in our plans."
"Talking of performances, I feel it's all about that confidence that you carry. I feel everyone is hitting the ball really well in the nets and everyone is really positive about their mindset. It's all about just going out there and expressing yourself and as I said, and I am saying it again, it's just a matter of one game. We don't want to think about what has happened in Chennai. I think Delhi will be completely different and MI will be completely different there."
Here's hoping that the Men in Blue and Gold are able to execute their plans and bring better results in the Delhi leg. Until then, fingers crossed, and adios, Chennai.