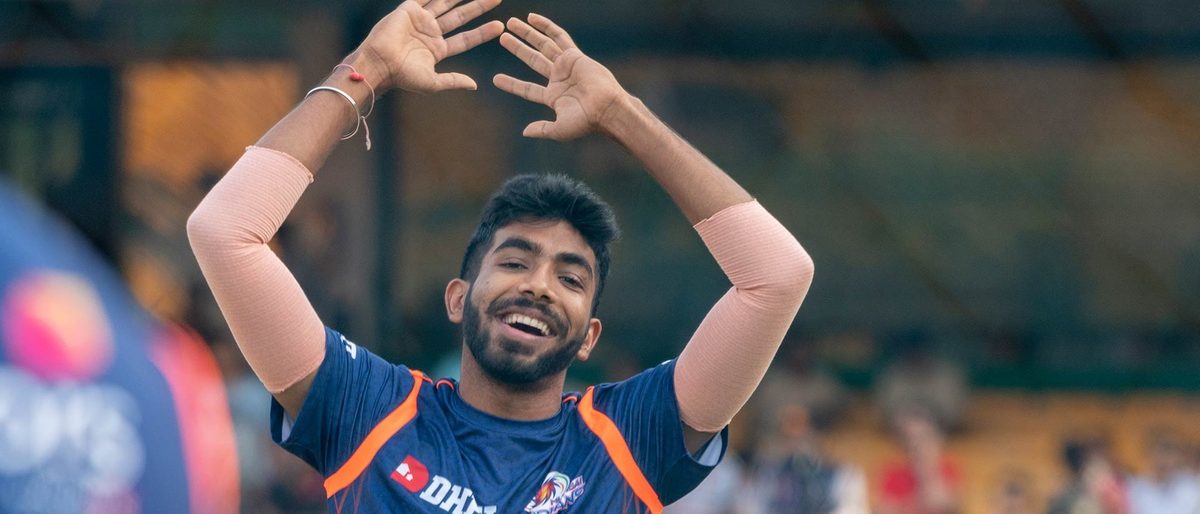 Jasprit Bumrah: In my mind, I was Brett Lee
mi
After four months of spending time away from the 22-yards due to a back injury, ace Indian pacer Jasprit Bumrah is all set for a comeback in the T20I series against Sri Lanka.. In an interview with Hindustan Times, the speedster opened up about some tricks and trades of the game that have helped him become what he is.
I always like to have new things up my sleeve
Bumrah spoke about the significance of having variety in one's tools of attack. He cited how having more weapons in your armoury helps you combat the opposition even if you have a bad day on the field.
"If you've got only two or three tricks, then you're stuck. Some days you go in with a fixed agenda; you think, at the end, I'm just going to bowl yorkers and slower balls. But on that day, if your yorkers are out of place and your opponents know you will bowl slower balls and are waiting for it then you need a good bouncer, right?"
🙋🏻‍♂🙋🏻‍♀ Raise your hand if you love to see Bumrah shatter the stumps!#BoomBoozled #OneFamily #CricketMeriJaan #MumbaiIndians @Jaspritbumrah93 pic.twitter.com/w09IiD0wI3

— Mumbai Indians (@mipaltan) December 6, 2019
It's money in the bank and it will all cash-In
The historic Test series win in Australia was surely one of the highlights for Bumrah's career as he ended up as the leading wicket-taker. Bumrah lit up the Boxing Day Test at the MCG back in 2018 where he had figures of 6/33. However, the Indian spearhead rates his performance at Perth above it where he constantly troubled the Aussie batsmen.
"I bowled better than the game in Melbourne, but I was very unlucky. I told my coach, Bharat Arun sir, I told him that I'm bowling well, it's all money in the bank and it will all cash in one day, whenever it is, whenever you require it the most. In the next game, the Boxing Day match, where we needed to win the series, it cashed in. We won the match, we won the series. I did nothing different. Some very good deliveries in Perth did not get wickets, but in Melbourne, I got an edge without even beating a batsman once."
#OnThisDay in 2018 - a Boom special on a flat MCG track 💥👊💥

👀: 6⃣/3⃣3⃣
🆚 : Australia
🏟: Melbourne Cricket Ground#OneFamily #CricketMeriJaan #MumbaiIndians @Jaspritbumrah93 @BCCI pic.twitter.com/jjiL9Mvqd9

— Mumbai Indians (@mipaltan) December 30, 2019
I like to do a lot of homework
Within a couple of years of his Test debut, Bumrah rose to the No.3 position in the ICC rankings. Inspite of all the success he has garnered, the pacer understands that there are no limits to learning.
"I like to learn, I always want to learn new things. I'm always asking people, 'what do you think I can add?' I am asking players. I ask coaches. I keep on adding, keep on adding new things all the time. If I'm going to England, I ask myself, what does James Anderson do? I like to do a lot of homework."
I always learn on the go
Speaking about the South African tour where he made his debut, Bumrah shared an example of how he adapted to conditions straightaway.
"When you play in India, you look to bowl full because there's not a lot of bounce over here. But in South Africa, I quickly realised that when I bowled full, they play through the line and it's easier for them to play that length."
Watching Dale Steyn and Morne Morkel bowl there, he tried to pick a few things. When asked if he's scared to change his bowling style in order to adapt, Bumrah stated that he likes to try something new but without changing his game too much.
"I was hitting the deck, bowling a fuller length only if the situation permitted."
There was another instance during the England tour where a Sky Sports commentator based on his observations implied that Bumrah didn't have the in-swinger to the left hander. Hence, they could leave the ball outside off-stump.
"In my head, I knew that I had the in-swinger. I thought if the players are listening, and if they don't know that I have it. So, I bowl 2-3 deliveries that move out and I see that (Keaton) Jennings was just leaving the ball without even, you know, giving it a thought. I realised now, this is the time. In England, it helps as well because the ball actually swings!"
.@Jaspritbumrah93 in Tests:

Matches - 12 🏏
Maidens - 110 ✅
Wickets - 62 🔥
5fers - 5 💥
World ranking - #3 👏🏻#OneFamily #CricketMeriJaan pic.twitter.com/iisrjIEpUY

— Mumbai Indians (@mipaltan) September 4, 2019
In my head, I was Brett Lee
Reminiscing memories from his childhood, Bumrah recalled how he was always watching cricket on TV when not playing. He confessed trying to emulate former Australian speedster Brett Lee.
"If I was not out playing, I was watching cricket on TV. I always enjoyed bowlers, taking wickets, bowling fast, liked watching the stumps, you know, being rattled. I thought 'I'd like to do that'. In my head, I was Brett Lee, I was bowling like this, I was bowling like that. I was copying my heroes."
Bumrah admitted that he continues to watch videos and take notes from what the experts have to say.
"All my cricket I've learned from the TV. Even now, I look at videos and I listen to feedback, and then I like to prepare on my own, the way I want to. I try to do the analysis myself. Because on the cricket ground, I will be alone. Nobody's going to be there to help me so I should be able to help myself."
From a 'baby bowler' to a world-beater 💥💙😋#BoomBoozled #OneFamily #CricketMeriJaan #MumbaiIndians @Jaspritbumrah93 pic.twitter.com/aIj447ucpc

— Mumbai Indians (@mipaltan) December 6, 2019
If you want to take wickets, you have to bowl yorkers
Having grown up playing cricket on the streets, Bumrah asserted on the factors that surrounded playing with a rubber ball. Since the bowler is likely to get hit, he emphasised on the importance of bowling yorkers early in his career.
"We had rubber balls, super tight ones, with a seam, it used to swing. We did not play on pitches, so there was no seam movement or length balls or caught behinds. It was all about trying to hit the batsman on the full. If you want to take wickets you have to bowl yorkers. I still believe that's what makes me street smart, because it's very easy to get hit when you're playing rubber ball. As a bowler you have to find out ways of how not to get hit."
Yorkers, slow bouncers, and more - @Jaspritbumrah93's accuracy is renowned! Tag a friend who is as accurate 🎯 as Bumrah. #CricketMeriJaan pic.twitter.com/BOfKdiQAfj

— Mumbai Indians (@mipaltan) July 26, 2017
What did he learn from Malinga?
When Bumrah made his debut for Mumbai Indians back in 2013, Lasith Malinga had become the first ever bowler to take 100 wickets in the IPL. The pacer shared the inputs given to him by the Sri Lankan legend.
"The things I learnt from him are about the mind. How to handle different situations. How to not get angry. How to make a plan for a batsman."
Bumrah + Malinga =❓#OneFamily #CricketMeriJaan #MumbaiIndians @Jaspritbumrah93 pic.twitter.com/lXif2PbhEo

— Mumbai Indians (@mipaltan) May 17, 2019
Bowling to Sachin Tendulkar and Ricky Ponting
Just when Bumrah was making inroads in the domestic circuit for Gujarat, he received a call-up to join the Mumbai Indians. From playing cricket on the streets to bowling legendary figures in the form of Sachin Tendulkar and Ricky Ponting in the nets, it was a dream come true for the 18-year-old.
"When I came to Bangalore, I only had the Gujarat team's clothing. Nobody had seen me before (in the Mumbai Indians team). I was asked to bowl. This was at Chinnaswamy, and back then there was a lot of grass on the wicket and it was seaming. I bowled to Sachin Tendulkar, to Ricky Ponting, everyone."
Apparently, once Tendulkar faced Bumrah, he walked up to Wright and said, "It's hard to pick this boy." For this, Bumrah simply says, "I don't know if that happened because back then I was a little scared of talking to people, you can't ask Tendulkar 'how's my bowling'? I listened a lot, I didn't talk a lot."
'Bumrah, world's best' - Sachin and Yuvi@sachin_rt and @YUVSTRONG12 were unanimous in their opinion of @Jaspritbumrah93 , while weighing in on @mipaltan's 3rd #VIVOIPL final win over their arch-rivals. #MIvCSK By @28anand & @RajalArora

Watch the 📹 - https://t.co/Z0yAur9KGk pic.twitter.com/RFwXrJR417

— IndianPremierLeague (@IPL) May 12, 2019
Coming from domestic cricket to international cricket, only a jump of mindset
Playing for India has always been the ultimate dream for any budding cricketer. When Bumrah was drafted into the national squad for the maiden time, he didn't have many butterflies in his stomach.
"I took a direct flight from Delhi to Sydney, a long flight. I remember watching two movies. I had no nerves. I was not sure that I was going to play, but I was very happy. Now at least I'll get my clothes of the Indian team!"
It was in the morning of the fifth ODI where Bumrah learnt he would be playing. A little bit of nervousness creeped in. However, then Indian skipper, MS Dhoni had a word while handing him the ball.
"He told me, 'whatever field you want, you just tell me and we'll give you that, just bowl like you know how to bowl. I realised that coming from domestic cricket to international cricket, it's only a jump of mindset. Rather than trying to change things or think that I'm bowling to Steve Smith or David Warner, I could just try to do the things that I was doing in domestic cricket, play this like I'm playing for Gujarat. I was happy."
Potential talent ➡ Mr. Dependable 💥 #OneFamily #CricketMeriJaan #MumbaiIndians #IPLAuctions2020 @Jaspritbumrah93 pic.twitter.com/VT57eGWZIt

— Mumbai Indians (@mipaltan) December 17, 2019