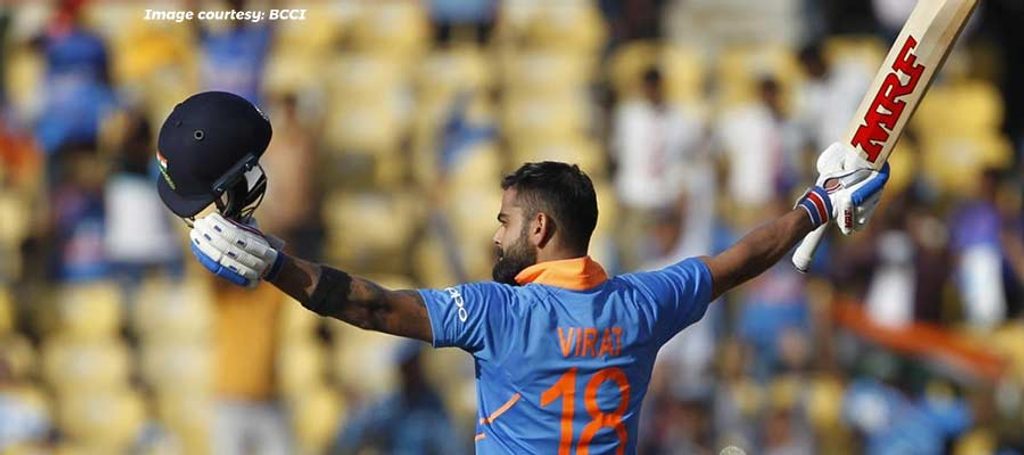 Kohli, bowlers register India's 500th ODI victory
mi
Virat Kohli's masterclass in the first innings and a collective bowling effort in the second saw India go 2-0 up in Nagpur. India's 500th ODI win also calmed a few nerves in the dressing room, making them believe in each other's strengths during a crisis with the 2019 Cricket World Cup not too far away.
Australia had no one but themselves to blame. The visitors needed 33 off 34 at one point but Jasprit Bumrah brought all his experience into play to pick 2 wickets in the 46th over to dent the chase. Not only this but he also bowled the 48th over, conceding just one run to corner the 'roos.
India gambled with Vijay Shankar to bowl the 50th but the move paid off. Shankar got rid of the dangerous Marcus Stoinis off his very first ball. Australia needed 11 off the last five deliveries with just one wicket in hand but a pin-point yorker to Adam Zampa also ensured that there was no chance of a possible miracle in the Orange city.
Chasing 251 to draw level, the Aussies got off to a sedate start with Aaron Finch kicking away his poor form. He was tentative against Jasprit Bumrah early in the innings but ensured that he middled a few after getting his eye in. Usman Khawaja, on the other end, was happy to play second fiddle as the visitors added 83 for the first wicket.
Finch's return to form was cut short by Kuldeep Yadav when the Australian skipper decided to sweep him but made no contact with the white object. Khawaja followed suit in the next over when he gently chipped a Kedar Jadhav delivery to Virat Kohli at covers.
When Kohli would have thought that his side was bouncing back, a returning Shaun Marsh and Peter Handscomb manoeuvred the field well to keep Australia in the hunt.
Ravindra Jadeja stepped up for his side and removed Shaun Marsh to provide India with the breakthrough. India again gained an upper-hand when Kuldeep Yadav hit Glenn Maxwell's timber to keep them reeling at 132/4 in the 29th over.
Peter Handscomb, their best bet against spin, in the company of Marcus Stoinis, took the game deep. Stoinis had a slow start but once he got hold of Kedar Jadhav's 'below the sea-level' deliveries, Australia pretty much got the asking rate under their radar.
The plot had a twist when Peter Handscomb's innings was cut short by a Jadeja direct hit. However, Stoinis, in the company of Alex Carey, counter-attacked Kuldeep Yadav to accumulate 15 crucial runs in his penultimate over.
Kuldeep's confidence was dented when India wanted wickets from him but he kept his nerves to rattle Carey. A burly looking Coulter-Nile did no harm to the reputation of a number eight and was beaten by pace, trying to cut Jasprit Bumrah.
Australia needed 28 from 28 when Pat Cummins came in. Given the way Cummins has batted in the past couple of months, India would've still felt the pressure but Jasprit Bumrah, like a true champion, did justice to his number one tag, having him nick one behind to MS.
Not only this but he bottled Stoinis to play out an over which saw him give away just one-run. Stoinis' decision to hoard the strike didn't work out. The disappointment to see his side fizz out at the finish line was clearly seen on his face post the game.
Earlier in the day, after losing the toss, Virat Kohli was happy to bat first. Aaron Finch, at the toss, spoke about the pitch being a batsman's friend and hence decided to chase. Kohli hit the bullseye on the flip side. He knew that the pitch would become difficult for the batsmen as the game progressed.
Australia rumbled against Virat Kohli but did very well to restrict the home side just to 250 when they could have got more. India scored 248 runs when Virat Kohli was present on the 22-yards and managed just 2 when he wasn't.
India were hit early when Rohit Sharma, in an attempt to cut a short-ball, was dismissed for a duck on the last ball of the first over. Shikhar Dhawan settled in to get 21 but Aaron Finch's smart decision to toss the ball to Glenn Maxwell in the powerplay worked well. Dhawan was out lbw to the part-timer.
Ambati Rayudu, in the company of Virat Kohli, added 18 runs before he fell victim to Nathan Lyon. India promoted Vijay Shankar at number five, who surprised everyone with his intent.
The all-rounder outscored his skipper and was looking good — striking five fours and a maximum. He was batting on 46 off 41 balls when a Virat Kohli straight drive took Zampa's deflection and hit the stumps with Vijay outside the return crease.
India lost momentum again when MS Dhoni fell for a first-ball duck, guiding Zampa's ball to Khawaja at first slip. Virat Kohli from there on took the baton to score runs in his own hands with Jadeja holding up the other end.
He completed his 40th ODI hundred in the process and was taking India to a decent finish when Jadeja was dismissed by Cummins for a 40-ball 21. Virat Kohli's fine timing cost him his wicket when he swivelled a ball straight to Stoinis in the deep. India's tail added just two runs after his departure as Australia restricted the hosts to 250.
Virat Kohli was adjudged as the Man of the Match for a superlative ton in Nagpur. Both the sides will now meet on March 8 in Ranchi.