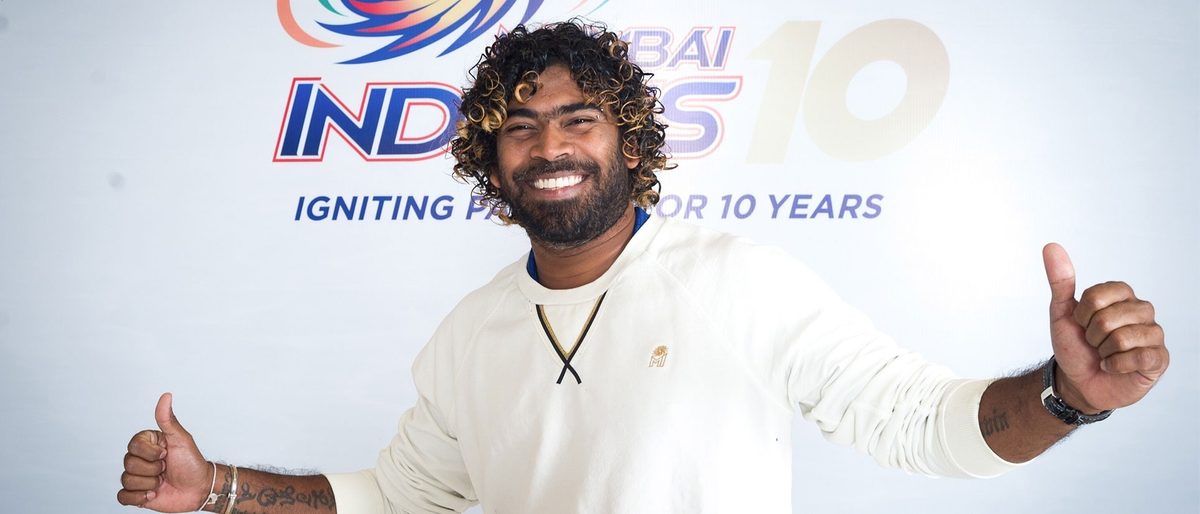 Lasith Malinga opens up about his bond with Mumbai Indians
mi
Lasith Malinga announced his retirement from T20 cricket on 14th September, 2021 through a YouTube video, officially pulling the curtains down on his cricketing career overall. While Malinga was given a fitting farewell by the netizens, his stint with MI ended on a rather memorable note too - with a last ball win that earned Mumbai Indians a record fourth IPL trophy in 2019.
Malinga has launched his life's second innings after having completed his playing career with a new series called Champions of Tomorrow. In the very first video he put out, Malinga talks about the beginning of his 12-year IPL experience with Mumbai Indians. From what we've seen, he's loved playing with MI as much as the fans watched him play for the team!
In an attempt to help and encourage young cricketers to follow their dreams, Malinga has, in depth, taken us through what it took him to join MI and why it was important for him to do so.
A sweet note to start with
While Wankhede will not forget the "Ma-lin-gaa, Ma-lin-gaa" echoes, we're sure he is, in spirit, with the team too. He sent his wishes to the team ahead of IPL 2021 with a small message, "Today, I want to wish MI, especially the team officials and members, to win another championship this year. Wish you all the best!"
"When I played with Mumbai Indians, I got many fans in India and all over the world. I feel all the young cricketers have a dream - to play franchise cricket, especially IPL, and the national team. That is why I want to share my experience with Mumbai Indians, who have an excellent support staff. That is why I want to explain how I entered the IPL team," Malinga said.
A start and a delay for Malinga in joining MI
Malinga had officially become a part of the MI family a year before he could make his debut in 2009. However, fate came in his way and delayed his joining the team by a year. He reflects on participating in the auction and the discussions around it.
"In 2008, I got the opportunity to put down my name for the auction. After that, I got a call from my manager who told me that I'd got a chance to play with Mumbai Indians that year. He asked me not to worry, and that two other Sri Lankan cricketers were there. He also mentioned that I got good owners - Mr. Mukesh Ambani and Mrs. Nita Ambani," Malinga explains.
Further, he said, "The manager also mentioned about the team's support staff and the team having the most experienced players of that time. I had only 3.5 years international experience. I felt it was good to go there and get some experience to play for the national team. In 2008, I was really unlucky. First I got a knee injury, then I missed the IPL and I lost the Sri Lankan annual contract."
Finally joining the team
In the second year, IPL moved to South Africa. After holding talks with the Sri Lankan Cricket board, his own doctors and physios about why it was important for him to play T20s via the IPL, the curly haired magic-maker finally joined the team.
Malinga explained, "In 2009, after one and half years, all the doctors and physios said that if I wanted to play, I would have to start short format games to continue my cricketing journey. It meant that I would have to play T20s. But I didn't get any chance to play in the national team and I had only one option: to go to South Africa and play in the IPL. I explained this to the Sri Lankan Cricket board and they understood the situation. In 2009, I finally went to South Africa to meet my MI team."
Malinga's initial experience with MI
It was a world of experienced players for a young Malinga when he stepped into the team. He elaborates, "When I went there, I could see many experienced players are there in world cricket because I had only three-and-a-half years of international experience. Sachin, Zaheer Khan, Shaun Pollock and Sanath Jayasuria, that experience was huge. I wanted to get their experience so that I could play better cricket at an international level. After 2-3 days of training, we were all together and we were like family."
"We had our first match against the Chennai Super Kings. We analysed the opposition, how we have to bowl, how we have to read the game and handle the situation. I still remember the first match against CSK, I got three wickets in four overs and gave fifteen runs," our beloved Mali recalls with a smile.
"My first wicket in the IPL, in the very second ball, was Parthiv Patel, caught by Sachin.Then I got MS (Dhoni) and another wicket after that. After the first match I understood that if I have to perform well in IPL and international cricket, I will have to take control of my skills," and little did the world know how much more was in store for at least another decade to come!
Takeaways from the first game
Malinga emphasised on learning from the initial games. "Yorkers, slow balls and understanding and handling situations on the field, I wanted to get some control of my skills. That's why after the first match I learnt to control my yorkers and slow balls, because I felt that in the future this control would be very important," he said.
Clearly, Malinga has believed that experience is everything, and wishes to give it forward to the big names of the next generation. "That's why I want to share all my experience and how I trained throughout my IPL journey. I hope you will also like to know how I train because it will be helpful for the young cricketers who want to be the best in the world."
Who would not want precious gems of wisdom from the legend himself? After countless memories to hold on to, monumental moments to reflect on and innumerable victories to savour, this man only has more and more to give. We're lucky, indeed, to have had him in the Blue and Gold for so many years.