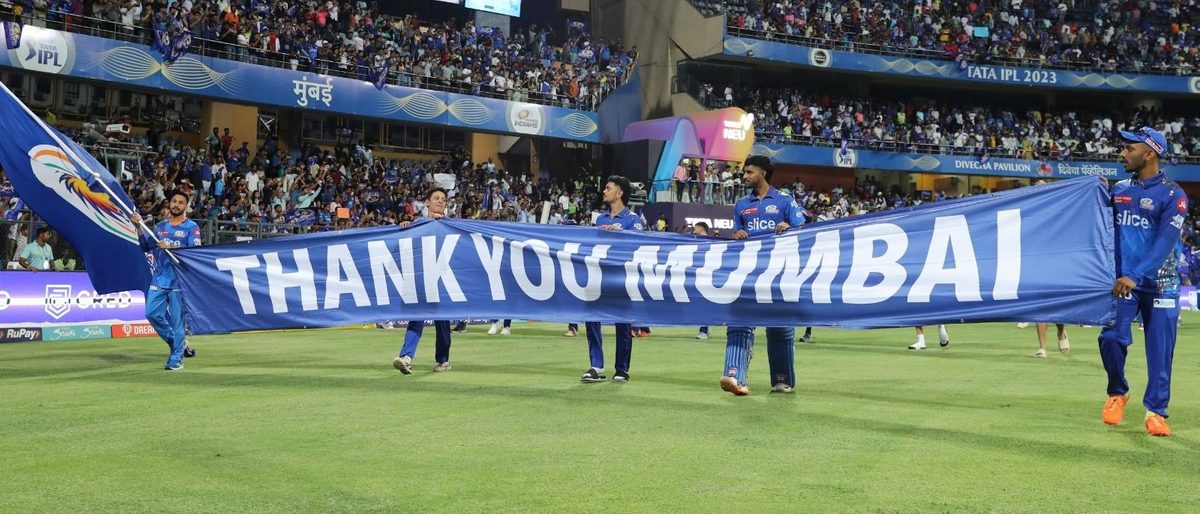 "Obviously disappointed with today, but reaching play-offs a great achievement": Boucher
mi
A season that took the fans through every graph of emotion, be it elation, disappointment, frenzy or happiness, before ultimately ending in heartbreak. A place in a Final against Chennai Super Kings awaited us, but Gujarat Titans in the form of a brilliant Shubman Gill, stood between us and our seventh IPL Final. But one thing we Paltan can take back from the season gone by is pride and unrivalled love for our beloved players.
Mark Boucher, our Head Coach, was present in the post-match press conference to take questions from the media for one last time this season.
"Yes, 233 I thought was a bit high, to be fair. Probably 25 to 30 runs too much. It was a little bit unsettling because we weren't quite sure how Ishan was going to go. Nehal we knew that he could do the job, in the practice games that we played, he actually opened the batting and he played fairly aggressively, which we really needed; someone to go out and play that way tonight. It didn't come up for us but it's T20 cricket. You got to adapt to the conditions and today we were thrown a bit of a curveball, unsettled us a bit," he said speaking about the game.
"We lost Nehal early. I think Green was the one that also unsettled us a bit, got a blow to the arm, and he came off, but thankfully he was able to go back out and bat for us and put us in a decent position up until sort of like the 15th over. Unfortunately, we just lost too many wickets and I think that is our downfall from the batting perspective tonight. We gave it a good go right up until the 15th over. If one of our batters that were in there had batted right to the end, it might have been a lot closer than the end result.
"But I am proud of the way that they went about it. We could have gone out there and lost those couple of wickets and just thrown in the towel. It shows good signs for the future of how the guys are playing and the belief in the changing room and the intent that they're showing, especially with the bat."
It's been a roller-coaster of an IPL for us, with more ups than downs. When asked to sum up the season as a whole, he shared, "First of all, the experience has been fantastic, I have really enjoyed it. Got a good group of guys in the dressing room, the support staff is great as well, lots of experience. It's tough, it's a very tough competition. It takes a lot to win a game of cricket. There are a lot of good teams that you come up against and the results can go either way, so it's quite a stressful competition. But to get to the playoffs is a great achievement. Obviously disappointed about tonight's result but I think we fought right to the end."
He was also asked to discuss the bowling department, which unfortunately hasn't been as good as the batting department, "About our bowlers, I think you need to look at it from a different perspective and I think if you have a look at the totals that were scored at Wankhede and chased down. Sometimes you can look at the figures and you can say our bowlers were going for a lot of runs and yes, there were certain departments or certain games where we could have bowled a little bit better. We have got quite an inexperienced bowling line-up.
But we had some good chats and I think we improved as the competition went along, but to look at it because we went for over 200, we also chased a lot of scores over 200. But anyways, anyone who comes to Wankhede will know it is very much a batting-friendly pitch and ground. I feel sorry for the bowlers at times. You know, going for scores over 200 can dent your confidence a bit, which probably did to a couple of our bowlers. But yeah, we were chasing scores down of 200+ so you just have to look at it in a different context."
Boucher was also asked about Rohit Sharma's form, who unfortunately, didn't have the monster runs he usually has under his belt through the course of the season. He threw all his weight behind the skip. "Rohit is a quality player. What I do think is that he lead from the front in regards to driving toward the sort of way we wanted to play. I think our batting this season was fantastic. We went out at the beginning of the season and we looked at our stats and thought we could improve in certain phases of the game. And the captain is the best person to go out there and drive that vision as well," he said.
"So if you look at how we did in the powerplays compared to last season, from 7 to 10, you know we really upped the scoring rates and we played a good positive brand of cricket, which will stand us in good stead because the guys will gain a lot of confidence from that. Unfortunately, T20 game is tough at times and we were outplayed today. Gill played a fantastic innings, and unfortunately, we couldn't execute through the night, which happens in T20 cricket."
Dewald Brevis unfortunately didn't get an opportunity to feature for us this season, but Boucher was very clear on why he was not included in the squad for the crucial game. "We want continuity in the team. I feel for Dewald. He hasn't played a game, but there are a lot of other international cricketers who have been sitting on the sidelines as well. Dewald is young. He's going to have plenty of opportunities. We went with continuity within the side. There was no reason to try and change a team that has just won two back-to-back games under pressure. So no, I don't think it was the right call to make."
There were plenty of learnings for everyone to take out. In all departments, the team finished much stronger than what it was while starting out. And Boucher was impressed with the fight shown. "In the bowling, you lose two of your stars in the bowling lineup, it's going to create a couple of holes and we try to fix it up as best as possible. You know, hopefully, the guys can get over their injuries. If they can't, then we might have to look at other places and there are so many things that we can talk about. Not for me to start opening up a can of worms now, it would be stupid. I think it's time to just sit back, reflect a bit, take the emotion out of it and make some good sound cricketing decisions once everything's calmed down and once we understand the future of certain individuals and where they are from a fitness perspective."
That would be all. It's curtains for 2023. Until we come back harder, stronger, mightier, we'll live with the memory of this batch putting up a never-say-die show, fight tooth and nail all through.