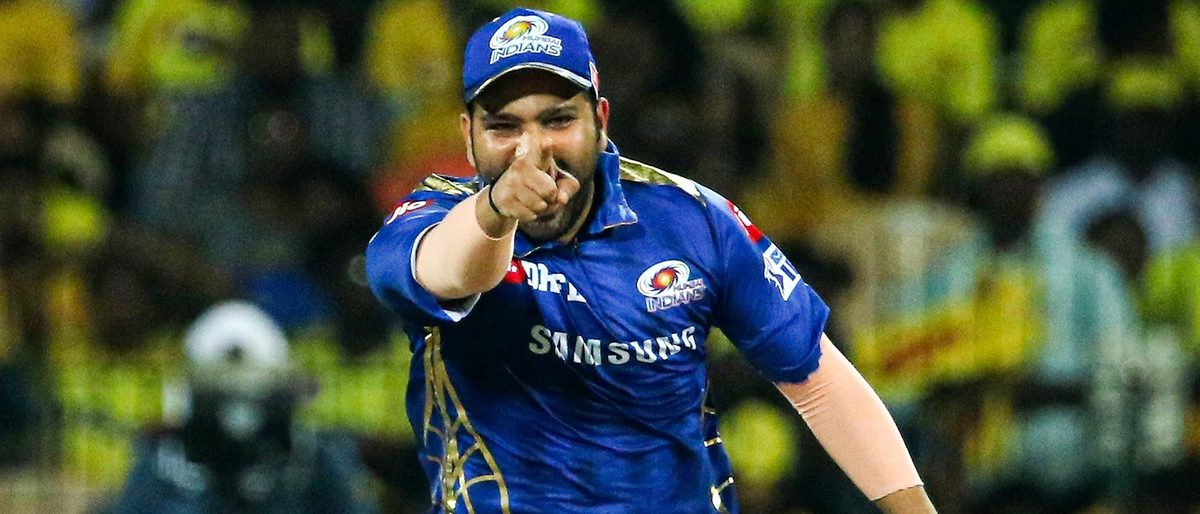 Rohit Sharma: Captaincy has become my top priority
mi
With no live cricket happening around the world, Rohit Sharma has been making sure he keeps his fans updated. In the latest of his live sessions, it was Ravichandran Ashwin who shared notes with his Indian teammate.
Both the cricketers engaged in an insightful conversation. It mostly revolved around Rohit's first double ton in ODIs, his captaincy stint with Mumbai Indians and more.
The off-spinner played host as he bowled various carrom balls to the opener throughout the session. How many of these did Rohit manage to connect for a big one?
Here are some of the excerpts from their LIVE:
I was seeing the ball really well and decided to go on
The 2013 series between India and Australia is well known for run-fests. Rohit ended up as the highest run-scorer amassing 491 runs. However, it was his double ton in the series decider that grabbed the eyeballs. Batting at the Chinnaswamy stadium, Hitman accelerated to top gear, especially in the last few overs.
Ashwin highlighted the same and questioned Rohit as to what was the strategy in the final over. The Indian opener asserted how then skipper MS Dhoni had asked him to see out the innings.
"You know MS in the middle, he likes to keep adding thoughts. He was telling me that you're the set batsman, I want you to bat till the end overs. You can hit any bowler, anywhere you want. So let me take a chance, you take a backseat. Take singles, knock off in the gaps and find odd boundaries if you can."
But Rohit was in beast mode that evening and there was nothing that could've stopped him.
"And then I was just thinking around the 41st-42nd over that if I'm seeing the ball really well, I might as well try and put pressure on the bowlers right away. I decided to go on from there and I remember hitting Xavier Doherty for three sixes in an over."
The Men in Blue put up 115 runs in the last six overs with Rohit scoring 209 (158), a knock that included a record of 16 sixes back then.
First 100 runs: 114 balls 🧘🏻♂
Next 100 runs: 42 balls 🔥#OnThisDay in 2013 - the first of Hitman's three ODI double hundreds 😱👏🏻 #OneFamily #CricketMeriJaan @ImRo45 @BCCI pic.twitter.com/YlmbNwa2TK

— Mumbai Indians (@mipaltan) November 2, 2019
It was my responsibility to make sure I stay till the end
In two of his double century innings, Rohit came in cross-roads of Virat Kohli's dismissal. The Indian vice-captain recalled the same and explained what went wrong.
"It happened twice. Even when I scored 264, he got run out in that game. In that Bangalore game, he punched the ball from the right handside of the bowler. So obviously your natural tendency as a non-striker is to back and save yourself. By the time I turned he was right there and there was no way I could make it to the other side."
Ashwin asked if the pressure added up to him since he was involved in the run-out. Rohit remarked that with Kohli being the man-in-form, his dismissal meant that it was Rohit's responsibility to stay till the end.
"He got a 50-ball hundred in the series and was in great form. So obviously if you lose a player in that fashion, you want to make up for the loss. You don't want to leave it to someone else. So it was my responsibility to make sure I stay till the end."
I've never been to the breakfast table in the entire IPL history until 2019
One of the things that came up during the session was the fact that Rohit had never attended breakfast with the team until last year. The skipper revealed the reason and what made him change.
"I've never been to the breakfast table in the entire IPL history. You get back from the game itself around 2. I can't do without my 9-10 hours of sleep. Since Samaira was born, I started sleeping according to her timings because once she's up, you're not going to get your sleep. So you make sure you sleep on time. Being the captain of Mumbai Indians, we spend a lot of time in meetings. Hence, I need to be fresh and energetic."
What made @ImRo45 turn-up for breakfast at our team hotel? 🤔

Hint: 👶🏻💙#OneFamily pic.twitter.com/30GRYW923W

— Mumbai Indians (@mipaltan) May 20, 2020
Ponting has won two World Cups, he knows how to win big championships
In 2013, Mumbai Indians snapped Ricky Ponting at the IPL Auction. He was announced the captain of the franchise. Rohit asserted how the former Aussie captain was keen to learn about his teammates.
"Ponting was the first one to arrive in India much before any domestic player. He wanted to come and understand everybody. He said I want to first have a team bonding session with all of them. It was like four players sitting together, you've to talk positive things about the other player."
He further spoke about how the team bonding session worked wonders in creating a positive team environment and inculcating confidence amongst the youngsters.
"In a way it made a very positive impact on everybody. Like imagine, Ponting telling youngsters from domestic cricket that he's seen your video and you can go way up if you handle the pressure well. So imagine what that youngster would be feeling."
When the Aussie great failed to get going during the initial phase of the tournament, he stepped down which paved way for Rohit to take over the captaincy. The Mumbai Indians skipper mentioned how Ponting felt he was the right person to lead them forward. He was also reminiscent of his term as a coach for the next three years.
"Ponting actually was a player-cum-coach. He was always there to help me. Always standing in front if there were any issues. From 2014 to 2016, we worked three years with him. I just feel he's a guy from a different planet when it comes to motivating players, understanding and bringing out the best from a player, he was so good at the judgement of all these characters."
Captaincy has become my top priority
Rohit has gone on to become one of the most successful IPL skippers with four titles to his name. He shared in detail as to how captaincy had taken priority over other departments. He even spoke highly of the MI management for their support over the years.
"Firstly I try to understand what the individual is all about, if given an opportunity, whether he'll be able to take the pressure or not and if not how can I help him. I think for me that became more important rather than my batting and other things. Captaincy became my top priority, I have to manage to get the best out of my players and then I'll think about what I want to do with the bat. That's how I move forward every season. I have got a solid bunch of support staff with me and they're all geniuses."
Rohit also cited an example of how he doesn't let any youngster feel the pressure. Recalling how he used to feel nervous at the big stage during his early days, he equated the same with the young players coming in to play the IPL.
"I'll walk to someone like Mayank Markande and tell him that I want him to bowl during the powerplay overs. I'm not expecting you to do wonders. Just take the ball and bowl. I don't want you to do anything else. Because I have seen when we came into the team and how we felt when we were 20 and facing guys like Mitchell Johnson, Brett Lee, Dale Steyn. It can be intimidating. So for all these youngsters playing IPL for the first time, this is similarly a big stage for them."
Working with Ponting & taking the pressure away from youngsters.

Interesting insights from skipper RO!#OneFamily @ImRo45 @RickyPonting pic.twitter.com/UPSOdZddQZ

— Mumbai Indians (@mipaltan) May 19, 2020
Ashwin gets Marathi tutorials from Hitman
Just as the off-spinner was about to sign off, he wanted Rohit to teach him how to say, 'Stay Safe, Stay Home' in Marathi. The Indian opener obliged and Ashwin tried to brush upon his Marathi. Here's the video:
कसं काय, @ashwinravi99?

Here is a small Marathi tutorial from the Hitman!#OneFamily @ImRo45 pic.twitter.com/2KJKSs5sZz

— Mumbai Indians (@mipaltan) May 20, 2020