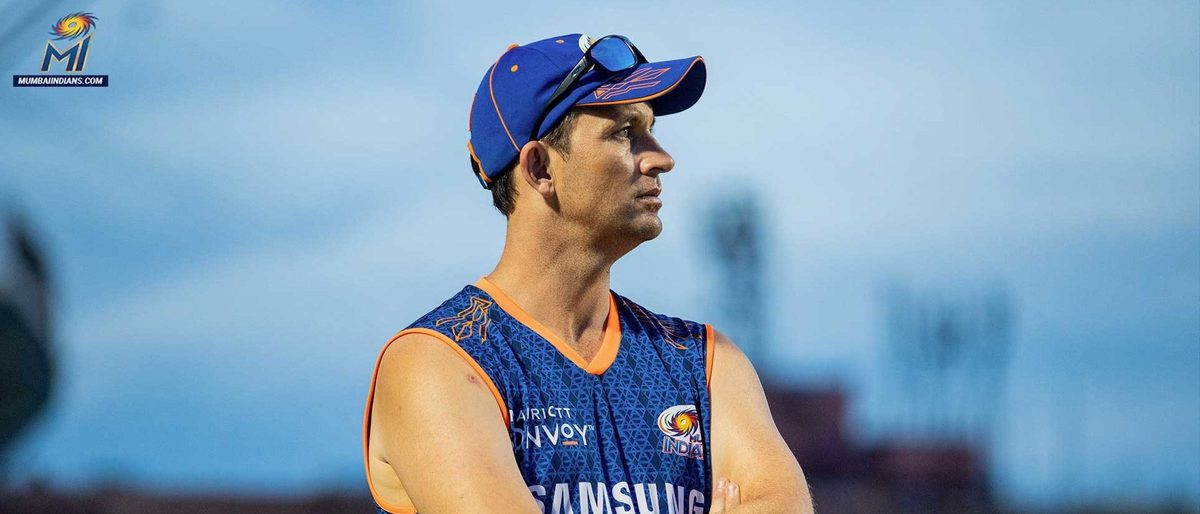 Shane Bond, the speedy Kiwi who left fans asking for more
mi
Bond. Shane Bond. Fast, fearsome and impeccably competitive. One of New Zealand's best pacers after Richard Hardlee's times. And despite being marred by injuries, this Kiwi bowler redefined the meaning of pace and firepower in a cricketer for once and for all.
Battering stumps and toes came naturally to this speedster. His intensity, refusal to compromise on pace and sheer guts to take on even the most ferocious batters in the world stood out from the rest of the greats of his time.
In fact, such was his ferocity that he was the first ever bowler to break the 150kph barrier in cricket. It was a pity we didn't get to see more of him in his international cricket days, but wherever he went, he never failed to leave a mark.
He seems to be carrying that trait of his everywhere even today, by one of the most loved and respected people in the units that he coaches - New Zealand and Mumbai Indians. In fact, the bowlers at MI didn't miss a beat before telling why he is one of the best in the business.
Becoming a bowling giant
More often than not, Bond found himself on the surgeon's table with back problems, knee injuries, abdominal tear and stress fractures. He was advised by critics, well wishers and seniors to give up on his pace and try and extend his cricketing career.
However, Bond never compromised on his pace. With every fall, he came back stronger. He became the first bowler in the world to slice through the 150kph mark. His 156.4kph ball, the fastest ever at that time when bowled in 2003, and among the top eight till date.
The rest of his bowling toolkit seemed to be perfectly packed too. His bouncers were merciless, helping him even overcome big hitters like Brian Lara.
His execution was such that his balls swung in, and because of his pace, the swing came in late, breaking the stumps of confused batters. His outswingers were on point too. His battle with Chris Gayle shows the same. Bond got his wicket seven out of the 18 times they faced each other, and it was his lethal outswingers that troubled the Universe Boss.
His yorkers have been described to be one of the most destructive and accurate ones of all time. Indeed, his bowling was a pleasure to watch but an absolute threat to face.
Preying on the Aussies
Up until the 2007 World Cup, the Aussies were the undefeated champions of the world in cricket. Playing against their batters would be any bowler's nightmare. During such an era, Bond had the Aussie batters completely under his spell.
In the 2003 World Cup, Bond played one of his greatest games of all time against Australia. In the 10 overs that he bowled, he took 6 wickets - Adam Gilchrist, Matthew Hayden, Ricky Ponting, Damien Martyn (the top 4), Brad Hogg and Ian Harvey.
His numbers from that game reads 10-2-23-6, with a whopping 45 deliveries of the 60 being dots and giving away a solitary boundary. Out of the 147 ODI wickets he has, 44 have come against Australia at an excellent strike rate of 15.79. Ricky Ponting was his bunny and was dismissed by Bond in all of his first six ODI innings.
Shane Bond's lone hat-trick also came against Australia, this time in the 2007 World Cup. It included the wicket of the dangerous Andrew Symonds too, and in all picked up four wickets in that game.
Leading from the front in WC 2003, 2007
Bond led the pace attack into the two World Cups for the New Zealand team. He was in sublime form in the 2003 tournament especially, causing severe damage to the opponents, especially with his 6/23 mentioned above, against the eventual champions of that edition.
With 17 scalps in the 2003 World Cup, he was among the top 5 wicket-takers at a healthy average of 17.94. He was easily New Zealand's best bowler that year, putting up some exceptional and memorable performances.
In the 2007 World Cup, Bond took 13 wickets at an average of 16.38. He also recorded an excellent economy rate of 3.05. He was the most successful pacer for New Zealand, and among the bowlers, he was just a little behind Daniel Vettori. In both these editions, he was key in demolishing the batters across oppositions.
He retired in 2009, after being dogged by physical problems, including having a titanium wire fixed to his backbone. He left after becoming the fastest Kiwi to 50 Test wickets (in 12 games), and to 100 ODI wickets (54 games). Overall, he was second at that time, just below Saqlain Mushtaq, before Rashid Khan and Mitchell Starc overtook them. Two decades later, he still remains at the fourth position.
Bond calling it quits on his international career left a void that was hard to fill for the Kiwis. As for the fans, we cannot help but wonder how much more of him we could've witnessed, had it not been a career cut short by injuries.
As a role model to current players and as a bowler whose action we wanted to emulate as 90s kids, we are left asking for more from this legend. On his birthday, we shall remember him as not just MI's and New Zealand's bowling coach, but as the fearless cricketer whose intensity is matched by barely a handful of cricketers in today's world.