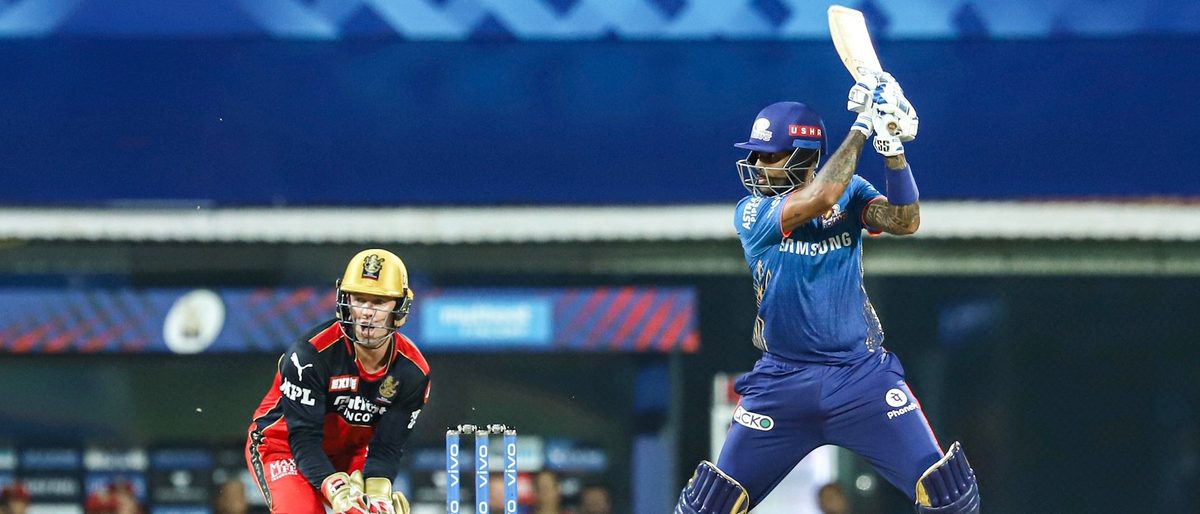 Suryakumar Yadav: Playing at maidans helped me improve game against spin
mi
Imagine after ten years of hardwork and dedication, you finally get a chance to represent India in international cricket. Jofra Archer starts off with a fiery bouncer and you pull him away for a six on the very first ball.
There couldn't have been a better start for Suryakumar Yadav. With the Sri Lanka tour coming up, he has his eyes set on big tournaments with back-to-back IPL and T20 World Cup.
Speaking to Harsha Bhogle on Cricbuzz, Surya shared his thoughts on the debut match, how he developed his game against spin and the role played by his parents and wife.
Jofra likes to come hard and I was prepared for the short ball
Walking out to bat at number three, Surya took us through the scenarios that were going on in his mind. While his partner KL Rahul's advice helped him calm his nerves, the batsman had anticipated how Jofra was going to start. He had made up his mind to go for a maximum. Looking back at the knock, Surya felt that everything fell into place that day and he enjoyed batting.
"I was really excited to go out to bat and couldn't resist it in the dugout. I literally sprinted in. Once I was there, everything that I had done in the last one year started playing in my mind. KL Rahul also advised me to stick to my game and not try anything different. I had seen Jofra as well as played against him in the last few years. He likes to come hard at the new batsman with some short stuff and I was prepared for that."
Captaining the U-23 Indian side was a learning curve for me
In 2013, Suryakumar Yadav was named the Indian captain at the U-23 Emerging Teams Asia Cup. Leading a talented side with some of his current Team India teammates was challenging but he succeeded there too. India went on to defeat Pakistan in the final and lifted the cup in the end.
"It wasn't easy for a player to break into the Indian U-23 side which included the likes of KL Rahul, Jasprit Bumrah and Axar Patel. It's like how the Indian side is right now. That was a learning process for me and I was captaining a big side for the first time. Winning the cup was an icing on the cake. Even while captaining Mumbai, I used to think about big players like Wasim Jaffer, Amol Muzumdar, who had done it in the past."
Playing in maidans helped me improve my game against spin
Alongside a wide array of some unorthodox cricketing shots, Surya is also a great player of spin. He mentioned that playing local and club cricket in Maidans helped him anticipate the movement of the ball on red soil. Hence, he didn't find it difficult to play on turning tracks.
"I used to play a lot of local cricket in maidans. There are a lot of turning tracks there. Most of the time due to red soil, the ball turns. Hence, automatically you come to know what strokes you have to play. That's what helped me improve my game against spin. Now when I get an opportunity to play at good wickets, I find it normal and don't get in any trouble."
I have dreamt of winning the World Cup for India
After donning the Indian blue for the first time and achieving his dream, Surya has further ambitions. He wants to lift the World Cup with Team India in either format. With the T20 World Cup in sight, the right-handed batsman has already ramped up his preparations.
"For the last 10 years, I have dreamt of winning the World Cup for India. That's the one feather I want to add in my cap. My career has started well, so I'm now looking forward to playing in the bigger tournaments. I have been working hard for that."
My parents told me there is no substitute for hardwork
Surya is also a tattoo enthusiast. The cricketer shared how he has tattoos all over his body of people who are close to him. He further shared how his parents and his wife Devisha had played an important role in shaping up his career and deserved all the credit.
"In 2007, when Mumbai won the Ranji Trophy, I told my parents that one day I will win the Ranji Trophy for Mumbai. They started pushing me really hard after that. My parents told me there is no substitute for hardwork and only that will take you to places. Even my wife Devisha pulls me out of my comfort zone whenever I'm not doing well."
Surya has had an amazing journey so far. The upcoming Sri Lanka tour offers him a great opportunity to showcase his talent and play an influential role in the middle order. This will make him a force to reckon with during the T20 World Cup.