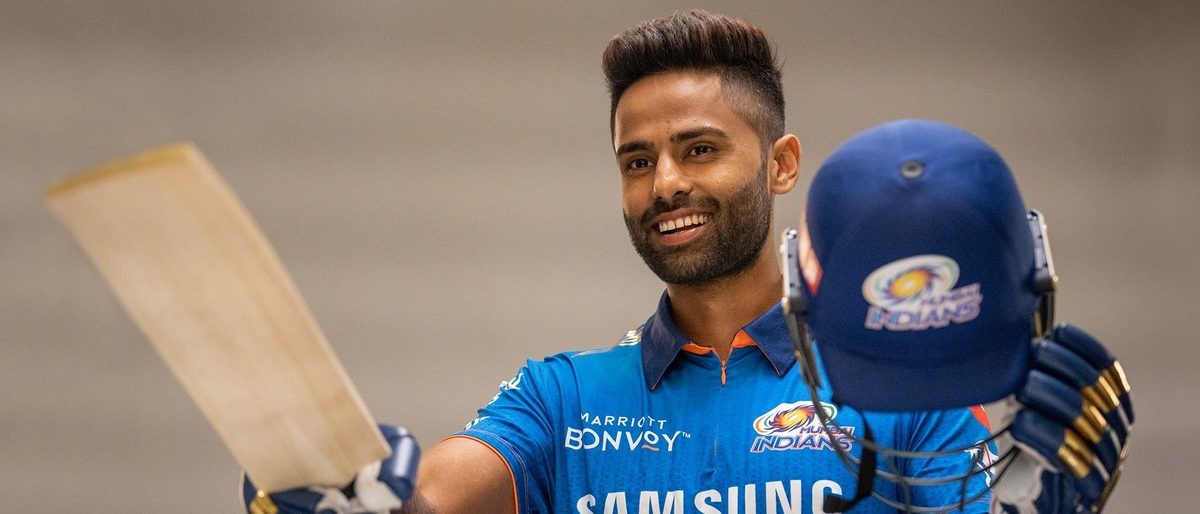 The Suryakumar Yadav journey
mi
Suryakumar Yadav's journey to where he is today is an enthralling story in itself. His hard work and dedication shows that it is never too late to get to your dream destination.

Surya and his Mumbai Indians coach Mahela Jayawardene, in conversation with Hindustan Times, have traced this journey.
"I had only one thing on my mind. The harder I work, the more consistent I become. Someday, my opportunity will come." Nothing has been truer in Surya's case, with the dashing batsman doing just that to prove his potential and don the Indian blue.
When Surya made his debut for Mumbai - his Ranji Trophy team - little did he know he'll have to wait 11 years to be a part of the Indian cricket team. The journey would be studded with some allegations of indiscipline, strife and more, but the Mumbai lad believed in learning, unlearning, moving on and giving his best.
A retrospection of the last 10 years
"When I got to know that I would be making my debut I actually went 8-10 years down the line. I was thinking about my debut for Mumbai in 2010, coming into the Mumbai Indians setup in 2011 and getting to learn a lot in those three years."
"Then in 2014, when I went to another franchise, I got an opportunity to experience that format before playing first-class regularly. Then when I came back to Mumbai Indians in 2018, I thought this is the right time for me. I'm experienced enough. It's high time I take a step forward and be harsh on myself."
Challenging his body after a meeting with Paul Chapman
After the 2018 season, where Surya emerged on the top with the runs, he had a talk with the Mumbai Indians' Strength and Conditioning Coach Paul Chapman. His useful insights urged Surya to look at the game in a new light.
"After 2018, I sat with our trainer Paul Chapman and decided the boxes that needed to be ticked going into the next season. He said 'If you are batting higher up the order, you need to bat at least 15 overs if you play really well in that game. And you also have to field for 20 overs.'"
"I had never done that before. I only batted for 10-15 balls (at KKR) and fielded for 20 overs. So this was a completely different scenario for me. I had to be prepared for 2019."
"I used to train in the evening when it used to be a little cooler. I changed that to two in the afternoon. I started practicing in the afternoon, between 12-3 pm when the pitches are very dry. That helped me a lot in improving my game against spin."
Playing higher up the order
Things began looking up for Surya when he started playing up the order. "Then the team management came up to me and asked if I would like to open the innings. I said 'Yes, 100%'. I took that as a challenge."
"I came from a different setup, batting at a completely different position. Coming here, batting at a higher-order for such a big team, I took it as a challenge which later on became a responsibility. It wasn't easy when I came into the setup. But Mahela and Sachin sir said 'you don't have to do anything different. Do what you have been doing and enjoy your time in the middle'."
He did exactly that and never looked back.
Changes in performance from 2018
At KKR, Surya's aggregate over the season between 2014-2017 was 164, 157, 182 and 105 runs. In 2018, 2019 and 2020, he accumulated 512, 424 and 480 runs, showing a stark difference in performance.
And then came his debut for India. While he did not get to bat in his very first game, the first innings he played padded up in the Indian colours, he got a 31-ball 57 to win the Man of the Match award and high praise from both Indian and MI captains.
Throughout his transformation, his willingness to experiment has helped him reach where he is. "I'm really flexible. My debut game for India, even though I didn't bat, I was supposed to bat No 6 or 7 with Hardik. In the next game, I got to bat at No 3. So I was happy."
Mahela on Surya's journey
It was the Mumbai Indians coach Mahela Jayawardene who identified Surya's potential and gave him an opportunity to flourish. "We thought that his skill, technique and game awareness probably suited to opening the batting, which he started with us. And then bat at No 3 and 4 where he can control the innings, especially in the middle overs. I think he has flourished in that role."
"Initially he was a player who would use the pace and probably play behind the wicket but over the last 2-3 years he has completely changed that. He can play in front, covering more areas. He has more ammunition to work with. He has become pretty much a very complete player."
Mahela also credits Surya for making basic but integral changes in his life 8-9 years after starting to play first-class cricket. "Surya was willing to change; he was willing to do the work. Not all players would want to change like that. They would probably back their instincts and say 'Oh this is the way I have played so far and I just want to continue'. It's entirely up to the player."
Overcoming his long time enemy - hitting on the offside
Surya realised that he had little to nothing to offer in terms of his offside shots. He took his time to work on it, but when he did, there was no stopping him. "You can't be a one-dimensional player batting higher up the order. You have to bring in that change. You have to, because this is played at such an international level that people pick your strong and weak points very easily."
To compensate for not playing on the offside, Surya, who has always timed the ball beautifully, turned to ramp shots, scoops and sweeps to keep the runs coming. "I didn't think too much about the outcome. It was just about practicing normal drives, normal cuts and slowly it was built into my muscle memory. I wasn't too hard on myself. One day I was batting with a blank mind. And I actually did it."
The faith in himself
These changes allowed Surya to thrive at the number 3 position. In IPL 2020, he averaged at 40 with a strike rate of 145. With 61 fours, he had the most fours by a Mumbai Indians batsman, 15 ahead of second-placed Quinton de Kock.
By now, Surya had understood his game. It gave him the confidence to go out there and perform, to shoulder the responsibility of taking the team across the line. "There are power hitters in this team. It makes my job easier. I don't need to do anything out of the box and fill in their shoes. I just need to be myself."
"Do what you have been doing and enjoy your time in the middle" - Sachin had told Surya. That's exactly what he's done, and only good things have followed since. Hopefully, IPL 2021 brings him more success and more glory.