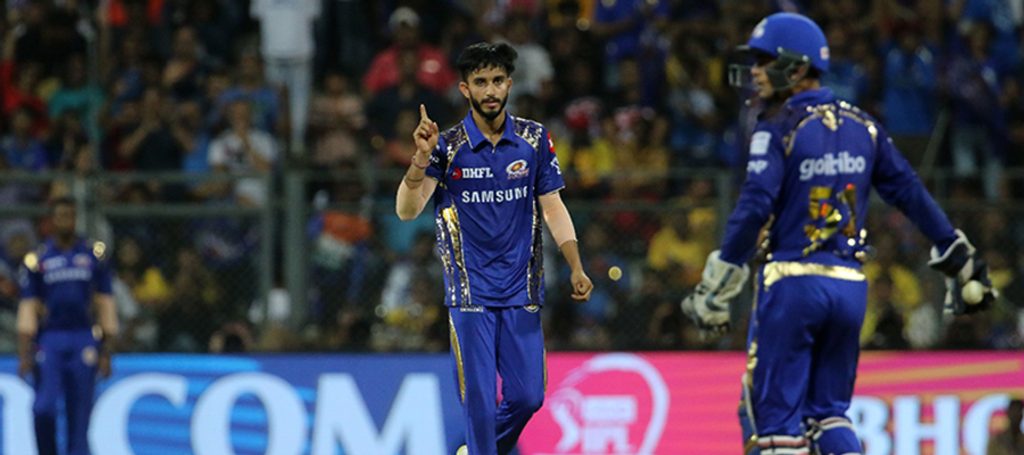 They bowled us over
mi
1) MAGICIAN MARKANDE ARRIVES!
Mayank Markande's 3/23 vs CSK in Mumbai on April 8

Consider this: it is time for the most awaited match of the season. The defending champions are taking on Chennai Super Kings, whose return is the talk of the town. It's a full house at the Wankhede. Any youngster could've been overawed by the occasion. That, in turn, would have affected his VIVO IPL debut big time. But, then, Mayank Markande proved he isn't just another youngster. He announced his arrival on the third ball of his spell by trapping Ambati Rayudu plumb in front. There was a loud shout for leg-before two balls later. He was to be denied. Two runs, a wicket and a dubious decision. What a start! The best, though, was yet to come. In his next over, the wily leg-spinner foxed the experienced MS Dhoni with a googly. The umpire raised his finger and the stadium erupted. A 20-year-old had gotten the better of a 36-year-old veteran with 14 years of international cricket under his belt. He capped off the night by clinching another wicket on the last ball of the spell! A young boy with no first-class experience, Markande got an opportunity to perform and he ended up delivering the second-best figures for MI on debut! Markande was a vital weapon in Rohit Sharma's armour throughout the season and the leggie finished with 15 wickets.
2) MITCH PUTS OUT PROTEA FIRE

Mitchell McClenaghan's 2/24 vs RCB in Mumbai on April 17

Rohit Sharma and Evin Lewis excelled as we posted 213/6 on the board against Royal Challengers Bangalore. We were chasing our first victory of the season. But the battle was only half won as no total is safe when you are up against RCB's star-studded batting line-up. Mitchell McClenaghan, however, ensured that their chase suffered a serious dent. Coming in to bowl the third over, he almost got Virat Kohli out by beating him with a back-of-a-length delivery. RCB's run chase began on a good note, though, as Quinton de Kock and Kohli scored at 10 runs per over. But the tide was about to turn. On the first ball of his second over, Mitch got one to tail back into the left-handed wicketkeeper-batsman. The ball rattled his off-stump, we got the breakthrough we needed, and the crowd found its voice. It was only going to get noisier as three balls later, AB de Villiers, the big fish, perished! The Kiwi pitched one short, ABD pulled and Hardik Pandya made no mistake in the deep. In the span of four balls, Mitch derailed RCB's wagon as we went on to win by 46 runs despite Kohli's fighting 92 not out.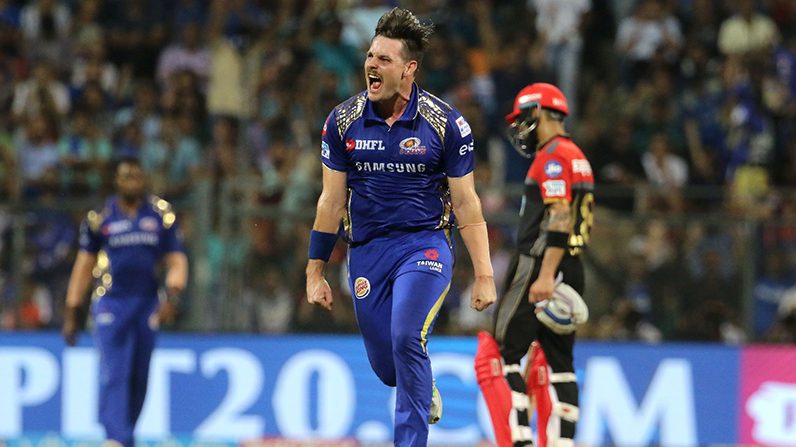 Mitch McClenaghan's iconic celebration after he scalps AB de Villiers
3) CHALLENGERS FACE HARDIK'S WRATH

Hardik Pandya's 3/28 vs RCB in Bengaluru on May 1

The scoreboard read 121/2 in 14.2 overs. After Manan Vohra provided a flying start in the Powerplay, Brendon McCullum and Virat Kohli continued to build on the platform before a direct hit from Hardik Pandya sent McCullum packing. Things were about to get better for Hardik whose third over ensured that RCB's first-innings total suffered a blip. Mandeep Singh and Kohli looked well-set and were about to up the ante but the all-rounder had other plans. Coming in to bowl the 18th over of the innings, he struck on his first delivery with a well-disguised slower ball. Mandeep Singh went for a slog but could only find the man at deep mid-wicket. Next ball, Kohli tried to hit over the long-on fence but was intercepted by Kieron Pollard's bucket hands! In two balls, Hardik had dismissed both set batsman. He capped off his spell by dismissing Washington Sundar with another back-of-a-length delivery. Two runs and three wickets to go with a spectacular run-out. Hardik was on the top of his game that night as he also completed a well-compiled half-century. He was our best performer in the match. Alas, we couldn't cross the line and lost by 14 runs.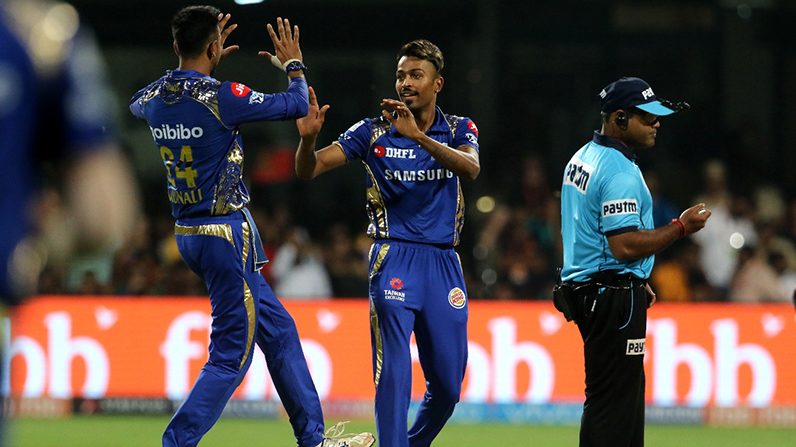 Hardik Pandya took three wickets in an over against RCB in Bengaluru
4) KRUNAL UPSETS CSK'S APPLE CART
Krunal Pandya's 2/32 vs CSK in Pune on April 28
Ambati Rayudu and Shane Watson started cautiously on a tricky surface and the duo looked to get their eye in. The CSK opening pair were already making a trend of scoring runs at the top and laid a platform for the middle order. Skipper Rohit Sharma introduced Krunal Pandya in the Powerplay and the decision turned out to be a good move. The wily left-arm spinner provided the breakthrough on only his second ball! Watson tried to sweep but ended up top edging the ball and Mayank Markande made no mistake at square leg. Krunal received a pounding later that over as he was smacked for two big sixes. The gutsy all-rounder though, made a fine return in his second spell. Just when it looked like Suresh Raina and Rayudu were looking to change the gears, Krunal dismissed Rayudu for 46. The CSK opener was in sublime form and it was important to dismiss him. Rohit's move to hand Krunal the ball was a fantastic one! After going for 15 in his first over, Krunal only gave away 17 runs in his final three overs and provided the team not one, but two breakthroughs, which eventually turned out to be in a winning cause.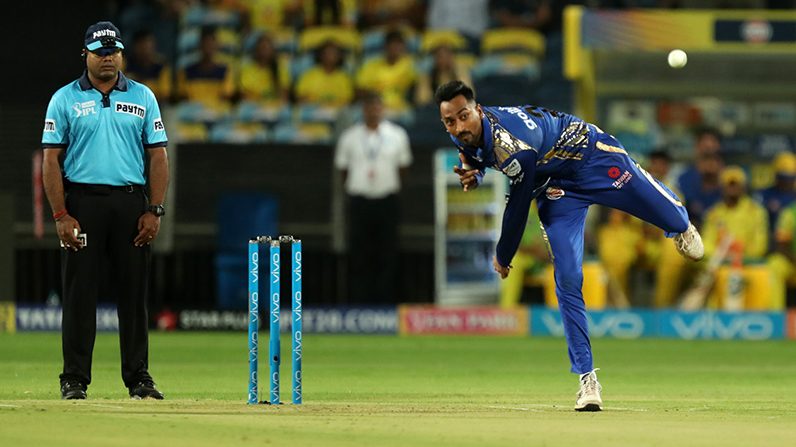 Krunal Pandya in action against Chennai Super Kings in Pune
5) KINGS BOW DOWN TO THE YORKER KING
Jasprit Bumrah's 3/15 vs KXIP in Mumbai on May 16
On a batting-friendly Wankhede surface, we finished with 186/8 against KXIP. The bowlers had their work cut out. Chris Gayle and KL Rahul could take the game away with a flying start. But Jasprit Bumrah gave literally nothing away in the only over he bowled in the Powerplay. Five dots and a single. That's some way to start your night. Bumrah's spell was like fine wine. It only got better with every passing delivery. While Mitch aborted the 'Gayle Storm', Rahul was going all guns blazing from one end and found able support in Aaron Finch. Kings XI Punjab raced to 95/1 in 11 overs. Enter Bumrah for his second over. Amidst all the onslaught, he gave away just four runs to increase the required run-rate once again. He was not to be in action for another four overs and the partnership continued to build. KXIP needed 41 off 24. It was time for the knockout punch. Bumrah ran in hard and bowled a length ball to Finch. It bounced a bit more than the Aussie would have expected and the resultant top-edge went towards Hardik Pandya, who took an outstanding catch. Once again, he came, he delivered. The Wankhede erupted. We got the much-needed breakthrough. On his fifth delivery, Bumrah struck again. Marcus Stoinis had no clue how to deal with Bumrah's accurately-delivered bouncer and he ended up getting a faint edge to wicketkeeper Ishan Kishan. Just four runs in the 17th over. The final nail in the coffin, though, was yet to be hammered. KL Rahul kept KXIP alive by scoring 15 runs in the 18th over. Bumrah came in to bowl his last of the night with KXIP needing 23 to win from 12 balls. Absolutely gettable on a true pitch. But champions deliver when the team needs them to. Bumrah did just that. He foxed Rahul with a slower one and the KXIP opener eventually holed out to Ben Cutting at long-off. Four overs, 11 dots, 15 runs, three wickets. What a performance!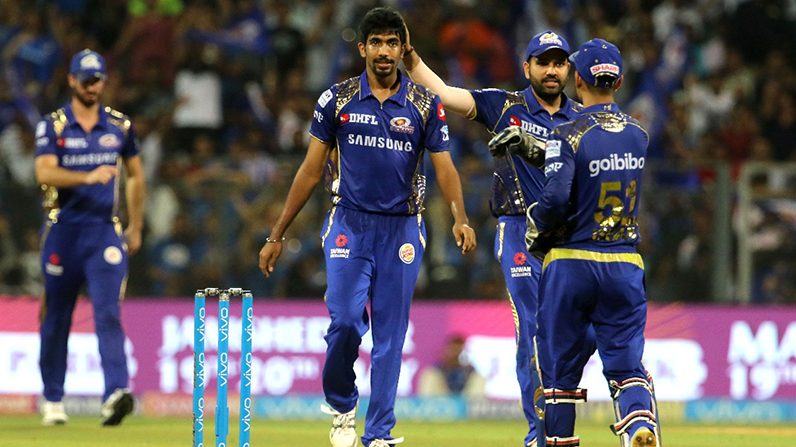 Jasprit Bumrah bowled one of the finest spells of VIVO IPL 2018 against KXIP in Mumbai