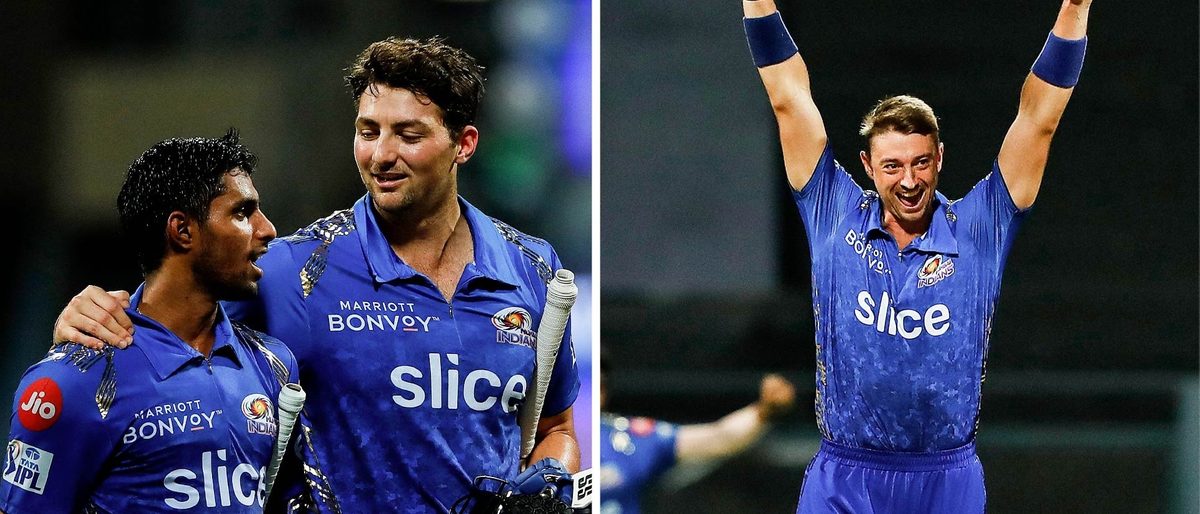 Tilak, David and Sams share their thoughts on a memorable night
mi
Read it in Hindi.
Read it in Marathi.
It was a jolly team room after a memorable win against CSK at the Wankhede stadium and three of our stars of the night - Tilak Varma, Daniel Sams and Tim David - had a few thoughts on the win.

Tilak, who steadied the innings with a 48-run stand alongside Hrithik Shokeen, was pleased that his efforts had taken the team to a victory.

"My goal always has been to take the team to a win irrespective of how much I score. I had the chance in the KKR game as well but unfortunately got out. I wanted to make sure I took the opportunity vs CSK," stated Tilak.

The 19-year-old also had a special guest in attendance at the Wankhede, which made the win sweeter.

"It was extra special because my coach (Salam Bayash) had come to watch me live and it was wonderful to do that in front of him. He is also particular about making the team win and appreciated my efforts today," said Tilak.

"I want to thank our Paltan - they have chanted the names of legends and now when I hear my name, it gives me a lot of confidence. I hope to keep doing the same."

Another player who had a special guest to watch him was big hitter Tim David.
"My dad just got out of quarantine so it was nice for him to be at the Wankhede for the first time to witness a big game like CSK vs MI," David said after the match.
David's father did witness his son finish off the game with two big sixes and the batter praised our young guns Tilak and Hrithik for getting us to a position of strength.
"It was an interesting match and not what we expected when we walked out. It was important to not let CSK come back up so we did well to close out their innings. It looked tough to bat for a bit and it got tricky but Tilak and Hrithik did a fantastic job which killed the game. We stepped up and showed heart," he noted.

The official 'Player of the Match' Dan Sams - who picked up two wickets in the first over, and three overall in the powerplay - certainly enjoyed the conditions at the Wankhede.

"It was one of those nights where everything went our way from the first ball. We took a few wickets with the ball swinging around early on and were able to continue doing that. It was good to see the ball dominate in a T20 game and it was an awesome all-round performance," said Sams.
Dan also bowled the game's 15th over when MS Dhoni was the last recognised batter for CSK and had his plans in place for it.

"It's always interesting to bowl to a batter who is not taking singles. I just thought I'd bowl my slower ones which would be hard for him to attack and that worked well," concluded Sams.
It was a celebratory mood in our squad after a complete performance at home and we are certainly ready for more of these!